Location
London - W1G 9JF
45 Queen Anne Street
R&D Physio
London
W1g 9JF
United Kingdom
Refund policy
Contact the organiser to request a refund.
Eventbrite's fee is nonrefundable.
The next level of knowledge and techniques. Explore new avenues of treatment in this Advanced Practical Workshop using FOCUS Shockwave.
About this event
TAKE IT UP A NOTCH
As specialists in rehabilitation, find out how to instigate a treatment plan to improve movement or reduce pain to improve quality of life for your patients.
This course is for Health Care Practitioners who are regular FOCUS Shockwave users and want to extend their knowledge of Shockwave Therapy in the areas of:
• Treating Degenerative Conditions such as Knee OA
• Application in Bone Pathologies such as Stress Fractures and Non-Union
• Advanced Techniques for Spine, Upper & Lower Limb conditions
• Combination with Radial Shockwave and EMTT Technology
We will consider which clinical conditions are known to be most responsive whilst also considering those which are currently being investigated.
The Practical Sessions will focus on tailored Application of focus shockwave for Pain Relief, Tissue Regeneration, Calcification and Bone Pathologies. Learn where to use FOCUS Shockwave Therapy when treating tissue, bones and tendons, fascia, muscles and nerves.
Some Key Pathologies covered on the Practical Section Include:
1. Osteoarthritis (Knee, Big Toe and Thumb)
2. Upper Limb Pathologies (Frozen Shoulder, Carpal Tunnel Syndrome, Trigger Finger, etc)
3. Lower Limb Pathologies (PHT, Morton's Neuroma, Sesamoiditis, etc)
4. Bone Pathologies (Stress Fractures, Non-Unions)
5. Overview of Pelvic Health and Wound Healing
Requirements for the course:
You should have your own Storz FOCUS device and currently practising FOCUS Shockwave for at least 6 months to a year.
All delegates will have an opportunity to get 'hands on' experience.
LEARNING OUTCOMES:
Advanced indications, appropriate position positioning and also advice on after-care and how to integrate into Safe and Effective application of FOCUS shockwave for these usual therapy management and loading programmes.
Apply techniques safely and effectively within your scope of practice
Deciding on what frequencies, depths and applicators work best for different conditions and body types. Explore what patient positions work best for each condition
Differences and limitations of Radial vs Focus shockwave therapy will be considered with regards to these chronic pathologies and emerging evidence.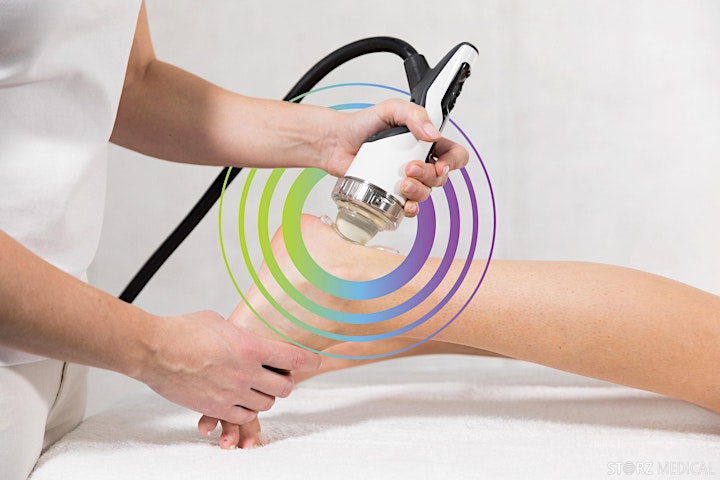 Agenda
9.30 - 9.45 (Registration) Presentation Handbook given.
9.45-11.00 [Lecture] Latest evidence and update on treating different indications
11.00-12.30 [Practical] Hands-on Experience using Shockwave equipment.
12.30-13.15 (Break) - Light lunch and refreshments available.
13.15-14.00 [Lecture] Discover techniques to expand Shockwave use beyond common conditions.
14.00-16.00 [Practical including Q&A] Hands-on Experience using Shockwave equipment.
LIGHT LUNCH & REFRESHMENTS PROVIDED. CERTIFICATE PROVIDED VIA EMAIL AFTER THE EVENT.
DISCLAIMER
We make every effort to ensure the information in our videos, webinars, online course and accompanying downloadable resources is accurate and correct at the date of publication. However, this should not replace your good clinical judgement and evolving evidence base and clinical trials or be regarded as a substitute for taking professional advice in appropriate circumstances from your professional organisation and insurance providers.
In particular, check with local policy on indications, contra-indications, safety procedures and after-care with your patients undergoing shockwave treatment. Save insofar as any such liability cannot be excluded at law, we (Tutors & Venn Healthcare) do not accept any liability for loss of any type caused by reliance on the information given herein.