About this Event
Like Minded Females present the FOCUS series : Females Obviously Crushing Unequal Society.
This series is centered around providing you with workshops led by females who are crushing their industry and disrupting the norm!
These high powered females will teach us how to take up space, propel our career and become a our true authentic selves.
Workshops are open to all - we are all inclusive and encourage those who identify as female and those who don't to attend.
Workshop #2 - Your Self Image - Overcoming negative thought patterns
Facilitated by : Mamta Gera, UK CEO of The New Leadership
What will this workshop cover? 
Our view of ourselves is central when it comes to progressing our career, leadership and overall well being in our lives. In this workshop we look at how self image is formed and how certain thought traps prevent the development of ourselves and others.
What will I leave with?
Become self aware of your the thought patterns limiting you and implement positive change to help you progress in your life.
Workshop information :
Doors open: 17:30pm
Timings :
Workshop 18:15pm,
Panel 18:45pm,
Networking 19:30pm ,
20:00pm closing statements
Location : Taboola, London
Facilitator:
Mamta Gera - CEO, New Leadership UK. Mamta prides her self on being able to provide coaching and leadership to senior leaders and top C suite personnel. Her expertise includes coaching them both professionally and personally. Her experience includes working for various large players - including the BBC, Sky TV and Amazon. Mamta will share her insight on how she's been able to head up a company and the tips we should all know to make ourselves more confident.
Panel Guests:
Moderator:
Sonya Barlow - Founder, Like Minded Females, Tech Enthusiast and TEDx Public Speaker
Organisers:
This event is co-organised by Like Minded Females x Taboola
Like Minded Females (LMF) is a community network founded in May 2018 to lead initiatives which empower, connect and celebrate. Since launching, LMF has engaged over 12,000 people, given a TEDx talk on building community through technology, recgonised for 2 national awards, worked with big brands such as Santander, Royal Mail, PWC and The BBC and are passionate abut leading initiatives which can educate, empower and provide a safe space across industry.
Instagram : Like Minded Females 
Linkedin : Like Minded Females 
Special thanks to Anya Libova, Taboola
Taboola : the largest discovery platform, realizing tremendous growth in users and revenue. Today, with over 1,000 employees Taboola's journey continues, building new technologies that will help people find what's interesting and new wherever they are.
Tickets : unfortunately this is a non refundable event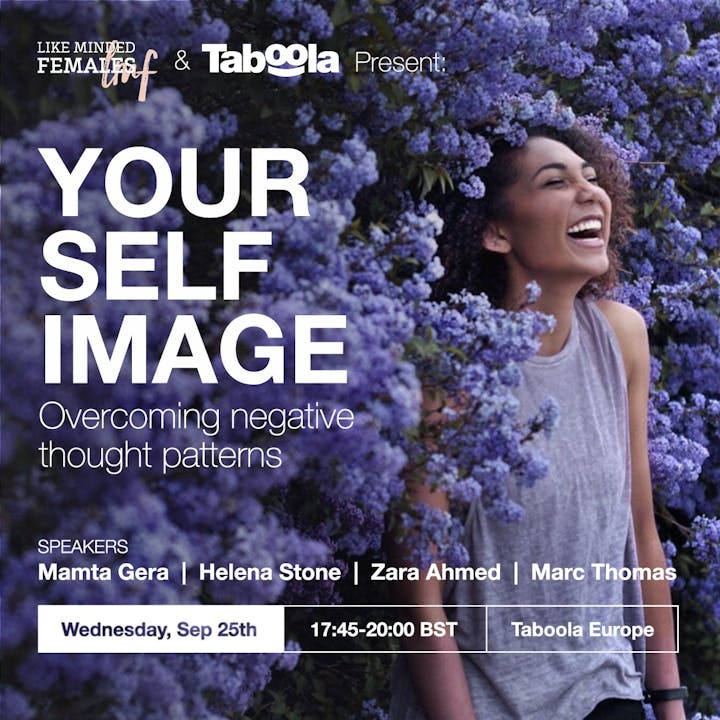 Overcoming Negative thought