Following Je Tsongkhapa's Example: Outer, Inner & Secret Dharma - Day Cours...
Description
Following Je Tsongkhapa's Example: Outer, Inner & Secret Dharma
Day Course with Gen Kelsang Gomchen | 10am - 4:30pm
"This way of practicing Dharma with an outer, inner and secret aspect is very beautiful because not only is it the best way to help others, it is also the supreme method for completing our own spiritual development. Je Tsongkhapa practiced in this way."
Great Treasury of Merit
Je Tsongkhapa showed the very best example of a pure practitioner and Spiritual Guide of Buddhism. He demonstrated through his own life how it is possible for one person to practice all the teachings Buddha taught, both Sutra and Tantra, and gave special methods to bring about the final result, great enlightenment swiftly and easily.
Following on from the blessing empowerments of Je Tsongkhapa and Dorje Shugden at this years' International Summer Festival, Gen Gomchen will explore the essence of Je Tsongkhapa's way of life and how by following in his footsteps we can come to experience the very essence of this precious Buddhadharma and strengthen our heart commitment to the protector of his doctrine.
This practice can be summarised from one verse contained within Melodious Drum, Victorious in All Directions:
"Outwardly practicing pure Pratimoksha discipline,
Inwardly training in renunciation and Bodhichitta,
And secretly cherishing the yoga of bliss and emptiness of the two stages,
This excellent complete path free from contradiction,
Through this practice may I fulfil the heart commitments,
Of Dorje Shugden Five Lineages and their retinues…"
A not to be missed event!
Schedule:
10am – 11:30am : Session One
12pm – 1pm : Session Two
2:15pm – 3pm : Q & A
3:30 – 4:30pm : Session Three
ABOUT THE TEACHER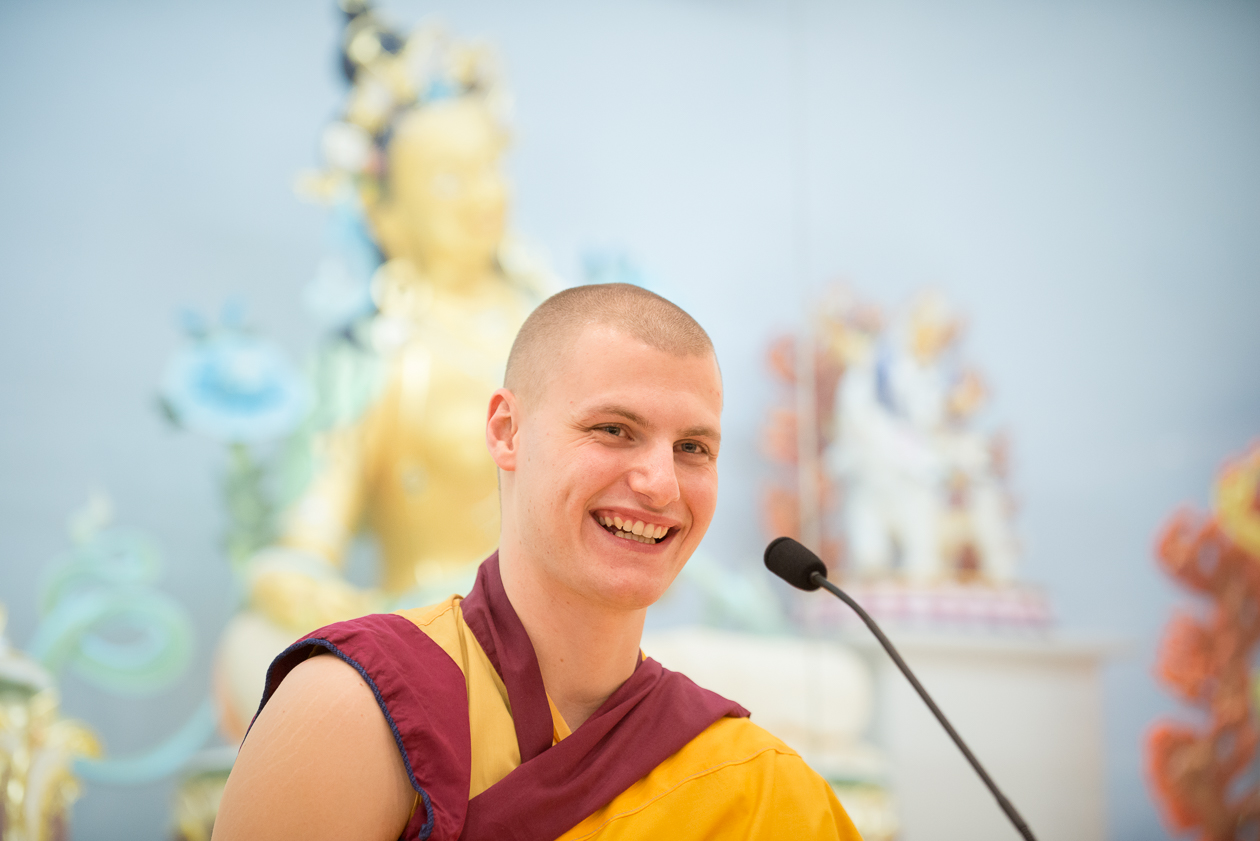 Gen Kelsang Gomchen is a qualified Kadampa practitioner and teacher of Kadampa Buddhism who has taught widely throughout the UK. He has received extensive teachings of both Sutra and Tantra including the empowerments of Highest Yoga Tantra from Venerable Geshe Kelsang Gyatso Rinpoche. He has completed an intensive Special Teacher Training Programme with our General Spiritual Director, Gen-la Kelsang Dekyong, and engaged sincerely in meditation retreats on both Sutra and Tantra.
Gen Gomchen is known for his ability to inspire others through sincere practice and to present the deeper meanings of Venerable-Geshe-la's books in a way that is practical and relevant to all who listen.
This course is suitable for everyone from complete beginners to experienced meditators.
What will each session consist of?
Each session will include a combination of teachings and guided meditations with an opportunity to ask questions at the end and socialize with like-minded people during the break time.

Do I need to bring anything or wear anything special?
No. All sessions will take place on chairs but there are optional cushions if you prefer to sit cross-legged. You don't need to bring anything else with you, but some people like to take notes during the session, so feel free to bring a paper and pen.

What if I'm new to this?
Everyone is welcome to participate in this course and will benefit both new and experienced people alike. Our reception staff will happily recommend some follow on reading or classes after the course if you are interested.
More questions?
Contact info@kmclondon.org and someone will happily help you with your query.