Market insights, perspectives and practical tips to help you transform strategy, processes, technology and people to drive growth
About this event
Agriculture and agro indutries value chains forms a significant portion of the economies of all African countries, as a sector it can therefore contribute towards major continental priorities, such as eradicating poverty and hunger, boosting intra-Africa trade and investments, rapid industrialization and economic diversification, sustainable resource and environmental management, and creating jobs, human security and shared prosperity. Feeding an ever-growing population is both a social challenge and a business opportunity.
Join us for SSCG Webcast: Food, Agribusiness and Agro Industries Developmement in Africa live online panel discussion on Wednesday 20 May 2020 between 11:00 - 12:30 BST to gain latest update, perspectives, strategies and best practices to help you prepare and transform in response to current rapidly evolving and disruptive environment.
TOPICS:
COVID-19: impact on food supply chain and demand
Scaling up agriculture as a driver of economic transformation
Agriculture and food security: a complex link in achanging global context
Value chain addition: Food production, processing and farming systems
Increasing agricultural production and growth: Investment, funding, agri technologies and better functioning of markets
Reducing food waste, agri business risks and enhance resilience
Unlocking new market opportunities for growth
SPEAKERS
Chris Isaac - Chief Investment Officer at AgDevCo
Chishamiso Mawoyo - Investment Director - Southern Africa at Norfund
Warren Arinaitwe - Sustainable AgDev Specialist, PhD Scholar at the Department of Plant Sciences—University of Cambridge and Senior Advisor- Climate-Smart Agriculture at Busukuma Climate-Smart Farm.
Lucy Akua Kyerede Quainoo - Advisor at West African Chamber of Agribusiness
Eunice Khaguli - Senior Manager, Food Systems and Inclusive Growth at Wasafiri
Chika Emmanuel Okeke - Executive Director at Feed Africa Advocacy Network
Kathleen Charles - Executive Director at Africa Strategy and Services for Sustainable Development and Advisory Board of the African Agribusiness Alliance
SSCG Management Practice Events bring together leaders, professionals, industry experts, entrepreneurs and influencers to discuss the most important topics in business, leadership, economic, finance, entrepreneurship and the society today.
The webcast is approximately 90 minutes, including a question-and-answer session. Please complete your registration to participate in the event and to receive details on how to join the webcast.
More www.sscg-group.com or Twitter @SSCG_Group and hashtag #SSCGConsulting #SSCGForum #SSCGWebcast
GDPR COMPLIANCE
By registering to attend our events, you consent for us to hold your personal data and usage of event images inline with General Data Protection Regulation (GDPR) Compliance. We assure you that your data will be kept confidential and only be used to keep you updated of our events activities. For further inquiries, please email info@sscg-group.com.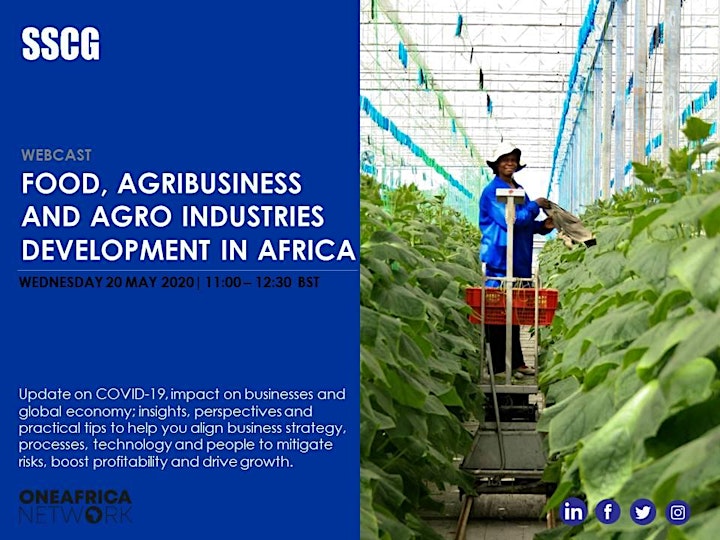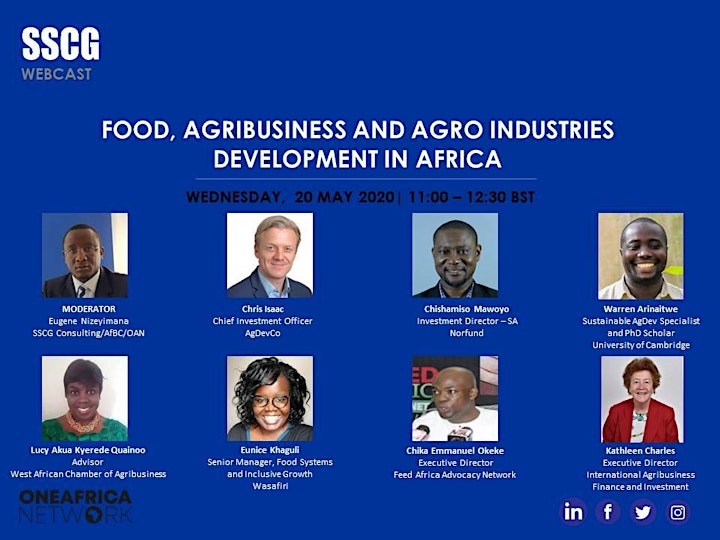 Organiser of Food, Agribusiness and Agro Industries Development in Africa