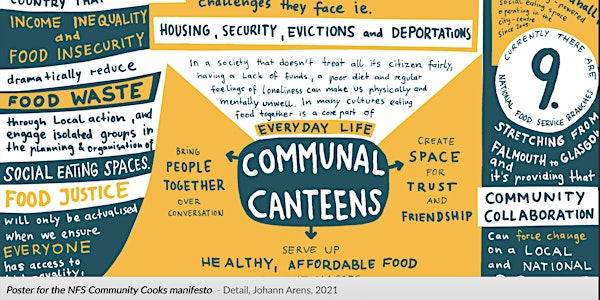 Food as Commons: building just and sustainable community food systems
A discussion on how to achieve equitable access to nutritious meals and the role that food can play in bringing people together
About this event
During lockdown we saw how disparate communities were brought together by mutual aid, and especially emergency food provision. To think about how we can use this momentum to create more just community food systems for Londoners, this conversation will bring together a community organiser from a food justice group, a policymaker from a London council experimenting with novel approaches to combatting food poverty, and a researcher proposing innovative solutions for food and climate sustainability. They will discuss how to achieve equitable access to nutritious meals and the role that food can play in bringing together people from a range of backgrounds.
This online lunchtime discussion is part of the London Festival of Ideas and will aim to be informative but informal. Participants will be asked to share what they are eating for lunch while taking part and the event will be accompanied by specially made visuals by the artist Johann Arens.
Speakers:
Bethany Martin (National Food Service London)
Bethany is a social permaculture and nature connection facilitator and activist. They co-founded the North/East London branch of the National Food Service during lockdown, as an emergency Covid-19 response. This project has prepared and distributed over 24,000 vegetarian and vegan meals, accompanied by grocery packages, to people in need of food in Hackney, Haringey and Islington. As we emerge into a post-Covid world, NFS London is collaborating with local groups and community spaces to build a resilient, accessible and nourishing food service with the mission of ensuring that everyone's food needs are met, forever more.
Ali Kakande (Carib Eats)
Ali is originally from the North and now lives in Hackney. Her professional background has been across advice, support for young families who need an ear, Ex-Offenders and those who struggle with addiction. A sought-after community-friendly face, she loves bringing people together whatever their background and putting people at ease, whatever the situation. It was this love of all people that led to the birth of Carib Eats which delivers Caribbean-inspired meals and offers various opportunities to cook, connect and chat. This summer she is looking forward to growing Carib Eats' offer to reach more people who need a tasty meal and a meaningful chat.
Patrick Vickers (UCL Institute for Global Prosperity)
Patrick works at the IGP with a focus on climate solutions. He has a particular interest in sustainable, regenerative food systems and is passionate about the potential for food to create a better future. He runs the IGP's Fast Forward 2030 network, which is a group of entrepreneurs building radical, sustainable businesses. He's also worked on creating community-led food solutions in Islington.
Lisa-Raine Hunt (Hackney Council)
Lisa-Raine has been coordinating Hackney's emergency food response for the past year as the council's Strategic Delivery Manager. She has worked across a range of sectors - local and central government, voluntary sector, arts and culture. The common thread through all her work is gathering diverse communities together to build innovative, effective and resilient partnerships. She is passionate about enabling community dialogue, bridging divides and effecting sustainable local change.
Moderated by : Hanna Baumann (UCL Institute for Global Prosperity)
Hanna is an interdisciplinary urban researcher with a background in Architecture, Art, and Migration Studies. She is concerned with the ways the built environment enables or disables the participation of marginalised residents of the city and frequently uses visual, participatory and arts-based methods to explore this.
Artwork by: Johann Arens
Johann uses installation and video to survey the documentary properties of public interiors and their inherent social textures. These site-related interventions are enquiries into the multiple ways social policy can impact our communal life and shape civil behaviour. He and Hanna are collaborating on a project on food justice as part of the Trellis public art programme at UCL East.
--
Header image © Johann Arens