Description
It's the moment you've all been waiting for…the much-anticipated programme for #FBC15 is here! All the juicy details about this year's event, which we've been working on for months, can finally be released. Phew! The countdown to #FBC15 has officially begun!
Marking our 7th edition, #FBC15 will take place on the 25th to 27th of September 2015 at the Chiswick House and Gardens, a stunning and historical venue set in the beautiful grounds of Chiswick Gardens, and it's guaranteed to push the FBC experience to the next level! Our goal is always to put together the most spectacular event for you all, chock-full of unforgettable sessions, networking opportunities, feasting and new discoveries from London and around the world; and if our track record is anything to go by, you can expect even more learning, fun, feasting, activities and networking this year.
Our theme for #FBC15 is For(a)ging a Prosperous Future with a focus on the future of blogging and media. With this in mind and for the first time we will be hosting a couple of open-floor conversations to allow everyone in attendance further opportunities to share, discuss and debate differing points of view.
We are honoured to be welcoming the world-celebrated Swedish-based couple and creative partners Luise Vindahl and David Frenkiel of Green Kitchen Stories, who will be leading the blogging 101 lab with FBC alumni Julie Falconer of A Lady in London. They will also be contributing to the discussion on the 'King of Content panel', which will be crammed with useful pointers on creating top notch visual, written and video content to flourish in the evolving blogosphere. With so much on their plate, David and Luise seem to seamlessly juggle work and life and so we thought it was only fitting to ask them to also share with us their tips and secrets on developing effective workflow habits!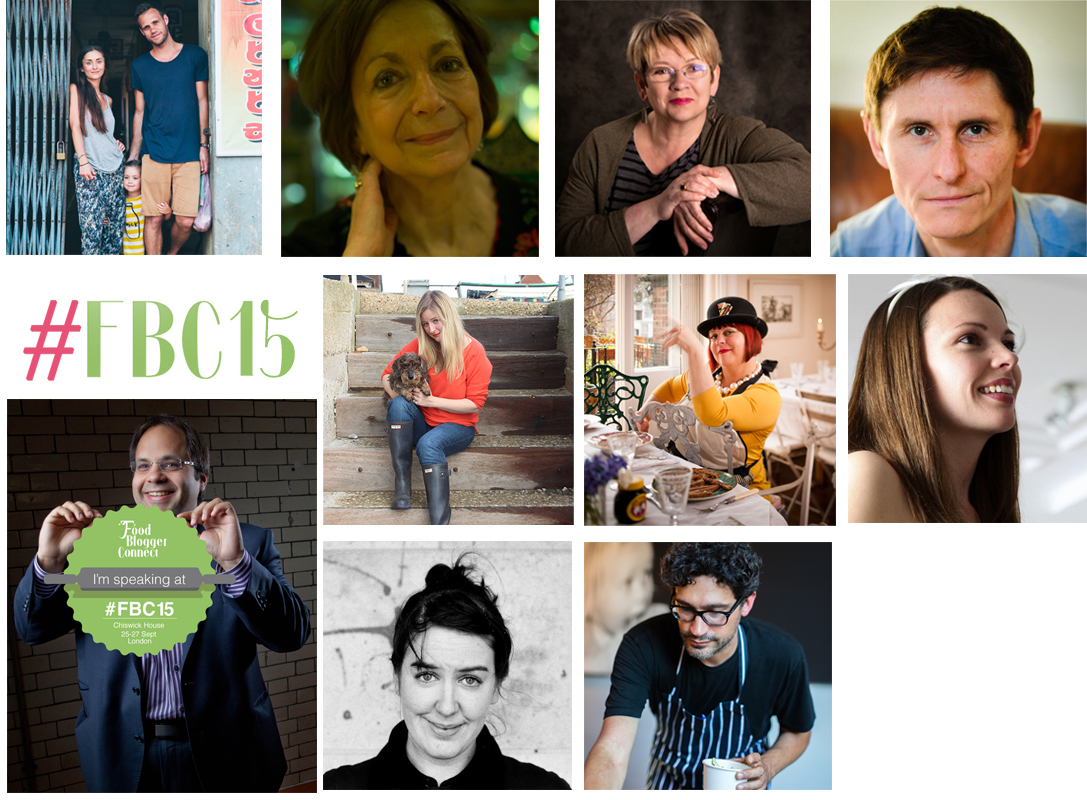 We are also thrilled to welcome and meet the incomparable Claudia Roden "up close and personal" to share her life researching food and how she realised early on that cooking was such an important part of culture. The dynamic and pioneering Sasha Wilkins and Kerstin Rodgers will be contributing to the all-important conversation on the future of blogging and will also lead the conversation in the highly-anticipated topic "The Great Big Industry Debate".
We're excited to have partnered with Pinterest to host a lab which is sure to leave you raring to get pinning as you discover everything behind Pinterest and how to make it work for you! Come with pencils sharpened and clean ears to soak up all the wisdom about food and recipe writing from Celebrity food writer and cook, Sophie Grigson, who'll show you exactly how to get your written content to stand out from the crowd with her informal approach. Cameras in hand and tweezers at the ready, William Reveal and Tara Sura will be sharing their photography and styling secrets, which will precede a "Pimp My Photo" lab on the Sunday with hands-on instructions about the editing process of creating captivating images. Ria Osborne will also be joining #FBC15 to help you tackle all your food photography and styling woes with Emily Jonzen! Keeping ahead on trend-spotting, Indy Neogy will shed light on some key areas such as lifestyle changes affecting food, new cuisines on the block and how bloggers can keep their finger on the pulse. Cookbooks are still popular collectible items and it's never been easier to self-publish… or has it?
Bloomsbury's team from Writers' and Artists' will lead the conversation on Self-Publishing, which will include all the realities and necessities you need to consider! Crunch all your tax woes aside and put your questions to the Tax Doctor duo Karen McDonagh and Izabela Suchomska from Nyman Libson Paul, who will break down everything from tracking your blog expenses to what you need to disclose and more!
With the ever-growing medium of video blogging comes many questions and many new things to learn! Orama.TV will be at the ready to answer all of your questions and divulge the mechanics of vlogging and social reach with in-depth hands-on labs. Connecting bloggers and brands Storm Communications, Salt Productions, and Sally Whittle who will be leading a rounded discussion on brands and content creators working together and how to go about setting your own prices. Putting mobile at its forefront, Filo.sh will be launching their social commerce platform, designed to empower blogs with a new revenue stream. During their talk, they'll be sharing some compelling new research on the state of blogging.
Recognised as a leader in the fight against malnutrition, Action Against Hunger will be coming in to talk to us about their invaluable work with food poverty, campaigning, the future of giving and answering questions any of us may have about getting involved. There will also be incredible opportunities to connect with agents and publishers in the FBC Brunch and Bookstore Speed Dating on the Sunday. We will be bringing together key players from the publishing and self-publishing worlds, as well as established authors, to share their experience and advice about the publishing process including a talk from David Bez of Salad Pride! With all of this plus so much more, one thing is for sure - the flood of valuable information will continue right up until we say our annual goodbyes on Sunday evening!
DJ phenomenon Seth Troxler's 'FBC Krackin Kitchen' filmed by Channel 4 and hosted by television presenter Annie Mac. This is the space where [out of the box] talent showcase their passions for creative pursuits in dining, drinking, art and entertainment!
With so much information to be assimilated comes the requirement for energy and deliciousness and what better way to refresh and connect than at our infamous strEAT Parties! Over the span of the weekend, a wide variety of innovative strEAT feeders, brands and cooks from London and further afield will be dishing up a festival of flavours as they satiate your raging appetite. So, it's 'bellies ready and wellies welcome', although we're confident of course that we'll be blessed with beautiful sunshine. Besides, there's going to be a pretty terrific marquee! Whether you're vegan, a meat lover or a gluten-free eater, fear not as we've expanded the waist-sides and made room for more feeders, there's bound to be something at the #FBC15 StrEAT Party to suit your tastes for a feast you'll struggle to forget!
Here's who's already in the strEAT Party mix…
The FBC15 strEAT Party will be joined by vegan, vegetarian and gluten free South American feeder - Colombian Street Kitchen, vegan fare Rupert Street, Churros Garcia, prime Iberian Deli products from Spain, Mei Mei's Street Cart serving up Jian Bing and proper Chinese comfort food, The Athenian on a mission to represent Greek cuisine with fresh, hand & home made Souvlaki, and treated to modern Vietnamese strEAT food from Roll n Rock while Ladle and Skillet will put all meat lovers in heaven with their slow-marinated lamb neck flatbreads.
This year we're thrilled to be partnering with La Belle Assiette for a whole weekend of unique dining while GLORIOUS will be on hand to bring in autumn with delicious soup pots inspired by tastes from around the world. Across all three days we'll have access to hand-crafted heritage breed Frankfurters with the best toppings in town from Oh My Dog!, a full flavour of The Indians Next Door and free-from friendly one pot dishes and hearty stews hand-cooked by Soulful Food to Give Blogger's a Break on the go! Plus, returning by popular demand, alumni Coconut Chili will be launching a new range while Bit Burger grills up a healthy twist with Bourbon steamed burgers! Alumni Ceviche will be returning to showcase Peruvian specialities with tunes from Martin Morales in the Krackin Kitchen while the KITCHEN Corner will be returning this year to host our favourite chef demos and product launches which we'll be announcing soon!
As always, FBC showcases a wide variety of brands for bloggers to connect with. For the first time at FBC, brands and bloggers will have access to a consultancy shelter throughout the weekend where attendees can connect and learn from each other, share services and barter their skills. Look out for the consultancy shelter featuring Bonativo's online farmers market, Zomato, Filo App and more, including barter with mdWordsmith for copyediting/proofreading your blog.
The FBC goodie bags are known to be pretty legendary and this year, we're unveiling some sneak-peak goodies attendees can look forward to including Mara Seaweed's superfood of the sea, a range of silicon molds and accessories for the creative cook from Silikomart while alumni partner, fairtrade and organic activists Steenbergs will showcase their new herbal teas, organic stuffing mix to start you off into the holiday season and natural home baking extracts to use with Get It Right's original Ultimate Spatula that will have you singing in the kitchen! Geared with a simple approach to product design, GIR will also be giving away a complete set of GIR products as a giveaway during Sunday's closing ceremony! Don't put away the plates just yet though, stay tuned for more partner announcements to connect with! We are very proud of our roots and indebted to our loyal alumni, as well as thrilled that FBC is growing beyond food blogging and is becoming the networking event for brands and influencers to get discovered and engage with a powerful range of content creators and other industry greats. From accomplished food, travel and lifestyle bloggers seeking fresh inspiration, to blogging newbies; from those looking to make a career in the food or travel industries, to content creators just wanting to dip their toe in the glistening blogging waters, #FBC15 offers something for you all! We can't wait to see you for another long weekend of learning, networking and, above all, fun!
View the Food Blogger Connect Programme
Have any questions? Email us (info@foodbloggerconnect.com) and we'll make sure to get back to you with all the additional information you may need!
Organizer of Food Blogger Connect #FBC15 - 7th Edition London 25-27 September 2015