| | |
| --- | --- |
| Food Blogger Connect - #FBC5 The 5th Anniversary | |
Event Details
As you may have read over the last few months, our theme for our fifth anniversary celebration is community. After all, the community feeds success!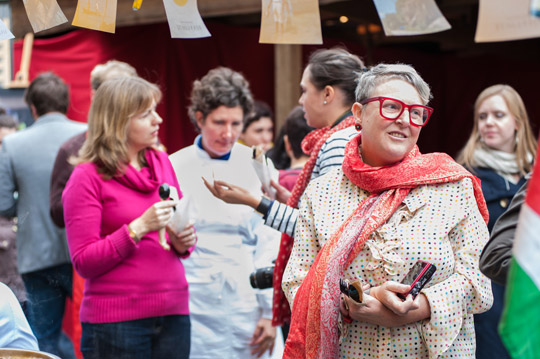 This year, we've gone all out to bring you the best speakers you could possible imagine with the likes of world renowned photographer David Loftus, working alongside Jamie Oliver; acclaimed author and keynote speaker David Lebovitz; Jaden Hair, the USA's leading food blogger and former FBC keynote speaker; award-winning photographer, Penny De Los Santos; not to mention Niamh Shields of Eat Like a Girl, Kerstin Rodgers of Ms. Marmite Lover, Ren Behanof Fabulicious Food, Emma Gardner of Poires au Chocolat, Sol of Toma Mexicano, Aoife Cox of The Daily Spud, Dana Elemara founder of Arganic and a team from the Food Network, just to name a few!
Also, other community folks including the Sustainable Food Trust and Food Cycle will be taking part.
As you can imagine, with the dedication and effort it has taken to secure such lofty names, we've also gone to great trouble to make sure that the programme works to precision, presenting a coherent flow which will allow everyone to leave with a stomach full of information from the weekend. In addition to the sessions that will be running throughout, keynote speaker David Lebovitz and Jaden Hair will also be running a limited 'speed blog sessions', giving attendees the chance to have their blogs analysed by the best in the business which can be won through giveaways, while Penny De Los Santos will be hosting an unmissable 'Behind The Lens' food photography workshop and David Loftus speaking on the basics with Photography 101.
If that's not enough, following on from last year, we'll also be hosting our second market, this time in the form of the #FBC StrEAT Party, with more wonderful traders than you could shake a wooden spoon at, providing attendees with a cornucopia of exotic and mouth watering fare. From the shores of West Africa, via the West Country, will be Kwaada and their fantastic Ghanaian street food, in tow with founder of Bristol's StrEAT Food Collective and Coconut Chilli trader, Navina Bartlett, and Dorshi Sushi, where Japan meets Dorset! Joining them will be Yummy Choo showing what to expect from the food of Mauritius, a Polish Pop-Up from blogger, Ren Behan, and the highly acclaimed, delicious (and FBC alumnus) Toma Mexicano with more lining up!
Also building up our excitement is the soon to be launched Middle Eastern cookbook, The Jewelled Kitchen, authored by our very own FBC founder and fellow food blogger Bethany Kehdy. In celebration of her cookbook and the #FBC5 milestone event, Bethany will be hosting The Jewelled Kitchen Souk on the Saturday evening bringing many dishes, aromas and flavours from the cookbook to life as she continues on her heartfelt mission to demystify Middle Eastern cuisine.
So as you'll have noticed, Food Blogger Connect is the world's leading, if not only international food blogging conference with traders, journalists, publishers, agents, tech, travel and food brands from around the world connecting with food bloggers hailing from not just London and the rest of the UK, but also from Europe, the Middle East, Russia, Asia, Canada, America… You get the picture.
Open to hobby or accomplished bloggers looking to learn even more, people in the process of starting or thinking about starting one, industry folk or those who just love food and want to meet some like-minded people, #FBC5 promises to be a true celebration of the community! But, don't just take our word for it.
Located at the wonderful Battersea Arts Centre (@Battersea_arts) , a local venue geared at promoting art in the community, conveniently located just a short walk from Clapham Junction, #FBC5 will be held from the 5th to the 7th of July. So, make sure you're part of all the fun, learning and inspiration this July by registering today… We can't wait to see you there!
Where

Battersea Arts Center London
Lavender Hill
London
United Kingdom