Food & Emotions: The Hidden Desire Behind Food You Crave (Barcelona)
Description
Reaching for chocolate, sweet foods is more common than we think.
Perhaps you're the savoury kind? Crisps and salty snacks? 
Or maybe you simply wish to DISCOVER MORE about the link between FOOD & EMOTIONS? 
Cravings and emotional ties to food can arise for many different reasons. It can be on a physical level, a sensorial level and most commonly on an emotionally level.
In this workshop you will discover the WHY behind your personal food choices and how to start transforming them into healthier options. Blending effective NLP techniques with the energetics of food to create a deeper awareness into your eating habits for increase health and well-being.
Take a moment to consider…
·  How have these cravings affected your life up until now?
·  What have you lost or gained as a result?
Hmm... would be nice to change that right?
After taking this topic to the UK this summer, I will now be unveiling an extended version of this workshop!
Sharing effective NLP techniques, 3 common hidden desires behind food cravings and how to fulfil them without junk food, delicious recipes and WHY some people go for salty foods and others go for sweet. 
I will be combining...
• Powerful NLP techniques to reprogram your unconscious mind
• Theory and understanding of how food affects us energetically
• Plus a PRACTICAL COOKING CLASS!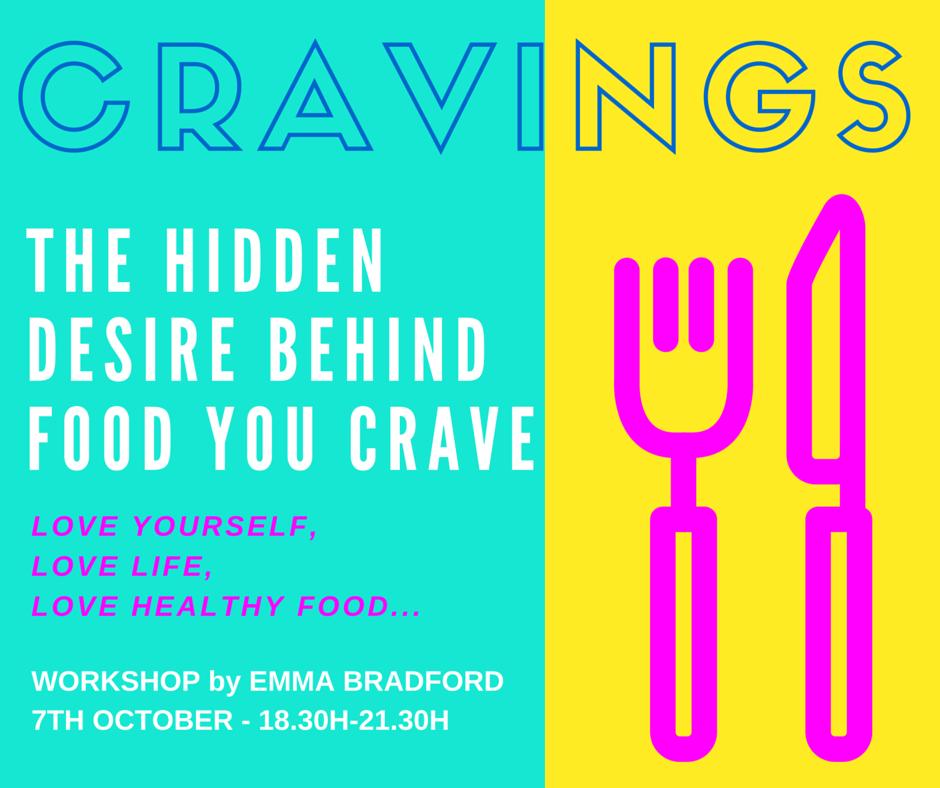 YOU WILL DISCOVER...
• The REAL reason why you personally crave certain foods.
• WHY some people go for salty foods and others prefer sweet.

• HOW your thoughts, beliefs play a role in your life experience.

• 3 COMMON HIDDEN DESIRES behind food cravings and how to fulfill them without junk food.

• Simple and effective techniques to REDUCE YOUR FOOD CRAVING significantly.

• Healthy and DELICIOUS RECIPES for when you are feeling peckish.
• And so much more!

THIS IS FOR YOU IF...
- You crave certain foods and have no idea why.
- You wish you could manage your food cravings in a healthier way.
- You'd like to find out what are the 3 most common hidden desires behind food cravings and how to overcome them.
- You want to discover how food effects us physically, mentally and emotionally.
- You wish to experience the powerful blend of working with your unconscious mind and using the energetics of food.
- You want to try delicious healthy recipes and take part in Barcelona NLP Practice Group's first practical cooking class!
- You are ready to embark a new way of thinking about yourself and food!
THIS IS NOT FOR YOU IF...
- You continue the victim role, with no desire to change your eating habits or accept personal responsibility for your life.
- Or that you are already supper happy and healthy with your relationship with food!
SOME UK SEMINAR ATTENDEES FEEDBACK...

"Really well delivered and clear. Thank you! Very relevant for me :-)" EP

"Do more in London please!!" EJP

"Practical tools given to take away. Really enthusiastic, engaging presentation, warm, fun - a natural speaker" SB
This WORKSHOP will last for 3 hours and includes NLP theory and PRACTICAL COOKING CLASS
Early Bird: Only €45 BEFORE 26th September 2016 
Full Price: €55 from 26th September 2016 onwards
***CLOSING DATE for RSVPs... Wednesday 5th October 2016 at 23H***
LOVE Yourself, LOVE Life, LOVE Healthy Food.


Price per person includes...
• NLP, Natural Nutrition & Life Energetics Workshop with printed handouts.
• PRACTICAL COOKING CLASS with all ingredients provided using organic food.
• Pdf copy of handouts & Recipes.
• Soft drinks & organic snacks
• BONUS mp3 visualisation recording to HEAL YOUR PHYSICAL BODY.
• NLP techniques you can take home and keep for LIFE.

• Plus much more!

**SPACES ARE LIMITED!**


LANGUAGE: This WORKSHOP will be in English.
RSVP: To reserve your place payments can be made in cash during other meetups before the event or via eventbrite. Your space for this workshop can only be reserved by paying upfront BEFORE Wednesday 5th October at 23H. Please update your RSVP if you can no longer attend. 
REFUNDS: No refunds can be made once payment has been received.