Food Mechanic Seminar

Monday, 16 January 2017 from 10:00 to 14:00 (GMT)
Event Details
DISCOVER THE SECRETS OF EFFECTIVE AND EASY EATING WITH BENEFITS
LEARN HOW TO HELP YOUR BODY BURN FAT
INCREASE YOUR ENERGY LEVELS AND STOP DIETING
ALL WITH FOOD THAT IS TASTY AND EASY TO MAKE
It's Only in This Full Day Live Event, That You'll Find Chef Des, Andy Edwards & Neil Cox, all Sharing The Stage Together.
All To Get You on the Right Path to a Healthier You.
Get The Body You Want
The Food Mechanic Seminar is about getting you to drop/lose your "Patchwork Quilt" of information on eating healthily, dropping unwanted weight, reprogramming your mind, getting you to think about your relationship with food, and learning to hear your body's language.
Monday 16th January 2017 at Sandbanks Hotel
Doors open 9.30am,  ONLY 100 Seats Available
 THE MIND - THE BODY - THE SOUL
THESE THREE GREAT SPEAKERS WILL EACH COVER AN AREA OF THE BODY
THE FOOD MECHANIC SEMINAR
 THE MIND

Is taken care of by Andy Edwards who is an inspiring and motivating professional speaker who delivers memorable presentations on Relationships, the Understanding of Others, their Influences and Attitudes.
He is the founder of Re£ationomic$ - creating tangible value from business relationships.
His bestselling book of the same name is available from Amazon (and elsewhere!).
Andy speaks at conferences and events across the globe about how to adapt behaviour and connect with others.
His Master Classes, Training Courses and Coaching Programmes help individuals understand themselves better, and their relationship with food, by finding out what personalities they are with colours, Red, Blue, Green or Yellow, you will better understand how to overcome food cravings, and find encouragement that you are not alone.
"Change the Mind and the Body will Follow"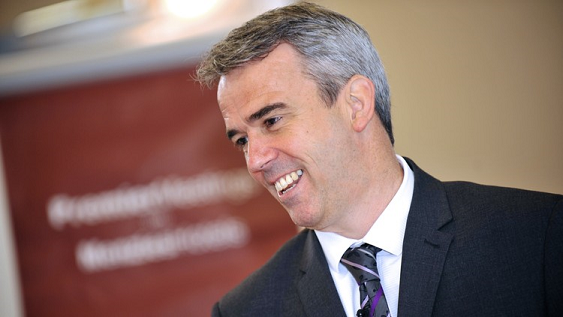 THE BODY

Is in the safe hands of Neil Cox-
His philosophy is based on two main principles;
·         That health is the natural state for the human body, and;
·         The responsibility for maintaining one's health lies with each individual.
Therefore, he wants to give you the knowledge and the skills to truly take control of your health.
Many people consult health care professionals with the idea that they will be able to "fix" them by administering the appropriate magic pill (or even the right magic chiropractic adjustment).
The truth is though that the "magic" does not come from the pill or the adjustment but in how the intelligence of your body responds to those things. You are the star of the show and should be the captain of your healthcare team
"Your Body Hears Everything Your Mind Says"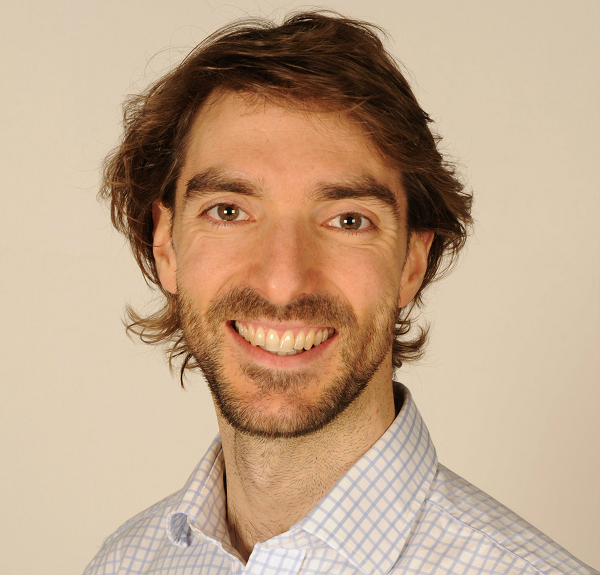 THE SOUL

Des will cover what he calls Soul food, and how by eating the right foods can heal us or the lack of the right an make us sicker.
He Failed his MOT?
And it changed his life, there are two occasions in his thirties, where he ended up in A&E complaining of chest pains, that's right IN HIS THIRTIES it was clear something had to change.
It came down to too main things his metabolism was one area, did you know when functioning at full capacity, your metabolism finds weight loss and burning fat ten times easier, and weight loss, becomes relatively easy.
Did you know that eating FAT is not the main cause for why we gain Fat?
Des did not, so after sitting down with his Doctor, Des was informed that he had a predisposition, as his family had a history of higher than normal cholesterol, the Doctors advice was the following.
"Eat less do more exercise" "Everything in moderation" and "Eat more low fat foods"
Well, Des will share his story and how he reversed early onset of type 2 diabetes and lost 4 ½ stone in weight through eating great tasting food and not doing what the Doctor told him!
"A Recipe Has No soul. YOU As The Cook Must Bring Soul To The Recipe"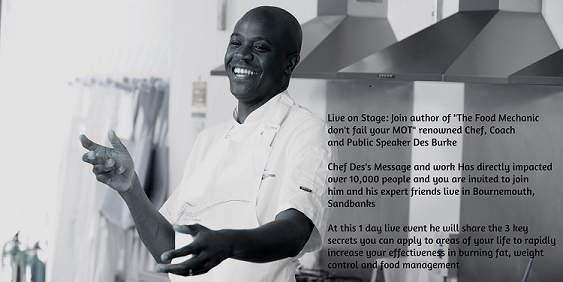 Best Part: You won't have to spend a small fortune to secure a seat at this event.
Cost: £110.00 but book before January 1st 2017 you'll be classed as an Early Bird.

Early Bird Price Just £47.00 will secure you a place and you'll get a huge amount of content and value.

Even Better Part: You don't have to risk anything. Your attendance at this event is covered by our "We believe in you 100%"

If you don't love our No Fluff, No Filling, take-it-home and apply-straightaway information we'll give you your money back.

We'll believe in you until you're ready to believe in yourself. We're just that kind of team!

Trust us it's going to be worth every penny, Sandbanks Hotel January 16th 2017 10.00am till 2pm.
A Word From Chef Des ...
If you're Tired of getting BIGGER each year, Tired of having to buy new clothes because the old ones don't fit, If YOU'RE Tired of being Tired.
Then you're going to
LOVE the results you're about to get
This Great price won't be around for long!
Three great speakers
5 hours of real good information
8 Weeks of Recipes
8 weeks of Shopping list's
8 weeks of Great food ideas
Bonus gift
Chef Des and the team by your side every step of the way
Book Early To Avoid Disappointment -
Limited Places - Reserve Your Ticket NOW!
When & Where

Sandbanks Hotel
15 Banks Road
Sandbanks
BH13 7PS Poole
United Kingdom


Monday, 16 January 2017 from 10:00 to 14:00 (GMT)
Add to my calendar
Organiser
Food Mechanic, Chef Des
Resident Chef & Owner at Flavours School of Cookery