About this Event
We are keeping a close eye on all updates in relation to COVID-19. Government guidelines state business events can resume from October onwards. This event will continue in a virtual format.
Agriculture faces increasing competition from other sectors for limited natural resources, of which their availability and quality are also affected by unsustainable practices and changing climatic conditions. In response, agricultural businesses and organisations need to improve their sustainability performance and adapt to the impacts of climate change to ensure food security for all.
In recognition of Organic September and the Autumn Equinox Harvest celebration, The Future Economy Network welcome businesses and the agricultural sector to this breakfast event to discuss, learn and support.
This event is kindly sponsored by Network members Michelmores.
The Future Economy Network welcomes Going For Gold, Small Robot Company and Network members Michelmores to speak at this event.
Sarra Mander, CMO at Small Robot Company - "Rethinking farming: three small robots and their dream to save the world"
Using big farm machinery dictates a blanket farming approach which causes many environmental problems, in particular soil erosion, and overuse of chemicals and fertilisers. Farming is also one of the primary emitters of green house gases.
Meanwhile, climate change is also impacting agriculture. Extremes of very wet and very dry weather caused the worst wheat harvest in 40 years this summer.
Sarra will outline SRC's Per Plant Farming model and Carbon Positive vision, also introducing its farmbots Tom, Dick and Harry. These will farm each plant individually, exponentially increasing biodiversity. Benefits include increasing yields by 30% - 40% globally and reducing carbon emissions and chemicals by up to 90%.
Joy Carey, Strategic Coordinator at Bristol Going for Gold Sustainable Food City and Director at Bristol Food Network
As one of only four cities in the UK to achieve a 'Silver' award (2016), Bristol is making a bold bid to 'go for Gold' and be recognised as a Gold Sustainable Food (SFC) City by the end of 2020 (now extended to Spring 2021). No city in the UK yet has a gold Sustainable Food City award. To gain Gold SFC status, we need to mobilise the entire city to take collective action to buy better, eat better, reduce food waste, grow more nature-friendly food in the city, support the food community and promote food equality – big and lasting changes to our food system, that bring about positive changes for our communities, our environment and our workplaces. An interactive Going for Gold website https://www.goingforgoldbristol.co.uk/ provides a mechanism for promoting action and enables collation of numbers and types of pledges and actions.
This autumn a new public campaign will be launched, 'Bristol Bites Back Better' - better for communities, better for people, better for the planet. Joy will outline the approach and explain how to get involved.
Ben Sharples, Partner, Michelmores
Ben will consider how public and private bodies are looking to realign their values with a Natural Capital approach and how policy support has developed in this area. Ben will be speaking about how agricultural and rural businesses are looking to harness the opportunities presented by the new and developing approaches to land management. Ben will also talk about the tricky subject of how to value Natural Capital and the importance of doing so.
Agenda
07:30 - 07:45 - Online Registration
07:45 - 08:05 - Facilitated Networking
08:05 - 08:15 - Introduction from The Future Economy Network
08:15 - 08:30 – Sarra Mander, Small Robot Company
08:30 - 08:40 - Questions for Sarra
08:40 – 08:55 – Joy Carey, Going for Gold
08:55 - 09:05 - Questions for Joy
09:05 - 09:20 - Ben Sharples, Michelmores
09:20 - 09:30 - Questions for Ben
09:30 - 09:40 - Group Q&A if needed
09:40 - 09:45 - 60 Second Pitches
09:45 - 09:50 - Close
09:50 - 10:00 – Optional Facilitated Networking Group 1
10:00 - 10:10 - Optional Facilitated Networking Group 2
Meet The Speakers!
Sarra Mander, CMO, Small Robot Company
Sarra is CMO at Small Robot Company, which is reimagining farming to make food production sustainable. Using robotics and artificial intelligence, SRC has created Per Plant Farming. This is an entirely new model for ecologically harmonious, efficient and profitable food production. Impact has always been at the core of SRC's mission. Sarra has been instrumental in driving the business forward around its purpose, building rapid visibility and early customer traction, as well as strategic industry partnerships.
Joy Carey, Strategic Coordinator at Bristol Going for Gold Sustainable Food City and Director at Bristol Food Network
Joy is an independent Sustainable Food Systems consultant with a focus on cities. She has worked in sustainable food and farming with UK and international organic and local food sectors since 1990. Her experience extends from horticulture to food procurement to social enterprises for local food networks to strategic national programmes designed to change food culture and influence government policy. She is a Director of Bristol Food Network and author of 'Who Feeds Bristol: Towards a resilient food plan' (2011) - a city region food system assessment report that has informed the Bristol Good Food Plan (2013). Since 2018 Joy has been strategic coordinator of Bristol's collaborative effort to become recognised as a Gold Status Sustainable Food City. is also involved in an international project looking at climate change risks to city region food systems.
Ben Sharples, Partner, Michelmores
Ben Sharples is a partner at Michelmores and leads the firm's Sustainable Agriculture practice. He is dual-qualified having practised as a Chartered Surveyor before becoming a solicitor. In addition to his extensive litigation practice, Ben is working with clients on sustainability issues. These include large dairy companies looking to reduce the carbon footprint of milk production. He is also advising on the valuation of natural capital and the opportunities arising from collaborative schemes. Ben is a member of the Task & Finish Group on Land Occupation reporting to the DEFRA Agricultural Productivity Working Group. Earlier this year Ben was quoted in The Times commenting on the new draft Agriculture Bill.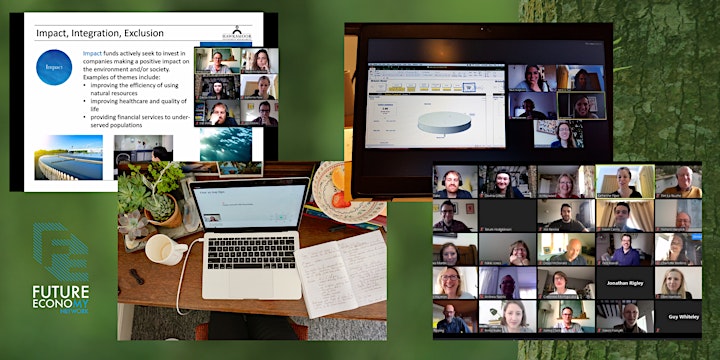 If you would like to join the Network please get in touch via: info@TheFutureEconomyGroup.co.uk
Follow us on Facebook, Twitter & Instagram
Sign up to our newsletter HERE
Event videos will be available on demand here, however these will not include live opportunities or networking.
We will share your Name, Job Title & Company with the other delegates & speakers to this event only. If you don't want this information to be shared please let us know when you have purchased your ticket.
We take photos at our events for marketing purposes, if you don't want your picture taken please let us know in advance.
We record our events for marketing purposes, if you do not want to be in the recording please let us know in advance.
We have included a mandatory £1 carbon offsetting fee to all event tickets in our commitment to being carbon neutral in our operations. You can find out about our chosen charity here.
#wegrowthhub #business #seminar #sustainable #sme #bristol #bath #businesswithpurpose #climateemergency #betterbusiness #climatechange #agriculture #sustainableagriculture #soildegradation #saveoursoil #farming #foodsecurity