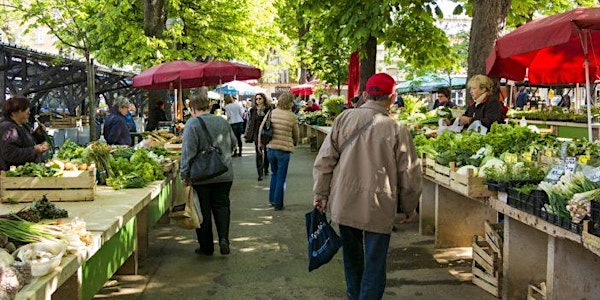 Food system transformation for sustainable city-regions
John Lever will present the paper: Food system transformation for sustainable city-regions: Exploring the potential of circular economies
About this event
Circular Food invites you to a research talk by Dr John Lever from University of Huddersfield.
He will be presenting this published paper:
Food system transformation for sustainable city-regions: exploring the potential of circular economies, by John Lever & Roberta Sonnino
Full text here:
https://www.tandfonline.com/doi/pdf/10.1080/00343404.2021.2021168?needAccess=true
ABSTRACT
Calls for food system transformation to strengthen synergies between socio-economic and environmental goals have been growing in recent years. As yet, however, insights from theoretical debates have not been tested against the actions and perceptions of food system actors. To add empirical weight to this debate, we focus on a region in the north of England where the Covid-19 crisis has challenged the embeddedness of linear thinking and siloed policy approaches. Based on an exploration of the potential of 'circular food economies', the analysis provides insights into the capacity of 'city-regions' to reorientate food system dynamics towards sustainability objectives.
KEYWORDS
circular economy; city-region; Covid-19; food governance; food system; food system transformation
Biography
John is an interdisciplinary social scientist with a background in sociology, human geography and latterly management. Before moving to the University of Huddersfield, he worked in the School of Geography and Planning at Cardiff University and for Cities Research Centre at UWE: Bristol. Throughout this period, John's research interests revolved around 'sustainable communities' and 'sustainable food systems', and he was involved in a number of ESRC and EU funded pojects, including Welfare Quality and Dialrel. More recently, he has been commissioned by NGOs, local authorities and food certification bodies in the UK and beyond, and completed work funded by BA/Leverhulme, among others.
John's current research interests revolve around sustainable food systems and religious food markets. The question driving much of his research is: What can food tell us about people, place and politics? John holds an ESRC funded PhD in Public Policy and his work continues to have an underlying policy focus.
Before he bacame an academic, John worked for Oxfam in fairtrade for a number of years. His teaching has a specific focus on food system sustainability, circular economy, doughnut economics and environmental management/ policy at both UG and PG level. John is a Fellow of the Higher Education Academy (HEA) and the Norbert Elias Foundation (for a complete list of John's talks before 2014 see www.johnlever.com.)