A panel discussion on women's roles in creating a sustainable food system with speakers from Scotland and around the world.
About this event
Women around the world are being recognised for their essential contribution to a sustainable food system as smallholder farmers, and their work supporting their communities experiencing the worst of climate change. Join us on 12 January to hear from speakers from Scotland and Zambia about the role of women in creating sustainable food systems, addressing the climate and biodiversity crises through agriculture and building a sustainable farming movement.
This event is free and open to all.
SPEAKERS
Barbara Hachipuka Banda
Barbara Hachipuka Banda is the founder and Chief Executive Officer (CEO) of the Natural Agriculture Development Program Zambia (NADPZ), an NGO that was established in 2005 in partnership with a non-profit organization called Shumei International. NADPZ aims to improve the quality of life of Zambia's rural population by using an environmentally friendly farming method called Natural Agriculture. NADPZ currently works with over 6000 rural small-scale farmers in the Southern province of Zambia; educating them on the self sustainable benefits of Natural Agriculture and Seed Saving methods. Our mission is to support and stimulate initiatives, which will: Create and expand markets for Zambian natural agriculture produced products; Increase incomes of small-scale producers through partnerships with the private sector, agribusinesses, associations, and cooperatives.
Nikki Yoxall
Nikki and her husband James are new entrant farmers in Scotland, where they raise native and rare breed cattle using agroecological approaches, with a particular interest in agroforestry and Holistic Management. Nikki has been working in education for over a decade and is passionate about broadening access to agroecological and regenerative agricultural training, particularly through social learning opportunities. Nikki works with the Landworkers' Alliance as a Training Coordinator and with the PFLA to support the links between academic research and farmers.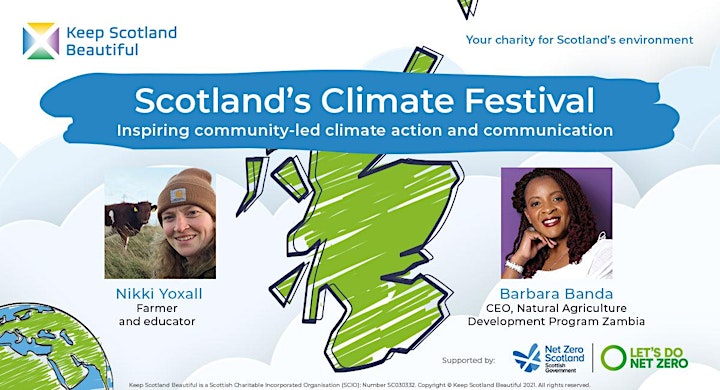 About Scotland's Climate Festival
Scotland's Climate Festival supports communities across the country to plan and deliver their own local climate festivals and events, alongside our national event series.
Community Support: expert support to help you organise and promote your local climate event, as well as access to seed funding.
National Event Series: inspiring and informative online events, free and open to all.
Find out more at: www.keepscotlandbeautiful.org/climatefestivalscot and follow us @KSBScotland #ClimateFestivalScot