Event Information
Refund policy
Refunds up to 7 days before event
Eventbrite's fee is nonrefundable.
3-month, multi-layered prog dedicated to coaching! Structured mix of webinars, peer support, book reviews, networking & guest developers
About this event
"Version 1 was so valuable. Not just Ray's knowledge but learning from others. It's not often you get such a wide range of experience in a group - level 1, level 2, UEFA B, UEFA A, volunteers, part-time & full-time coaches - and even Per Mertesacker! Thank you Ray Power"
(Jason Taylor, programme participant)
(for more testimonials, see the 'What the Participants Say' section below)
Why Launch a Coach Development Programme (CDP)?
Coaches have developed a habit of jumping from webinar to webinar and podcast to podcast. We download books and documents that we will never read, and like videos we will never watch. We feel that we were learning, whereas we we're actually just channel-hopping like when bored watching TV.
It is just all too random to provoke deep, genuine learning.
THIS Programme
"If you want to take your coaching up a notch I would highly recommend"
(Jeff Romp, Programme Participant)
Ray Power's Coach Development Programme puts your long-term learning at the centre.
Webinars are structured, where you can engage with others long after the recording finishes. They are designed to engage your brain, make you think and challenge conventional thinking.
You won't get a book to save on your computer, you'll get a book that will be reviewed by everyone. You'll speak to like-minded coaches everyday in a supportive environment.
When I worked in Africa there was no formal Coach Education provisions SO we did it ourselves - we pooled our knowledge. This is a key ingredient of the Coach Development Programme.
Furthermore, the best coaching courses are ones where participants learned from each other.
For these reasons I'm bringing this Coach Development Programme to you.
What is the CDP?
"This course will be amazing if it's anything like the one I'm on now with Ray"
(Jon Adamson, CDP Participant)
Like with the players you coach, we will utilise whole team and small group sessions - all underpinned skilfully by the individual development of each coach.
This CDP will develop the coach through:
Webinars
- You will have access to 11 expertly researched webinars that cover all corners of player development.
"The Knowledge Is In The Room"
Small Group Work
- Small-group breakouts occur after webinars to discuss ideas with like-minded peers with diverse experiences in the game
"The best learning takes place in the bar afterwards"
1:1 'Buddy' Coaching
- Throughout the programme, you will be paired with fellow coaches for 1:1 'buddy' work. Here you will be both 'learner' and 'teacher' in a safe environment
"The Best Way to Learn is to Teach"
Book Review
- After both 'Full Matchdays' and 'Friendly Matches', coaches will receive a football or coaching-related book (all books provided)
[some participants may be able to read books in a short space of time, but we also acknowledge that some may not be able to - see FAQs for more info]
Guest Developers
- The CDP will engage with expert developers who are experts in their field.
Per Mertesacker (Oct 9)
Dan Abrahams (Oct 30)
Ian Jones, Head of Coaching Burnley FC (Aug 28)
Laura Finnegan, RAE Expert (Sep 27)
Gueat Developers may commit long-term or be announced very quickly! Given the nature of this, some who are announced may cancel at any time. Your understanding on this is implied!
Grow Your Network
- You will also be able to build and grow your network of like-minded coaches
- Develop a DEEPER and often life-long relationship with fellow coaches than on other platforms
- Along with a share group on WhatsApp, participants will have the option of joining a private, anonymous group that addresses issues of 'Imposter Syndrome'.
Full Matchday & Friendly Match Programme
Full Matchday - Sunday's, 4:45-7pm (5 in total)
Friendly Matches - Fridays 7-8pm (6 in total)
***(All times are BST, then GMT from end Oct)***
See webinar schedule below: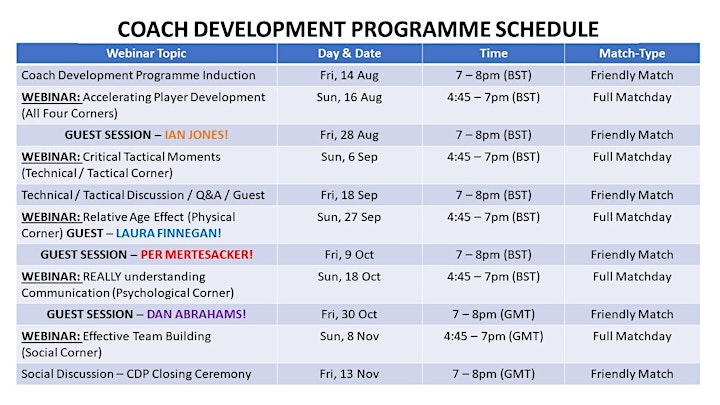 What the Participants Say...
"Fantastic opportunity for all coaches. I have been working with Ray Power and highly recommend his work. The knowledge and skills I am gaining is on another level".
(Chris McDowell, UEFA A Licence candidate)
"Currently on this and honestly I'm like a new person ... get on it"
(Adam O'Sullivan, FA Level 1 Coach)
"Coaches wanting to grow and learn more about coaching our beloved game must join this amazing webinar course with Ray Power. It is a great opportunity for you grow, learn and meet new coaches from around the world! Do not miss it!
(Edu Tamayo, CAF B Licence)
"Get involved and find those lightbulb moments"
(Gaz Newton, UEFA B Licence candidate)
"I'm on this programme at the moment, and would recommend to anyone who wants to develop as a coach. Ray Power is brilliant, and you learn so much from the others on the programme."
(Douglas Connor, FA Level 2 Coach)
"The CDP with Ray Power has been a great experience of learning, networking and teaching. I am looking forward to continuing to grow. I recommend the program to anyone who wants to improve. I would love to share my experience with anyone interested".
(Cory Reinard, US Soccer Coach)
I have been part of the programme during lockdown and it has given me a few light bulb moments, but also opportunities to focus on what I want to develop.
There is so much included, from books through to the invaluable networking, all without leaving the house. Plus the chance to learn and talk to a fantastic football author
It's well worth getting on this if you can.
(Darren Horsman, UEFA B Licence)
Frequently Asked Questions
What will I learn?
The 'how' will be as important as the 'what'. You will learn in multiple ways on the Coach Development Programme:
1) You be be explicitly taught about Long Term Player Development, tactics, psychology, physical and social coaching
2) The small group activities will allow you to develop a deeper sense of learning where the group debates the topics from the webinar rather than your typical Q&A to the teacher (that comes later!)
3) The Buddy Coaching allows you to hone in on YOUR needs. I am absolutely certain that both your strengths and weaknesses as a coach will both be improved
Will I have direct access to Ray Power?
Yes. This is not a one-size-fits-all programme where the host just logs off and you're left with questions. You will have direct access to Ray and to everybody else on the programme. However I want your first contact to be with a peer - so learners are learning.
What is a 'Full Matchday'?
The 'Full Matchday' takes place every three weeks (Sundays). The matchday takes this format:
4:45 'Warm-up' - soft start, Qs from last week, catch-up etc
5:00 'First half' - webinar led by Ray Power
5:45 Half-time break
6:00 'Second half' - Small-Group breakouts
6:45 'Final Score' - Wrap up
What is a 'Friendly Match'?
In between 'Full Matchdays' are 'Friendly Matches' that take place every three weeks (Fridays).
The friendly match is more informal and will involve lots of interaction.
If I miss a Webinar, can I watch it back?
The best way to experience this Coach Development Programme is to do so live. Most of us coaches will have match days throughout the year, so squaring off this time to join us live will be most beneficial to you. The PowerPoint webinar presentation will be shared with all participants anyway, but not a recording.
What Happens In Between Webinars?
This is your time to network, speak to your 1:1 buddies, and strengthen your strengths/weaknesses. There will also be a book to read every week (see Q below if reading a book a week is a problem).
You can drop any questions you have into your small group and to your assistant in preparation for the following matchday.
What are 'Guest Developers'?
Guest Developers are experts in their field who are invited to speak to and with members of the Coach Development Programme - to converse directly with you! This may be through a discussion, Q&A or presentation format.
You give us books regularly - what if I cannot read a whole book in that time?
Don't worry. If you can't read a full book - for whatever reason - read half of it. If you can't read half, read two chapters. If you can only read one chapter, skip to the one that interests you most.
What do you mean "the best way to learn is to teach"?
Traditionally teaching and learning was top-down - the teacher taught the learner what they knew - and learner learned. This model has its place, however there are many more ways of learning too. A really effective way to learn is to teach something. It demands that you prepare to a higher level and you also need to simplify your expertise to the learner's level! Their follow-up questions will also prompt further deeper-level thinking. If a coach asks you to teach them about something, you will learn too!
How are the small groups formed?
Primarily for each group breakout session you will be grouped randomly. This randomness allows us to learn from a wide variety of people.
How does the 1:1 Buddy Coaching aspect work?
After each Full Matchday you will be buddies with a fellow participant, and provided with a task to focus on.
However, more importantly is using these new relationships to develop and offer each other learning* away from the main programme content.
*Teaching is also a great way to learn and strengthen your strengths
This 1:1 relationship is not confined to matchday, you can talk, text, call, share resources etc through the week and forever more if appropriate!
Why did you ask for my job title?
We all bring a set of skills and experiences to coaching - strengths that we may not even realise. If you are an expert, or work, in IT for example, maybe you can help someone use iMovies to send videos to players. If another member is a social worker, maybe they can help you with player behavioural problems. A teacher can help with how players learn. A builder could help share ideas about putting together some home equipment etc etc etc. Everyone is here to help everybody else!
I do not have any coaching badges yet - can I join?
Absolutely. All levels of coaches can just. The only prerequisite is an open mind!
Can I access this programme from anywhere in the world?
Yes, the more diverse the participants, the better. All you need is a reliable WiFi connection and access to WhatsApp and Zoom. Please note the currency is GBP and times are all UK. The programme will be conducted entirely in English.
Leaving the Programme
You are eligible for a refund up to 7 days before the programme begins. After this, there is a strict no refunds policy.
What Happens Once I've Paid and Signed Up?
Once you've paid and signed up for the Coach Development Programme you can relax, knowing your place is secure!
In the build up to the Opening Ceremony you will be added to a WhatsApp group where whole-group communication takes place. This group will be the first point of contact in terms of organising the programme (webinar links etc). Everything will follow from there.
PLEASE ENSURE THAT YOU ARE REACHABLE THROUGH THE EMAIL ADDRESS AND PHONE NUMBER THAT YOU PROVIDE
Date and time
Location
Refund policy
Refunds up to 7 days before event
Eventbrite's fee is nonrefundable.
Organiser of Football (Soccer) COACH DEVELOPMENT PROGRAMME (3 month)
Ray Power is a professional football coach, who has worked at every level of football - from Non-League to Premier League, and with young people in a range of environments – from poverty-stricken 'street kids' in the Tanzanian city of Dar es Salaam, to the children of ultra-wealthy business people in Switzerland and international footballers.
He has worked with incarcerated youth, primary and secondary school children, international football players, aspiring and professional coaches and teachers, and parents.
Ray is the author of several youth-based youth development books, including the best-selling, Making the Ball Roll, and the Deliberate Soccer Practice series - and his *new* book, Coaching Youth Football. Whether in the classroom or on the training pitch, these books include a wide range of current research about how children learn, and how coaches teach.