Event Information
Location
Buckingham House Lecture Theatre
Murray Edwards College
Huntingdon Road
Cambridge
CB3 0DF
United Kingdom
FOR SAMA (2019) documents Waad Al-Kateab's life during the uprising in Aleppo. Certificate 18; disturbing scenes, images of dead bodies
About this event
THIS EVENT IS NOW FULLY BOOKED BUT WE WILL BE LIVESTREAMING THE Q&A.
FOR SAMA is both an intimate and epic journey into the female experience of war. A love letter from a young mother to her daughter, the film tells the story of Waad al-Kateab's life through five years of the uprising in Aleppo, Syria as she falls in love, gets married and gives birth to Sama, all while cataclysmic conflict rises around her.
Her camera captures incredible stories of loss, laughter and survival as Waad wrestles with an impossible choice– whether or not to flee the city to protect her daughter's life, when leaving means abandoning the struggle for freedom for which she has already sacrificed so much.
The film is the first feature documentary by Emmy award-winning filmmakers, Waad al-Kateab and Edward Watts.
The screening is followed by a Q&A session with Waad and her husband, Hamza.
FOR SAMA – PRODUCED BY CHANNEL 4 NEWS/ITN PRODUCTIONS FOR CHANNEL 4 AND FRONTLINE PBS.
WAAD AL-KATEAB - ACTIVIST AND FILMMAKER
In 2009, 18-year-old Waad al-Kateab moved to Aleppo to study marketing at the University of Aleppo.
In 2011, when protests against the Assad regime swept the country, Waad taught herself how to film and became a citizen journalist, determined to document the horrors of the war. During this time, Waad began reporting for Channel 4 News in the United Kingdom. The reports she made for Channel 4 News on the conflict in Syria, and the most complex humanitarian crisis in the world, became the most watched pieces on the UK news programme – and received almost half a billion views online and won 24 awards – including the 2016 International Emmy for breaking news coverage.
Waad documented her whole life over five years in Aleppo, as she fell in love with Hamza – a doctor – and gave birth to their first daughter, Sama ("Sky") in 2015. This footage became the basis of the feature documentary released in 2019, For Sama. Directed together with Edward Watts, For Sama won the Prix L'Œil d'or for best documentary at the 2019 Cannes Film Festival, receiving a six-minute standing ovation.
At the 73rd British Academy Film Awards in 2020, For Sama became the most nominated documentary in the history of the BAFTAs with four nominations, ultimately winning for Best Documentary. For Sama received a nomination for Best Documentary Feature at the 2020 Academy Awards.
Waad has also received several personal recognitions for her work as an activist and filmmaker, including the IDA Courage Under Fire Award, a Special Recognition for Courage in Filmmaking at DOC NYC Festival and a place in the 2020 Time100 List of Most Influential People.
After fleeing Aleppo in December 2016, Waad, her husband, and their two daughters now reside in London, United Kingdom. Waad currently continues to work with Channel 4, is a mentor to female journalists and dedicates time to her advocacy campaign, Action For Sama. The campaign, launched in 2019, focuses on utilising FOR SAMA as a unique educational tool to build more empathetic responses to the situation in Syria and end impunity for the war crimes committed there. Action For Sama campaign's ultimate aim is the pursuit of accountability for the perpetrators of war crimes in Syria as conducted through the targeting of civilians and hospitals. and dedicates time to her advocacy campaign, Action For Sama, which focuses on raising awareness about the situation in Syria and Syrian Refugees and seeks accountability for the war crimes committed by the Syrian and Russian regimes.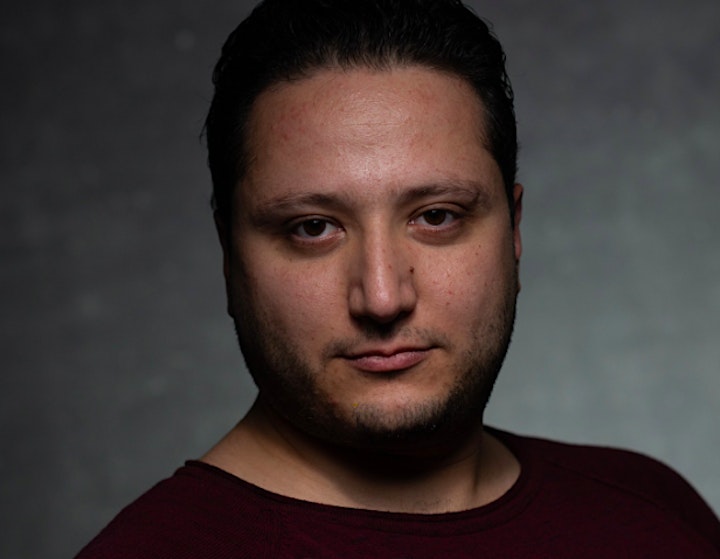 HAMZA AL-KATEAB - DOCTOR, HUMAN RIGHTS ACTIVIST, ACTION FOR SAMA LEAD
Dr Zahed "Hamza" is a Syrian doctor, human rights activist and public health advocate. In July 2012, when eastern Aleppo was declared a non-government-controlled area, Dr al-Kateab moved to the city and founded a new hospital: Al-Qudes Hospital. Over 4 years, he was hospital director and an emergency doctor which, in an area of 10 hospitals and with no effective health system, made him responsible for the entire population living in East Aleppo.
By building diverse, multidisciplinary networks, Dr al-Kateab was able to achieve the impossible: running a hospital while continuously under attack from - and treating the victims of - Russian and Assad regime airstrikes. Not only was he running an emergency hospital and responsible for developing policies to support the health of the community, but the Al-Qudes hospital depended entirely on funds from donors. Dr al-Kateab led on donor engagement, regularly involving them in the life cycle of projects, to ensure full transparency and trust.
In order to keep the hospital running in extraordinarily difficult circumstances, Dr al-Kateab developed strong relationships with funders, media, healthcare directorates and colleagues, which are a testament to his leadership qualities and his ability to develop strategic partnerships.
Over 4 years, Dr Al-Kateab grew the hospital staff from 15 to 110 by focusing on developing their skills and developing shared values. The hospital served 4000 beneficiaries a month and was the only one, in both government and non-government areas of Aleppo, that included a safe area for children under 5, to support the needs of working mothers. Al-Qudes was the only hospital that provided a totally separate ward for women and the only one to comply with Gender Based Violence methodology.
On 27 April 2016, the hospital was targeted. 3 staff were killed, 5 were injured and the hospital was completely out of service. By dealing with trusted media, NGOs and donors with whom he had already established strong relationships, Dr al-Kateab was able to reconstruct the hospital in 3 weeks. Moreover, he managed to secure funds to relocate the hospital to a safer place and keep the hospital running. This was now the last hospital in the besieged eastern Aleppo.
In August 2016, during the siege of Aleppo, Dr al-Kateab wrote an open letter to President Obama and Chancellor Merkel with the last remaining doctors in Aleppo, calling them to take real action against relentless attacks by Russia and the Assad Regime. He also launched a petition on 'change.org', calling for world leaders to prevent impending disaster in Aleppo - it reached 750,000 signatures in just a few months.
During the last month of Aleppo's besiegement, with all other hospitals completely out of service from bombardment, Al-Qudes treated about 8000 injuries and performed 898 operations. When evacuation was decided in December 2016, over 350 injuries needed to be moved via ambulances. As manager of the only remaining hospital, Dr al-Kateab set the medical evacuation methods and procedures with the Syrian Red Crescent and International Committee of the Red Cross. 10 staff stayed with him to evacuate the wounded over 9 days. He ensured the safety of all other staff by sending them to safety outside the city. Dr al-Kateab then managed to obtain funds for the hospital to be relocated to the Aleppo countryside and gave his staff priority in recruitment.
After being forcibly displaced from Aleppo that month, Dr al-Kateab began working with NGO Syria Relief and Development as health coordinator, remotely managing a gynecology and pediatric hospital and four primary health centers in Syria. Moreover, he was the organisation's representative in the sexual and reproductive health working group and coordinated with UNFPA on capacity building of health actors in Syria.
Dr al-Kateab's long-term vision for the post-conflict reconstruction phase is to work with the Syrian Ministry of Health on improving Syria's health system governance through empowering local health authorities. By working with international organizations and convening partnerships around a unified aim to help the affected population, he aims to improve the population's access to health services.
Dr al-Kateab was featured in the documentary For Sama by his wife, Waad al-Kateab. He moved to the UK with his family in 2018 and until very recently has been working as Operations Manager at Huozhi/Amanacard, a groundbreaking scheme providing a financial lifeline to people trapped in crisis zones. Amanacard helps aid organisations to send funds for their programmes in Syria. Their work is helping fund more than 4000 health workers working in around 100 health facilities, 10 thousand displaced families and 1000 orphans families.
Dr al-Kateab is currently studying towards a Masters Degree in Public Health at the London School of Hygiene and Tropical Medicine and is a core member of the Action For Sama Campaign team, an impact campaign which aims to raise awareness about Syria and Syrian refugees, and works towards accountability for the war crimes committed by the Syrian and Russian regimes.
Date and time
Location
Buckingham House Lecture Theatre
Murray Edwards College
Huntingdon Road
Cambridge
CB3 0DF
United Kingdom