For September and October 2020 we've invited the Jerwood Compton Poetry Fellows to takeover the Jerwood Arts channels.
About this event
For 75 days during lockdown, Hafsah gave a lunchtime reading live of poems on social media marking the highs and lows of this time.
Hafsah will be in conversation with the programme's Project Manager Nathalie Teitler about how she found poems to inspire, celebrate and comfort her audience, allowing poetry to reach out to new audiences at a time when it was so needed. She will be reading some of her all-time favourites and some of the UK's best poets will be dropping in live to read their own work. 
About the Jerwood Compton Poetry Takeover
The Fellows for the latest edition; Hafsah Aneela Bashir, Anthony Joseph and Yomi Sode, are celebrating the end of a year of mentorship, reflection and development through the fellowship programme with this new digital programme of online events, content and social media takeovers. Through the programme they will be presenting new work, testing fresh ideas and formats for presenting poetry online as well as engaging in critical conversations about what poetry can be, and is, today. Learn more, here.
The Jerwood Compton Poetry Fellowships offer a significant new development opportunity for poets, supporting individuals whose practice encompasses poetry in the broadest artistic sense. The Jerwood Compton Fellowships are designed and managed by Jerwood Arts, with support from Arts Council England and including funds from the Joseph Compton bequest. Learn more, here.
Access
This online event will be available to stream as a video via Youtube, the event will be pre-recorded and captioned in English language subtitles. Any access requirements or suggestions can be discussed with the Jerwood Arts team at info@jerwoodarts.org or telephone +44 (0)7944 903 993.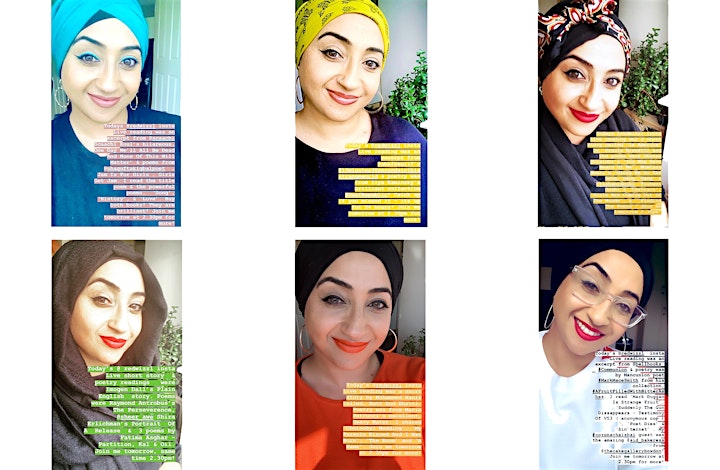 Hafsah Aneela Bashir is a Manchester-based poet, playwright & performer originally from East London. Founder and co-director of Outside The Frame Arts, she is passionate about championing voices outside the mainstream and building power through creative expression. Her debut poetry collection The Celox And The Clot is published by Burning Eye Books and she is one of ten authors selected for the New Writing North's Read Regional 2020 campaign.She was selected to be part of the Artistic Directors Leadership Programme, a scheme preparing Leaders Of Tomorrow from minority ethnic backgrounds for future leadership roles. She is an Associate Artist with The Poetry Exchange, Associate Artist with Oldham Coliseum Theatre and Supported Artist at The Royal Exchange Theatre, Manchester.Creating socially engaged work, her play Cuts Of The Cloth was commissioned for PUSH Festival 2019. She has worked creatively with Manchester International Festival, Ballet Black Ldn, HOME Theatre Mcr, Manchester Literature Festival and ANU Productions Irl. Before lockdown, she was developing her SICK! Festival commission, Four Dholis And A Divorce exploring mental health set in the South Asian community. She is currently developing new work for the Tete a Tete Festival & has recently launched the Poetry Health Service, a project delivering poetry panaceas by the people, for the people. hafsahaneelabashir.wordpress.com

Organiser of For the Love of Poetry – 75 Days
Jerwood Arts is the leading independent funder dedicated to supporting UK artists, curators and producers to develop and thrive. We enable transformative opportunities for individuals across art forms, supporting imaginative awards, bursaries, fellowships, projects, programmes and commissions. We present new work and bring people from across the arts together through our exhibitions and events at Jerwood Space, London, as well as across the UK. jerwoodarts.org