Annick & Haneen will share their own journey and invite guests to question their relationship to their work / youth-work.
About this event
Annick Météfia and Haneen Hammou, co-producers of the upcoming Shake! Research report will share their learnings from the experience of researching the impact of Shake!'s radical and political youth spaces in the last 10 years. They will share their own journey and invite guests to question their relationship to their work, their audiences and to the sector, through language, identities and the structural politics of youth work.
About Annick
Annick Metefia is a youth worker and racial justice activist from France, based in London. She has worked for the Black activists network KIN at New Economy Organisers Network, and for several youth and community organisations, supporting young Black and brown people in developing a collective response to racism, police and State violence. As a member of Shake! family, she has performed poetry at events, run Shake!'s reading group, and co-produced Shake!'s upcoming 10-year legacy research report.
About Haneen
Haneen Hammou is Sudanese and grew up between home and the UK. She is a Shake!r pursuing work in the field to end migration detention in the UK and is currently Secondary Researcher for Shake!'s upcoming 10-year legacy report and Social Justice Researcher at Ten Years' Time.
Access: All of our events will have automated closed captions.
Read our Festival House Rules here: https://actforchangetogether.org.uk/festival-house-rules/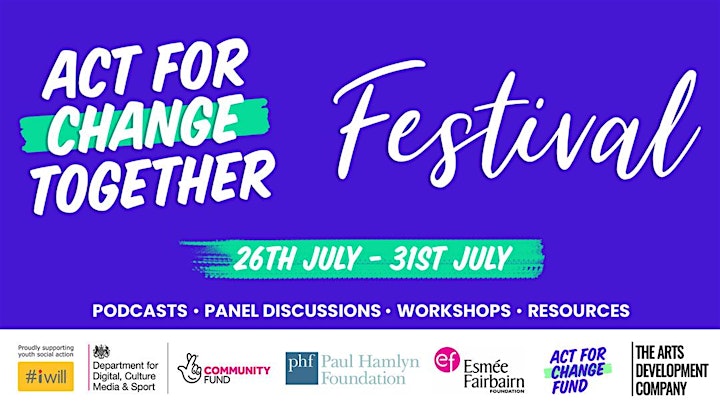 About Act for Change Together Festival
Our festival aims to:
Change the narrative / challenge stereotypes
Showcase how to meaningfully involve young people in services / orgs / decision making
Share young people's knowledge & skills in making change
Showcasing the 32 orgs and the young people leading and making change

The Act for Change Together festival comes out of the combined drive and passion of 32 organisations across the UK, supported by Act for Change Fund, that believe young people are the future and have the power to lead change. 

Through a series of podcasts, workshops, panel discussions, and videos, our amazing youth activists and adult allies and partners (from the 32 funded organisations) will be sharing their stories, experiences, top tips, and things they've learned from their time delivering youth-led social action campaigns – and you can get involved too! 

With every event, we're hoping to hear from you with your own experiences, questions, and insights, so together we can build an experience that we can all learn from and remember.

https://actforchangetogether.org.uk
Organiser of For Us, By Us: Shake!'s legacy of political youth work
We are a steering group of young activists drawn from some of 32 organisations funded by Act for Change Fund. With support from Molly Scarborough and The Arts Development Company, we have co-produced our own online festival that shares our skills, experiences and knowledge, that challenges ingrained stereotypes and showcases the youth social action work the 32 organisations are leading across the UK.
All of our festival events and ideas have come from workshops and planning sessions with other youth activists within the wider network of organisations. We look forward to sharing our work with you.
Find out more about our festival here: https://actforchangetogether.org.uk