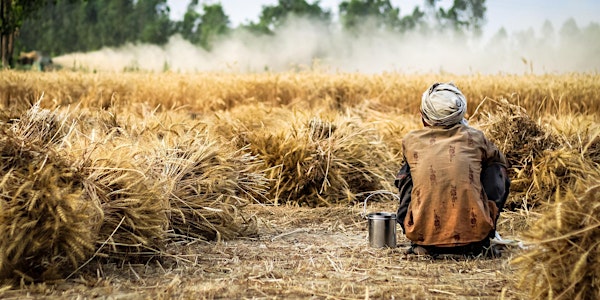 Forgotten Crops Society Dialogues: Global Food Crisis: How to Respond?
Unprecedented challenges threaten the global food system. Prof Sayed Azam-Ali OBE disscusses how to address them and make change for good.
About this event
THIS EVENT HAS BEEN POSTPONED. IT WILL BE RE-ADVERTISED WITH A NEW DATE SOON.
The Covid pandemic, the war in Ukraine and the climate crisis have exposed the vulnerability of our global food system.
We cannot continue to rely on the commodity crops and complex supply chains that currently distribute food to consumers around the world.
So what can we do?
Professor Sayed Azam-Ali OBE, will argue that we must diversify our agricultural species, innovate our production systems and attract a new generation of farmers and agripreneurs if we are to feed 10 billion people on a hotter planet. In short, we must transform food systems for good.
He will give examples of how we can move towards a new more diverse, resilient and inclusive agrifood system that is fit for the future of humanity and the planet.
Professor Sayed Azam-Ali OBE
After completing a PhD in Environmental Physics at the University of Nottingham, UK, Sayed Azam-Ali worked as a Groundnut Physiologist at the International Crops Research Institute for the Semi-Arid Tropics in India, later returning to Nottingham where he became Professor of Tropical Agronomy and then Chair in Global Food Security.
In 2008, he was appointed as Vice-Provost for Research and Internationalization at the University of Nottingham in Malaysia, and in 2011 became founding CEO of Crops For the Future Research Centre (CFFRC), the world's first centre for research solely on the world's underutilised and forgotten crops.
In 2020 he became CEO of Crops For the Future (CFF) based in Cambridge, UK. Sayed Azam-Ali is a past Chair of the Association of International Research and Development Centers for Agriculture. In 2021 he was awarded an OBE for 'services to underutilised crops and increasing global food security' in the Queens New Year's Honours List and received his award from HRH The Princess Royal at an investiture ceremony in March 2022.
Sayed Azam-Ali is the author of `The Ninth Revolution; transforming food systems for good' available here.