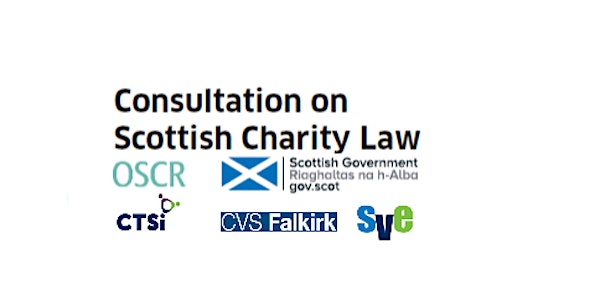 Forth Valley Third Sector Consultation on the Scottish Charity Law Changes
Location
Jubilee House
Forthside Way
Stirling
FK8 1QZ
United Kingdom
Description
OSCR, Scotland's charity regulator, are proposing a number of changes which they hope will promote greater transparency and accountability of Scottish charities. These proposed changes are described in the Scottish Government's consultation document on Scottish Charity Law which you can access here.
Stirlingshire Voluntary Enterprise (SVE), Clackmananshire TSI and CVS Falkirk are hosting an event for the sector to have an opportunity to consider these proposed changes and their possible impacts. The event will be run in partnership with representatives from OSCR and third sector team at Scottish Government.
The aims of the session will be:
- To provide context to the consultation on Scottish charity legislation.
- To provide third sector organisations in Forth Valley a place for discussion and questions on the consultations.
There will be supportive contribution from:
Steve Kent, OSCR – Case Worker Policy Manager

Claire McHarrie, Scottish Government - Third Sector Unit

Lee Stevenson - SVE

Julie Haslam - CTSI
Tariq Mahmood - CVS Falkirk
With agreement, we hope that the discussions can form a joint response to the consultation from a representative section of the third sector community in Forth Valley.