Location
FORTIS
Unit 3B, Lodge Farm Buildings
Saxondale
NG13 8AY
United Kingdom
Sales Have Ended
Registrations are closed
Sales for this party have now ended, but please contact Caitlin directly to discuss the possibility of a last minute ticket purchase.
Can you believe it? In July FORTIS will have been open a year and we want to celebrate our first birthday with you, our incredible members.
About this event
FORTIS IS TURNING ONE!
So, it's time for a party at the barn to celebrate the incredible year that we've all had together.
SATURDAY 16 JULY | 16:00 - 22:00 | 📍FORTIS
TICKETS: £10.00 EACH
MEXICAN POP UP RESTAURANT • LIVE DJ • SPORTS DAY GAMES • BYOB
Arrive any time from 16:00
Enjoy a Mexican feast by Tacolypto from 17:00 - 20:00
Enter the tug of war, egg and spoon or sack race in our FORTIS Sports Day from 17:00 - 19:30
Dance the night away to a live DJ set from 19:30 - 22:00
Head home at 22:00 - or onto whereever the party goes to next!
TACOLYPTO
We're delighted to have Terry from Tacolypto joining us. His innovative pop-up restaurant will be serving us some incredible mexican flavours and dishes.
Included in your ticket price, you'll get x 2 tacos and a nachos garnish from the selection below:
BBQ Pork Shoulder, Pineapple Salsa, Chipotle Cheddar, Pork & Corn Crunch
Grilled Halloumi, Beetroot Jalapeno Salsa, Sour Cream, Puffed Lime Corn
Five Bean Roast Pepper Mole Chilli, Charred Sweetcorn Salsa, Tequila Pickled Red Onions, Puffed Lime Corn
All served with dressed nachos, sweetcorn salsa, sour cream, jalapenos and fresh burnt lime wedges. Your eTicket should be shown to Terry before ordering your ticketed meal. Extra food will be purchasable at an additional cost on the day, including sweet churros - yum!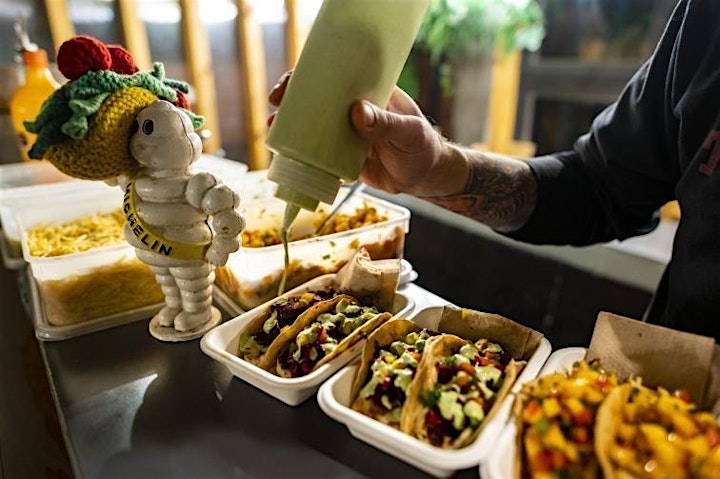 LIVE DJ SET
DJ Anna Hopewell will be bringing some incredible energy as she soundtracks the later part of our evening, opening up the dance floor to anyone wanting to throw some moves - that aren't in a chipper, for once!
BRING YOUR OWN BOOZE
No drinks will be provided, so we invite you to 'bring your own booze'. We'll have plenty of ice buckets dotted around on the day to keep your drinks cold. We recommend bringing your own chair too!
IMPORTANT: We do not want to have to police behaviour on the day, so let's keep it controlled please. Anyone seen touching any of the gym equipment will be asked to leave immediately. The party will be strictly over at 22:00 - but we're sure that the celebrations will carry on for some over in Bingham somewhere!
TRAVEL ON THE DAY
IMPORTANT: If you plan on bringing and drinking alcohol, you must walk to and from the party or arrange to be dropped off and picked up as no cars will be allowed to be left at FORTIS overnight. The gates will not be reopened until Monday morning, so there will be no way of collecting vehicles on Sunday 17th July. Equally, we must respect our neighbours in not leaving vehicles at the top of the track or in the village overnight either. Please organise yourselves accordingly. We thank you in advance.
TICKETS
Tickets are £10.00 each and all who wish to attend must have their own ticket. You must register for the event through this Eventbrite page, but pay for your ticket(s) in cash in person at FORTIS between 01 - 30 June. Tickets will be unavailable to buy in July as we'll need to confirm catering numbers with Tacolypto in plenty of time.
We look forward to celebrating this amazing milestone with you all x