FORUM: Of Hosts & Guests, The University - Returning the Gaze
About this event
British artist Amartey Golding will present three films from his Chainmail series, exploring the human condition through the experiences of black British men. The project was initiated after two of Golding's godson's friends were violently murdered in quick succession. As an extension of Golding's ongoing project, CRITS, the artist will invite members of his family to engage in a live response to his work, where personal opinion and anecdotal story-telling will be prioritised in favour of art world jargon. An open and organic conversation will follow after each film.
Chainmail 1 (2016, 15 mins 34 secs) features Golding's brother, Solomon (the first black British male dancer to join the Royal Ballet Company) performing to Boom Boom Bye, a Dancehall song famous for its violent homophobic content.
Chainmail 2 (2018,16 mins 6 secs) features the artist's close friend, Darren, who is homeless but works 7 days a week to provide for his children. Enduring a handmade chainmail outfit heavier than his own slight body weight, Darren strides through an ambiguous tropical environment, representing both freedom and captivity, sacrifice and self-indulgence.
Chainmail 3 (2018, 17 mins 15 secs) features an anonymous protagonist in the protective comfort of the artist's living room. It meditates on Golding's relationship with his brother who is an Officer in the British army, and the non-violent and anti-empire philosophies of their Rastafarian upbringing. The suit, weighing 166kg, is by far the largest created to date and takes inspiration from Samurai armour and 90's puffer jackets.
This event is part of Forum: Of Hosts & Guests, a three-day series of artist performances, film screenings, talks and workshops exploring ideas of hospitality, hierarchy, ritual and belonging organised by Open Space and guest curated by Katherine Finerty and generously hosted by the UCL History of Art Society.
Forum runs from Thursday 28 March - Saturday 30 March 2019 in Bloomsbury, London: University College London (UCL), Mary Ward House and Pushkin House. The programme on Friday 29 March takes place at UCL under the theme of "The University – Returning the Gaze". More information here.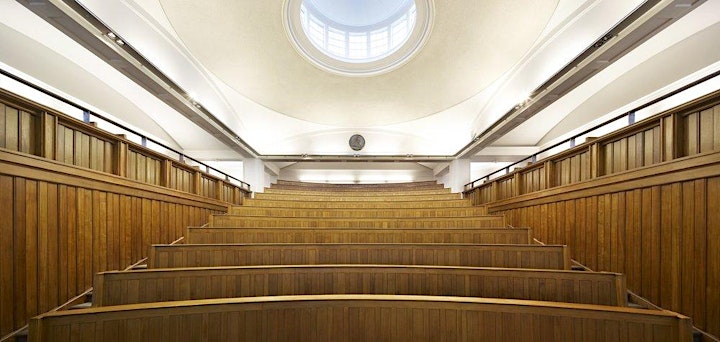 Organiser of FORUM - Amartey Golding: "Chainmail" Series (Screening & Family Panel)