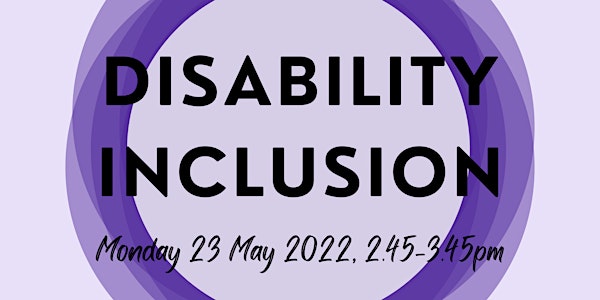 Forum for Leaders of Inclusive Cultures - Disability Inclusion
Join the Forum for Leaders of Inclusive Cultures for a session on 'Disability Inclusion'.
About this event
Disabled people are 28.6 percentage points less likely to be in employment than non-disabled people. But Scope and the Social Market Foundation have estimated that even halving this disability employment gap would boost UK output by around £50 billion a year.
Disability inclusive employment would not only improve disabled people's job opportunities and increase job satisfaction but it would also benefit the economy and support post-pandemic recovery by providing employers with the widest possible talent pool and addressing skills shortage.
Join us for this free event where our panel will discuss their work and how organisations can build truly diverse and inclusive cultures for disabled staff.
Agenda
Welcome and introduction to session by Kulbir Shergill (Director of Social Inclusion, University of Warwick).
Overview of Pearn Kandola research on disability declarations, mental health, and how to support reasonable adjustments by Jonathan Taylor (Managing Psychologist, Pearn Kandola).
Panel discussion chaired by Binna Kandola (Senior Partner and co-founder, Pearn Kandola).
Concluding remarks.
Panel

Speaker Bios
Kulbir Shergill (Director of Social Inclusion, University of Warwick)
Kulbir Shergill is Director of Social Inclusion at the University of Warwick, having taken up the post in mid-2018.
Kulbir has over 20 years' experience of leading and implementing equalities, diversity and inclusion activities and strategies having worked with a wide range of public-facing entities, including housing associations, charities, local and central government, professional bodies, and corporate businesses including KPMG and Grant Thornton.
As a consultant Kulbir's clients included The Bank of England, AXA Investment, Accenture, Harvey Nash, The Law Society and The Carbon Trust.
Kulbir's strategic approach to embedding diversity and inclusion has bought successful outcomes and recognition for a number of the organisations she has worked with, including achieving top employer by Stonewall, Wealth in the City and National Business Awards.
Professor Binna Kandola (Senior Partner and co-founder, Pearn Kandola)
Professor Binna Kandola is a Business Psychologist, Senior Partner and co-founder of Pearn Kandola, where in the last thirty years, he has worked on a wide variety of projects for public and private sector clients both in the UK and overseas.
As well as leading the practice, Binna is particularly interested in the study of gender bias and unconscious bias in organisations. He is the author of three new and critically acclaimed books on these subjects – 'The Invention of Difference: The story of gender bias at work', 'The Value of Difference: Eliminating bias in organisations', and 'Racism at Work: The Danger of Indifference'. He is also the co-author of several other management books, one of which 'Managing the Mosaic' won a Special Commendation at the 1994 Management Book of the Year Awards. A regular contributor to the HR and business press he is a sought after and highly regarded conference speaker.
Binna was the first Chair of the Standing Committee for the Promotion of Equal Opportunities of the British Psychological Society (BPS) and a member of Sir Robin Butler's Panel of Enquiry into Equal Opportunities in the Senior Civil Service. He has been a member of the Board of Trustees of the BPS, and in 2002 was elected as Chair of the Division of Occupational Psychology. In January 2004, Binna was invited to join the UK Government's National Employment Panel and appointed Chair of the Minority Ethnic Group. He is currently a visiting Professor at Leeds University Business School and at Aston University Business School. In 2012 the University of Aston awarded him an Honorary DSc – Doctor of Science. He is a consulting editor for the Journal of Occupational and Organisational Psychology and an editorial board member of Development and Learning in Organisations. He is a regular contributor to the media and has appeared on Sky News, BBC Breakfast, Channel 4 News and the Radio 4 Today Show.
A Fellow of the Royal Society of Arts (RSA), he was recognised in 2004 by The Independent on Sunday as one of the UK's Top Ten Business Psychologists. Professor Binna Kandola was awarded an OBE in 2008 for his services to Disadvantaged People and Diversity.
Jonathan Taylor (Managing Psychologist, Pearn Kandola)
Jonathan is a Business Psychologist with a degree in Psychology from Cardiff University and a Masters degree in Occupational Psychology from the University of Nottingham. A chartered member of the British Psychological Society (BPS), he holds Level A and B certificates of competence in Occupational Testing.
Jonathan joined Pearn Kandola in 2016, having previously worked as a Business Psychologist at Arup, where he supported clients to deliver a range of individual and organisational development initiatives, including organisational design, behavioural change, assessment and selection, change management and leadership development.
He has experience working across a diverse range of sectors including Aviation, Transport, Nuclear, Healthcare and Media. Key clients have included Dubai Airports, Heathrow Airports Ltd, Transport for London, Olympic Delivery Authority, BBC, the Home Office, and the NHS.
Much of Jonathan's experience has focused on supporting organisations as they move through transition; with the design of new organisational processes, the delivery of bespoke training and by working closely with senior managers to introduce new ways of working. This has given Jonathan a strong appreciation of how clients can effectively promote behavioural change in the workplace.
Rachael Mole (Founder and Managing Director, SIC)
Rachael Mole is a disabled founder who specialises in disability inclusion in the workplace. As a business consultant and workplace culture expert, she has founded SIC, a social enterprise that works to reduce the disability employment gap in the UK.
Disability and chronic illness changed her life at 12 years old when she started to notice significant changes to her body. It took 8 years to be diagnosed with Ehlers Danlos Syndrome, Postural Tachycardia and Mast Cell Disorder.
She went on to complete a Bachelor of Science from the Open University, while limited to her bed, and then ran one of the UK's biggest women's networks (City Girl Network).
SIC launched in February 2021 for people with disabilities and chronic illnesses to give them the career support and training she wished she had been able to access when she first started looking for work.
In May 2022, SIC launched its Business Centre. A place for businesses to make systematic changes to their workplace and hiring practices so that they can work towards being more inclusive.
SIC is also part of the current cohort of The University of Warwick's Creative Futures Incubator, where they are tapping into support to help the business flourish and grow.
Jenny Wheeler (Accessibility Officer, University of Warwick)
As Estates Accessibility Officer Jenny works alongside all Estates teams and the wider University to help to make continuous improvements along our journey to a more accessible and inclusive environment for students, staff and visitors. She provides expertise on matters relating to accessibility to ensure that the University is not only compliant with current standards but is also giving consideration towards best practice to allow the University to move towards a best-in-class approach to accessibility and inclusion in our Estate. She also continues to raise awareness of accessibility issues and train colleagues and others across the University to help people to understand the importance and impact of accessibility issues on individuals.
Jenny started overseeing accessibility in Estates in 2017 and is accredited as an NRAC Access Consultant by the National Register of Access Consultants. She has been working with the University to improve awareness and accessibility since her time as a student at Warwick. She sit on various committees and groups both inside and outside Estates including Warwick's Social Inclusion Committee, Disability Smart Steering Group, ED&I Network and she chairs the University's Disability Taskforce and the co-chairs the Disabled Staff Network. She is also an Assembly Representative on the University's Senate (a governance level decision making committee). At a national level, she is a National Council Representative for the Access Association and on the NRAC Advisory Group.
Jenny is a very proud winner of the Business Disability Forum's Disability Smart Built Environment Award 2021 and AUDE University Impact Initiative of the Year Award 2020.

The West Midlands is in the process of rapid economic, technological, social, environmental, and cultural change. Diversity of thought is recognised as a critical factor in remaining competitive through innovation and creativity in a fast-moving environment. Yet our region lacks diversity in leadership positions.
Through this forum we want to bring leaders in the region together to learn, share, and shape the dialogue in their organisations and in the region to develop and nurture a workforce by building inclusive cultures and employer brands.
FLIC is supported by the University of Warwick, Pearn Kandola, Coventry City Council, and Coventry and Warwickshire Local Enterprise Partnership.
Sign up to the FLIC mailing list to hear about future events.