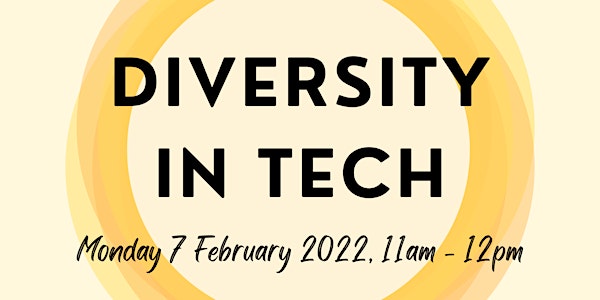 Forum for Leaders of Inclusive Cultures - Diversity in Tech
Join the Forum for Leaders of Inclusive Cultures for a session on 'Diversity in Tech'.
About this event
Diversity is one of the biggest challenges facing the tech industry today. Based on the latest figures available, women made up only 19% of the UK IT industry, Black, Asian, and Minority Ethnic (BAME) people 15.2%, and disabled people 9%. Now more than ever we must drive solutions to diversity and inclusion in technology.
Join us for this free event where our panel will discuss their work and how organisations can build truly diverse and inclusive cultures in tech industries.
Agenda
Welcome and introduction to session by Kulbir Shergill (Director of Social Inclusion, University of Warwick).
Overview of Pearn Kandola research on diversity in gaming by Professor Binna Kandola (Senior Partner and co-founder, Pearn Kandola).
Panel discussion, chaired by Professor Binna Kandola.
Concluding remarks.
Panel
Sarah Windrum (Chair, CWLEP).
Clare Green (Creative & Digital Communities Manager, Innovation Group, University of Warwick).
Harinder Sangha (Operations Director, Sumo Leamington and Women in Games Advisory Board member).

Speaker Bios
Kulbir Shergill (Director of Social Inclusion, University of Warwick)
Kulbir Shergill is Director of Social Inclusion at the University of Warwick, having taken up the post in mid-2018.
Kulbir has over 20 years' experience of leading and implementing equalities, diversity and inclusion activities and strategies having worked with a wide range of public-facing entities, including housing associations, charities, local and central government, professional bodies, and corporate businesses including KPMG and Grant Thornton.
As a consultant Kulbir's clients included The Bank of England, AXA Investment, Accenture, Harvey Nash, The Law Society and The Carbon Trust.
Kulbir's strategic approach to embedding diversity and inclusion has bought successful outcomes and recognition for a number of the organisations she has worked with, including achieving top employer by Stonewall, Wealth in the City and National Business Awards.
Professor Binna Kandola (Senior Partner and co-founder, Pearn Kandola)
Professor Binna Kandola is a Business Psychologist, Senior Partner and co-founder of Pearn Kandola, where in the last thirty years, he has worked on a wide variety of projects for public and private sector clients both in the UK and overseas.
As well as leading the practice, Binna is particularly interested in the study of gender bias and unconscious bias in organisations. He is the author of three new and critically acclaimed books on these subjects – 'The Invention of Difference: The story of gender bias at work', 'The Value of Difference: Eliminating bias in organisations', and 'Racism at Work: The Danger of Indifference'. He is also the co-author of several other management books, one of which 'Managing the Mosaic' won a Special Commendation at the 1994 Management Book of the Year Awards. A regular contributor to the HR and business press he is a sought after and highly regarded conference speaker.
Binna was the first Chair of the Standing Committee for the Promotion of Equal Opportunities of the British Psychological Society (BPS) and a member of Sir Robin Butler's Panel of Enquiry into Equal Opportunities in the Senior Civil Service. He has been a member of the Board of Trustees of the BPS, and in 2002 was elected as Chair of the Division of Occupational Psychology. In January 2004, Binna was invited to join the UK Government's National Employment Panel and appointed Chair of the Minority Ethnic Group. He is currently a visiting Professor at Leeds University Business School and at Aston University Business School. In 2012 the University of Aston awarded him an Honorary DSc – Doctor of Science. He is a consulting editor for the Journal of Occupational and Organisational Psychology and an editorial board member of Development and Learning in Organisations. He is a regular contributor to the media and has appeared on Sky News, BBC Breakfast, Channel 4 News and the Radio 4 Today Show.
A Fellow of the Royal Society of Arts (RSA), he was recognised in 2004 by The Independent on Sunday as one of the UK's Top Ten Business Psychologists. Professor Binna Kandola was awarded an OBE in 2008 for his services to Disadvantaged People and Diversity.
Sarah Windrum (Chair, CWLEP)
Sarah Windrum was appointed chair of the CWLEP in April 2021.
She became a board director in 2016 and was chair of the Digital and Creative Business Group from 2018 when it launched to April 2021 where she supported the rapid growth of the technology sector and championed digital skills.
Sarah completed a two-year spell in 2021 as the West Midlands Policy Advisor for the Federation of Small Businesses where she influenced policy for the improvement of digital skills, infrastructure, and culture for small businesses and the self-employed.
She is also a former vice-chair of the Skills Board at Tech UK and was an industry advisory board member of Ada, the National College for Digital Skills.
Sarah is a board member of the West Midlands Combined Authority's Innovation and Strategic Economic Development boards and served on its Mental Health Select Committee.
She is the founder and a director of the Leamington-based technology company The Emerald Group, which provides expert IT advice, support and solutions for businesses.
Clare Green (Creative & Digital Communities Manager, Innovation Group, University of Warwick)
Clare Green actively champions the strength & diversity in UK's creative & digital industries and works as the Creative & Digital Communities Manager at University of Warwick and is the Vice-Chair of the Coventry & Warwickshire Digital & Creative Group as well as a Women in Games Ambassador.
Harinder Sangha (Operations Director, Sumo Leamington)
Harinder is co-studio head for Sumo's Leamington Studio, Sumo Group is one of the UK's largest providers of end-to-end creative development and co-development services to the video games and entertainment industries. Before she joined Sumo, Harinder worked in the industry for over a decade, working for SEGA and Codemasters. In 2020 Sumo Leamington won the G.biz Diversity award, as well as voted one of the best places to work. Harinder was listed in the 2019 GI.biz 100 most influential women in the games industry. In 2021 Harinder was voted the GI.biz UK Best Boss award.
Harinder is a board member for UKIE, the games industry tradebody, sits on the advisory board for Women in Games, and an Ambassador for SpecialEffect – the UK-based charity that's levelling the playing field for gamers with physical disabilities around the world.

The West Midlands is in the process of rapid economic, technological, social, environmental, and cultural change. Diversity of thought is recognised as a critical factor in remaining competitive through innovation and creativity in a fast-moving environment. Yet our region lacks diversity in leadership positions.
Through this forum we want to bring leaders in the region together to learn, share, and shape the dialogue in their organisations and in the region to develop and nurture a workforce by building inclusive cultures and employer brand.
FLIC is supported by the University of Warwick, Pearn Kandola, Coventry City Council, and Coventry and Warwickshire Local Enterprise Partnership.
Sign up to the FLIC mailing list to hear about future events.