FORWARD's Young Women's Hub presents: Cast Your Net
About this Event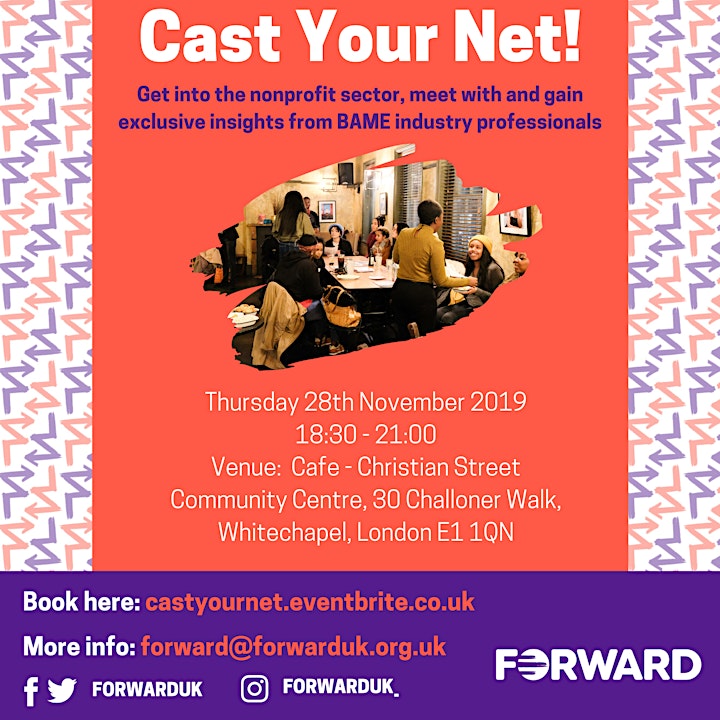 FORWARD's Young Women's Hub is a safe space for Black, Asian and minority ethnic (BAME) young women to meet, network and participate in discussions exploring all aspects of their lived experiences. We hold monthly events, and this month, we are organising networking event aimed at BAME women aged 18+ who want to develop careers within the development sector.
Cast Your Net is about helping BAME women identify pathways into the development sector with a specific focus on, but not necessarily restricted to, women's rights and ending violence against women and girls (VAWG). Through this empowering space, we hope that attendees will leave with more information, knowledge, skills and inspiration to help navigate their way through the sector. This is an excellent opportunity to build connections with leading women in the sector and discover different organisations and professions. We welcome all women from different backgrounds and stages in their career to join us for an evening of BAME female excellence.
You will interact with a wide caliber of BAME women working in and hoping to get into international development and in women's rights. With refreshments flowing, we'll have different activities to help break the ice. Everyone will get the chance to have meaningful conversation with one another aimed at creating connections and gleaning a greater understanding of what it's like to work in the development sector. You will also have the opportunity to meet inspiring and incredible women who you can relate to and learn from. Expect to learn more about FORWARD's work and how you can get involved.
Who will be there?
• BAME women and professionals in different areas and stages in their own careers, all with an array of experiences and advice to share with each other on both professional and personal development.
• BAME students hoping to enter the non-profit sector.
• Your hosts – members of FORWARD's Young Women's Advisory Council who oversee the work of the Young Women's Hub. Members of the council come from a range of different academic and professional backgrounds.
This event is a space for all BAME women to share and discuss their ideas and experiences in a completely safe space. We ask that all identities are respected as there will be zero tolerance on homophobia, racism, biphobia and transphobia.