Our first session of the #FoTDigitalisationWeek will be discussing how other sectors are using digital engineering.
About this event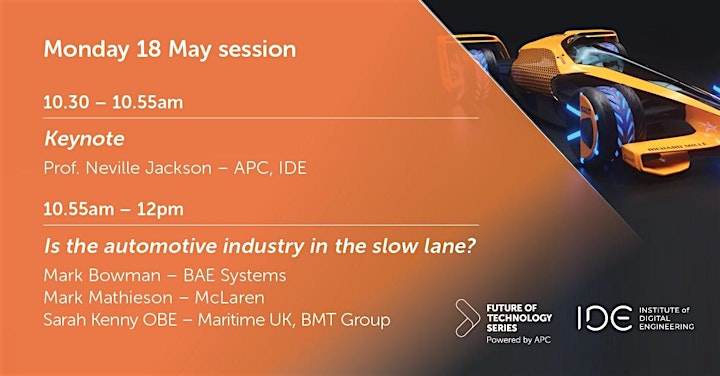 Is the automotive industry in the slow lane?
We will be hearing from other sectors about how they are using digital engineering and what we can learn from them.
The UK automotive industry is not alone in its need to embrace new digital science and technology to transform its engineering capability. How are other industries using this technology to their advantage? Are we all facing the same challenges or are they unique to specific sectors? We will be hearing from different industries including aviation, F1 and marine to gage, is the automotive industry in the slow lane and what do we need to do to keep up?
Digitalisation: the transformation of engineering
We're excited to announce that the Future of Technology Series is virtually back!
In partnership with the Institute of Digital Engineering, we're taking the Future of Technology Series online to host a week of short webinars.
We'll be covering the use of digital engineering in the automotive industry as part of our #FoTDigitalisationWeek, 'Digitalisation: The Transformation of Engineering'.
Starting on Monday 18th May 2020, every day between 10:30 - 12:00 we will invite experts to cover a variety of hot-topics within the digitisation of automotive industry agenda.
To sign up for the other sessions please follow the links below:
Monday 18th May - Is the automotive industry in the slow lane?
Tuesday 19th May - Simulations: would you trust them with your life?
Wednesday 20th May - Machine learning or learning from machines?
Thursday 21st May - Immersive technology: tool or toy?
Organiser of FoT webinar - Is the automotive industry in the slow lane?
The Advanced Propulsion Centre (APC) accelerates the industrialisation of technologies which will help to realise net-zero emission vehicles. It is at the heart of the UK government's commitment to end the country's contribution to global warming by 2050.

Since its foundation in 2013, APC has funded 150 low-carbon projects, involving more than 375 partners. The technologies developed in these projects are projected to save over 260 million tonnes of CO2, the equivalent of removing the lifetime emissions from 10.2 million cars.

With its deep sector expertise and cutting-edge knowledge of new propulsion technologies, APC's role in building and advising project consortia helps projects start more quickly and deliver more value. In the longer term, its work to drive innovation and encourage collaboration is building the foundations for a successful UK industry.