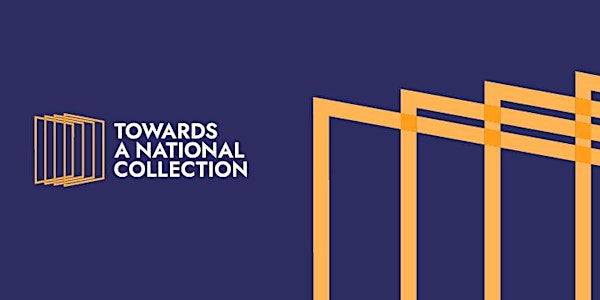 Foundation Projects: Locating a Nat. Collection, Engaging Crowds & PIDs
Sales Have Ended
Registrations are closed
Thank you for Registering. If you have any problems please contact: colin.mcdowall@hes.scot
Towards a National Collection's Seminar's hear from speakers who demonstrate good practice in the field of digital cultural heritage.
About this event
Foundation Projects: Locating a National Collection, Engaging Crowds & Persistent Identifiers
Friday 8 July, 2022 | 14:00-15:25 BST | Online
The Towards a National Collection Directorate is pleased to announce the presentation of findings from its Foundation Projects.
The third instalment of our Foundation Project series features speakers Gethin Rees, British Library (Locating a National Collection,) Pip Willcox, The National Archives (Engaging Crowds), and Rachael Kotarski (PIDs).
Below is the list of speakers and a short description of their project.
Engaging Crowds (Pip Willcox)
Project Investigators: The National Archives, Royal Museums Greenwich, Royal Botanic Garden Edinburgh, and the Zooniverse team at the University of Oxford
The Engaging Crowds project explores the increasing growth in digitally enabled volunteer participation in cultural heritage. The project is building an indexing tool for the Zooniverse Project Builder which enables volunteers to steer their own path through a project. It is delivering three citizen research projects to surface the contents of record sets held by the project's Independent Research Organisations and to evaluate the tool: HMS NHS: The Nautical Health Service, Scarlets and Blues, and RBGE Herbarium: plants, collectors and discovery.
Progress on the indexing tool and the three citizen research projects will be shared
----------------------------------------------------------------
Locating a National Collection (Gethin Rees)
Project Investigators: British Library, National Trust, Historic Royal Palaces and University of Exeter
Project Partners: Historic England, Historic Environment Scotland, Museum of London Archaeology, English Heritage, Portable Antiquities Scheme
Locating a National Collection aims to help cultural heritage organisations to use location data — such as where objects were made and used or the places they depict and describe — to connect collections and engage audiences. Through scoping, workshops, audience research and exploratory technical work, the project has established best practice and will provide technical recommendations for a national approach to using location to discover collection items from diverse cultural heritage organisations.
----------------------------------------------------------------
Persistent Identifiers as IRO Infrastructure (Rachael Kotarski)
Project Investigators: British Library, Royal Botanic Garden Edinburgh, National Gallery and University of Glasgow
Project Partners: Science Museum Group, Victoria & Albert Museum and Natural History Museum
Persistent Identifiers (PIDs) provide a long-lasting click-able link to a digital object. They are recognised by UKRI as a tool for enabling data discovery, access and citation. This project brings together best practices in the use of PIDs, building on existing work and projects. Findings are derived from: a survey of the sector; two webinars; two case studies; a demonstrator of PIDs in use to link between collections and research; and a literature review. These findings have resulted in a set of recommendations on the approach to PIDs for colleagues in institutions across the UK heritage sector to take forward.
Report: https://doi.org/10.5281/zenodo.6359926
Agenda:
1400 – 1405: Welcome

1405 – 1425: Engaging Crowds

1425 – 1445: Locating a National Collection

1445 – 1505: Persistent Identifiers

1505 – 1525: Q&A
Note: The webinar will be recorded and made available on the Towards a National Collection YouTube Channel.