Foundational aspects of relativistic hydrodynamics

Monday, May 7, 2018 at 8:30 AM

-

Friday, May 11, 2018 at 2:00 PM (CEST)
Event Details
Foundational aspects of relativistic hydrodynamics
May 07 - 11, 2018
Organisers:
Guy Moore (Technische Universität Darmstadt)
Michal Heller (MPI for Gravitational Physics)
Ulrich Heinz (Ohio State University)
 Abstract:
How small can a droplet be and still behave as a fluid? The latest research unexpectedly suggests that droplets of the size of a fraction of an atomic nucleus made from quark-gluon plasma, an exotic type of matter of extreme energy density, have liquid-like properties. Quarkgluon plasma once filled the entire universe and can today be recreated in high-energy collisions between atomic nuclei. This timely workshop will bring together a multi disciplinary group of researchers to rethink the foundations behind our contemporary understanding of ultra-hot and fast-moving fluids.
When & Where

ECT*
Strada delle Tabarelle, 286
38123 Trento
Italy


Monday, May 7, 2018 at 8:30 AM

-

Friday, May 11, 2018 at 2:00 PM (CEST)
Add to my calendar
Organizer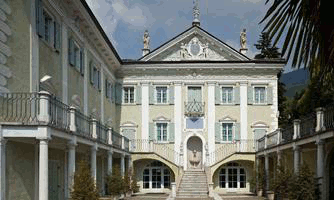 The European Centre for Theoretical Studies in Nuclear Physics and Related Areas (ECT*) in Trento (Italy) provides a dedicated and structured combination of scientific activities for a large international scientific community. ECT* acts as an "intellectual" centre of competence, complementary in scope and activities to existing research facilities based at universities or experimental laboratories. It promotes coordination of European research efforts in nuclear physics and related research areas.