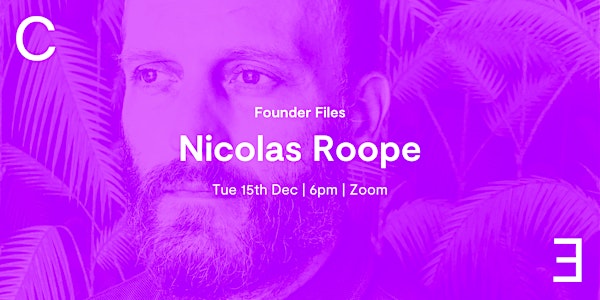 Founder Files with Design Icon Nicolas Roope| Lessons from a life in design
Founder Files with Design Icon Nicolas Roope - Lessons from a life in design
About this event
About this Event
The Founder Files are Creative Entrepreneurs' flagship event, where each month we interview the most exciting creative founders on the world stage to hear about their entrepreneurial journey. This month we feature Nicolas Roope, a pioneer of the design world for more than two decades. An original member of the game-changing Antirom digital art collective in 1994, he co-founded the influential Poke digital agency in 2001, and created the Lovie Awards to celebrate the best digital creative work in Europe. He also founded the Hulger product design company, best known for the Plumen sculptural lightbulb in 2011, which is now part of the permanent collection at MoMA and the V&A. In this deep dive, Nicolas shares what he's learned about entrepreneurship and creativity in a wide-ranging career, with Creative Entrepreneurs founder Carolyn Dailey. The Founder Files will in future be for members-only.
About Nicolas Roope
An icon in design for over 20 years, Nicolas Roope has been the founder of numerous creative companies that have proved hugely influential across tech and design including digital design agency Poke; product design agency Hulger, inventor of the groundbreaking Plumen sculptural light bulb, widely acclaimed since its 2011 launch as the first designer energy saving light bulb, now part of the permanent design collection at MoMA, V&A and Cooper-Hewitt; and The Lovie Awards which celebrate the "best of the European internet".
About Founder Files
Creative Entrepreneurs' flagship event featuring the most exciting creative founders on the world stage sharing with our founder, Carolyn Dailey, their entrepreneurial journey and insights on creativity. Past featured founders have included Charlotte Tilbury, Bella Freud, Roksanda Ilincic and IMDb founder Col Needham.
About Creative Entrepreneurs
We empower creative people to turn their creativity into brilliantly successful businesses. In 2021 we're launching a first-of-its-kind online membership experience and community. Join our waitlist now https://creativeentrepreneurs.co/become-a-member/