Description
Founders' Network: The Summit is a day centred around you, as a startup founder.
The Summit will take all the things you love about Founders' Network – the connections, the peer-to-peer learning, the insights from seasoned entrepreneurs – and throw it all together for a 'pick-and-mix' conference so that you can build the perfect day for you, regardless of the stage of your business.
The overarching theme of the Founders' Network Summit will be "building the right business for you": whether you should bootstrap or raise funding; how to cultivate the right company culture; what sort of leader you want to be. The Founders' Network Summit is for ambitious founders creating awesome products and building fantastic companies in the North.
The Founders' Network Summit will feature practical workshops, one-to-one mentoring sessions with experienced entrepreneurs, and a peer-to-peer unconference.
You'll hear the warts and all stories of successful entrepreneurs – the uncut version that they don't usually tell.
You'll have the chance to take part in expert-led masterclasses that will give you instantly actionable insight.
You will be able to meet with seasoned entrepreneurs in one-to-one mentoring slots.
You'll have the opportunity to share the nuggets of wisdom that you have picked up on your entrepreneurial journey to date, or tackle that problem you've been putting off, in our afternoon Unconference.
This truly is a pick-and-mix forum. Not really a conference, not really a meetup.
About the workshops
We will be running three workshops twice, so you'll have the chance to go to two of them, or if you prefer, one of them plus some mentoring, or none of them! (We told you it was "pick and mix".) All we ask is that you let us know what you'd like to do when buying your ticket. The workshop descriptions are on our webpage.
Here's a snippet of the schedule so that you see what we mean:

The ticket price includes coffee and pastries on arrival, lunch, refreshments throughout the day, tokens for drinks and entrance to the afterparty.
The schedule (check technorthhq.com/founders-network-summit for a larger version)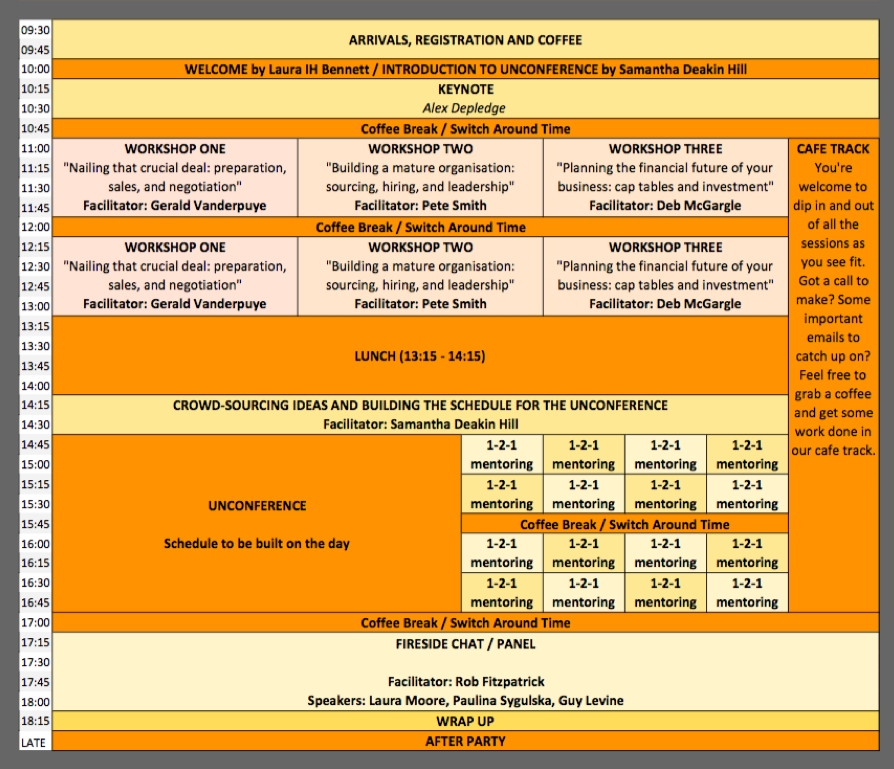 Organiser of Founders' Network: The Summit
Accelerating growth of digital businesses in the North of England through championing the sector and connecting networks.
#TechNorth