Description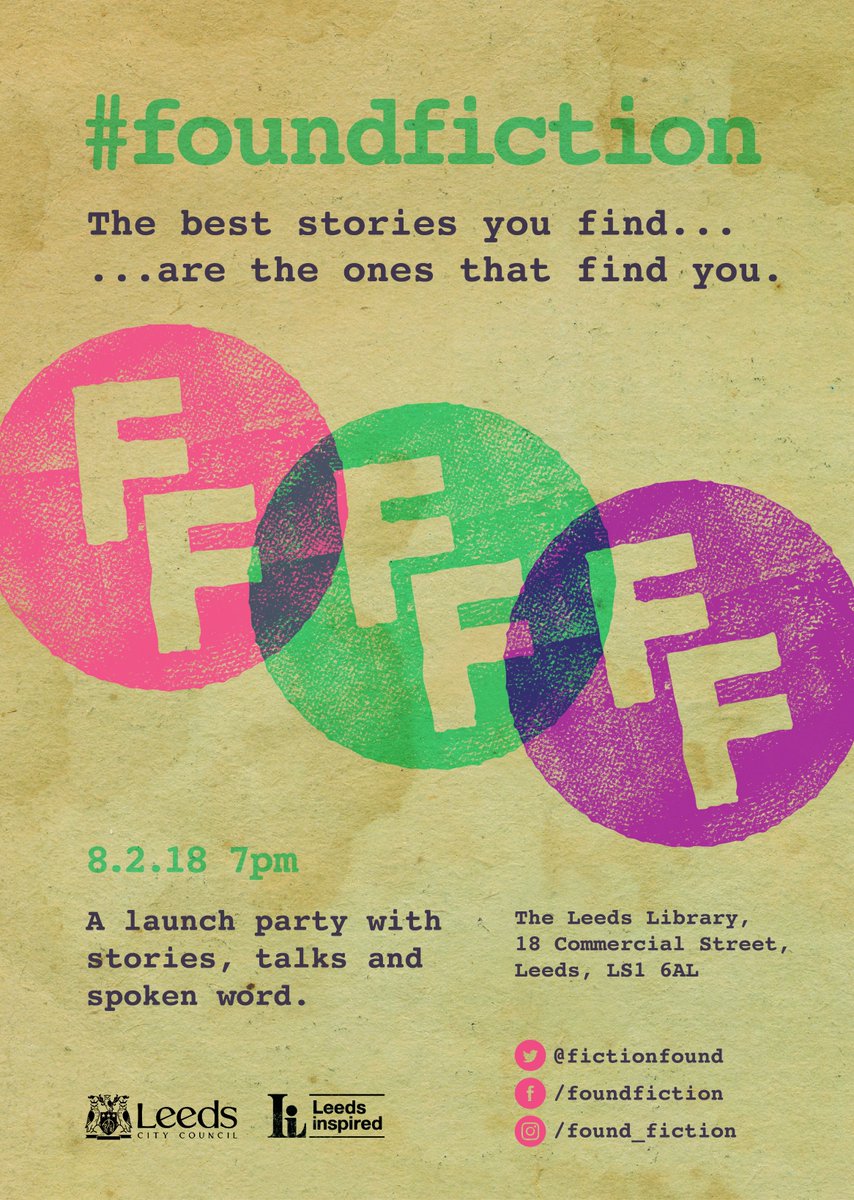 #foundfiction - a launch night for the guerrilla publishing experiment that connects readers and writers across the world
On Thursday 8th February 2018 the Leeds Library will be hosting the launch night of #foundfiction - a guerrilla publishing experiment that connects readers and writers across the world. The event will run from 7-10.30pm.
About the project
The concept behind #foundfiction is simple. Writers across the world send in their stories, which are printed out, folded up, put in an envelope marked READ ME, and left in a public space for someone to find. When someone stumbles upon one of these pieces of #foundfiction, they are invited to share it on social media under the hashtag #foundfiction. Since beginning in 2014, around 100 stories have been found across the world as #foundfiction has grown a network of writers and distributors - throughout the UK and Europe, and as far as the USA, Canada and Australia. It's also printed stories in Polish and hopes to publish in more languages in the future. As the project has developed, it's picked up coverage in the i newspaper, the Yorkshire Post and the York Press.
#foundfiction is keen to hear from any creative writers - emerging or established. They can email fictionfound@gmail.com with stories up to 500 words, which will be printed and distributed for free.
The launch event
After receiving funding from Leeds Inspired, #foundfiction is hosting a launch event at the Leeds Library to promote the project further and encourage more writers, readers and lovers of literature to join its community.
The event is taking place on Thursday 8th February 2018, and will be an evening of talks, film and spoken word. Among the presenters on the night are:
Carl Hutton, Chief Executive, the Leeds Library
Lewis King, writer and presenter
Owen Clements, writer and founder of Open Letters
Spoken word poets include:
Phil Pearce
Colleen Pilkenton
Rose Drew
There will also be three other notable events on the night:
In a unique creative experiment, artist Jay Sillence, from York, will be drawing a visual interpretation of the spoken word poems as they're being read.
A film montage featuring people in the #foundfiction community across the world about how the project has touched their lives will be screened.
To promote the event, #foundfiction will also be touring a 'live writing desk' in January across locations in Leeds. A sheet of paper will be placed on the desk and members of the public will be encouraged to take turns writing consecutive lines of a story, which will be read out on the night. The same concept will be played out on the launch night involving members of the audience.