Description
Step inside Bloomsbury Publishing as we reveal the origins of a publishing company.
Join us on Thursday, September 27th as we go all the way back to the beginning with three of the four original members of Bloomsbury to learn how it all began and discover what aspiring publishers today could learn from their experiences (if anything!).
We're delighted to present an evening at Bloomsbury with Nigel Newton, David Reynolds and Liz Calder as they talk about those earliest days at Bloomsbury, the highest highs to the deepest lows and back again, with Daily Telegraph columnist and Bloomsbury author, Mick Brown, who was there at the beginning too.
In 1986, Nigel Newton had the idea to start Bloomsbury. He gathered three literary pioneers, first David Reynolds and then Liz Calder and Alan Wherry, to start Bloomsbury Publishing together with a notion to publish outstanding literary fiction and non-fiction for wide audiences.
Fast forward thirty-two years to 2018 and Bloomsbury is a thriving independent publishing house which publishes 2,500 titles annually and is the home of some of the world's most exciting authors, acclaimed digital resources and the best academic writing. It has nearly 700 staff, annual sales of £163,000,000 and offices in London, New York, Oxford, Haywards Heath, Sydney and New Delhi.
Leading the way in publishing innovation, excellence and entrepreneurialism, Bloomsbury has made its name over the past three decades as a dynamic company, owned by the public, including its own readers, authors and staff, through pension funds with its shares listed on the London Stock Exchange.
But how did it all begin? If they were to start up in 2018, what would Bloomsbury Publishing look like? Should others follow a similar path?
We hope you're free to join us and find out!
Date: Thursday, September 27th
Timing: 6:30pm to 8pm (doors and drinks reception from 6pm)
Venue: Bloomsbury Publishing, 50 Bedford Square, WC1B 3DP
Nearest station: Tottenham Court Road
Tickets: £5 - £25 and selected tickets include a copy of The Publishing Business: A Guide to Starting Out and Getting On by Kelvin Smith, Melanie Ramdarshan Bold (worth £28.99)
****
Nigel Newton was born and raised in San Francisco. He read English at Cambridge. After working at Macmillan Publishers, he joined Sidgwick & Jackson. He left Sidgwick in 1986 to start Bloomsbury. Bloomsbury floated on The London Stock Exchange in 1994 and has grown organically and through acquisitions and partnerships. He is President of Book Aid International and a member of the Man Booker Prize Advisory Committee and the Advisory Committee of Cambridge University Library, Board member of the US-UK Fulbright Commission, past Chairman of the Charleston Trust and World Book Day and past member of the Publishers Association Council.
David Reynolds's career began in 1966 when he became unpaid office boy at the underground magazine Oz at the age of 17; his role was soon redefined as trainee sub editor. While continuing to work for Oz, he became assistant editor of Humanist magazine when he was 18 and editor of the National Secular Society's weekly The Freethinker at 19 – and is still the youngest person to have held that post. After graduating as a mature student from the London School of Economics, he worked as a sub editor at The Reader's Digest before joining the newly formed Dorling Kindersley as an editor in 1975. In 1978 he founded the book packaging company Shuckburgh Reynolds with Julian Shuckburgh. He became a founder of Bloomsbury Publishing in 1986 and worked there until 1999 as Deputy Managing Director and Publishing Director for non-fiction. In 2001, his book Swan River was published by Picador and was short-listed for the Pen Ackerley prize. Since then he has trained as a teacher and has taught literacy to adults at South Thames College, and creative writing to teenagers at King Solomon's Academy, Paddington. He is literacy consultant to the Quick Reads series, and in 2005 co-founded Old Street Publishing with Ben Yarde-Buller. His second book, Slow Road to Brownsville, was published by Greystone Books in 2014. He is currently working on Slow Road to San Francisco which will be published by Muswell Press in 2020.
Liz Calder began her publishing career in 1971 at Victor Gollancz Ltd, where she published Salman Rushdie's first novel Grimus, John Irving's The World According to Garp and Angela Carter's The Passion of New Eve. Joining Jonathan Cape in 1979, she published two Man Booker Prize winners, Salman Rushdie's Midnight's Children and Anita Brookner's Hotel du Lac. She was also Julian Barnes' editor for his first four novels, including Flaubert's Parrot. In 1986 she became a founder director of Bloomsbury Publishing, where her list included Booker winners Margaret Atwood and Michael Ondaatje and Nobel literature laureate Nadine Gordimer. In 1997 she was named Editor of the Year at the British Book Awards. She was a founder of the Groucho Club and the Orange Prize for Fiction. In 2010 she was a judge on the Orange Prize. She was chair of the Royal Court Theatre (2000-2003), and since 2003 has been President of the Parati International Literary Festival (Festa Literária Internacional de Paraty, FLIP) in Brazil. She was awarded the Brazilian National Order of the Southern Cross and the Order of Cultural Merit in 2004. In 2012 she was awarded an Honorary Doctorate by University Campus Suffolk. In 2009 she joined John and Genevieve Christie and Louis Baum to set up a Suffolk-based publishing house, Full Circle Editions. In October 2013, Full Circle produced FlipSide, a Brazilian literary and music festival, at Snape Maltings, Suffolk, home of Aldeburgh Music.
Mick Brown is the author of six books, including The Spiritual Tourist, The Dance of 17 Lives and Tearing Down The Wall of Sound: The Rise and Fall of Phil Spector. He writes regularly for the Daily Telegraph.
***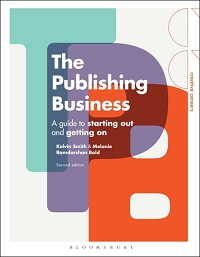 The Publishing Business: A Guide to Starting Out and Getting On by By: Kelvin Smith, Melanie Ramdarshan Bold
The Publishing Business, is an invaluable guide to understanding what book publishing is and what it might become. Using popular and current examples, this second edition demonstrates that, to succeed, publishers must prove their commitment to producing accurate, attractive and well edited content, their ability to innovate pioneering digital technologies and their dedication to promoting their titles to new audiences.

This book explains the responsibilities at each stage of the publishing process, describes current roles and practices, and provides much food for thought on how publishers can ensure their skills remain relevant in the digital age. Fully updated to take into account recent developments in the publishing world, this new edition also includes additional real-world examples from a variety of publishing sectors, insightful interviews with industry experts and new and updated activities throughout.

Beautifully designed, thoroughly illustrated and packed with examples of publishing practice, The Publishing Business is an essential introduction to a dynamic industry.
***
This event is hosted by Bloomsbury Institute, a division of Bloomsbury Publishing. Please read our Event Terms and Conditions carefully as by buying a ticket to this event, you confirm that you accept these terms and condition and that you agree to comply with them, alongside the Eventbrite terms and conditions.