SAY YES - a day of worship, teachings & conversations on HOW & WHY we SAY YES to God.
About this event
SAY YES
4:12MEN MENS CONFERENCE 2019
The theme for our conference this year is SAY YES. God is calling us to come, will our answer be yes?
God has given us choices, but will always counsel us to pick the right one.
Say Yes is counsel of God to a life of adventure of freedom He purchased for us.
Every believer will come to seasons in their walk where God will summon us, and we will have to say yes, again and again. This is not a one time event, but a postured lifestyle of surrender. We want to explore what's stopping us, how to move pass that and give God our full yes.
As we enter 2020, we want to enter as men who are walking in agreement with God in every area of their lives.
What to expect:
Dynamic Teaching
Authentic Worship
The Big Conversation - Q&A Panel
Fellowship
Refreshments
TIME:
10am-5pm
LOCATION:
New Wine Church,
John Wilson St,
Woolwich
SE18 6QQ
OUR GUESTS:
AYOKUNU ODUNIYI
EMMANUEL AKINFENWA
ADE OMOOBA MBE
TIMOTHY RAMSAY
CARL KONADU
GLENN GWAZAI (Worship)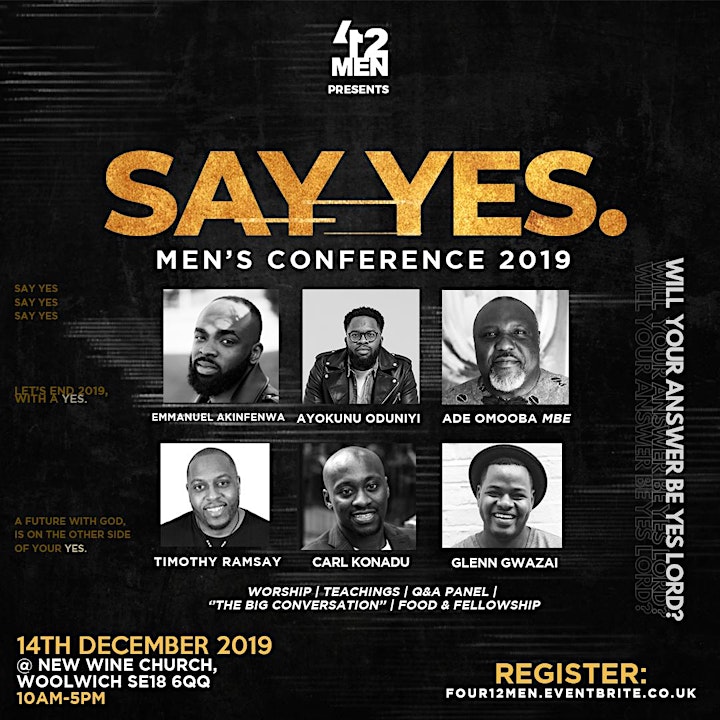 Organiser of FOUR12MEN: 'SAY YES' Mens Conference 2019