FP in the City Conference is a chance to share your passion for Functional Programming!
About this event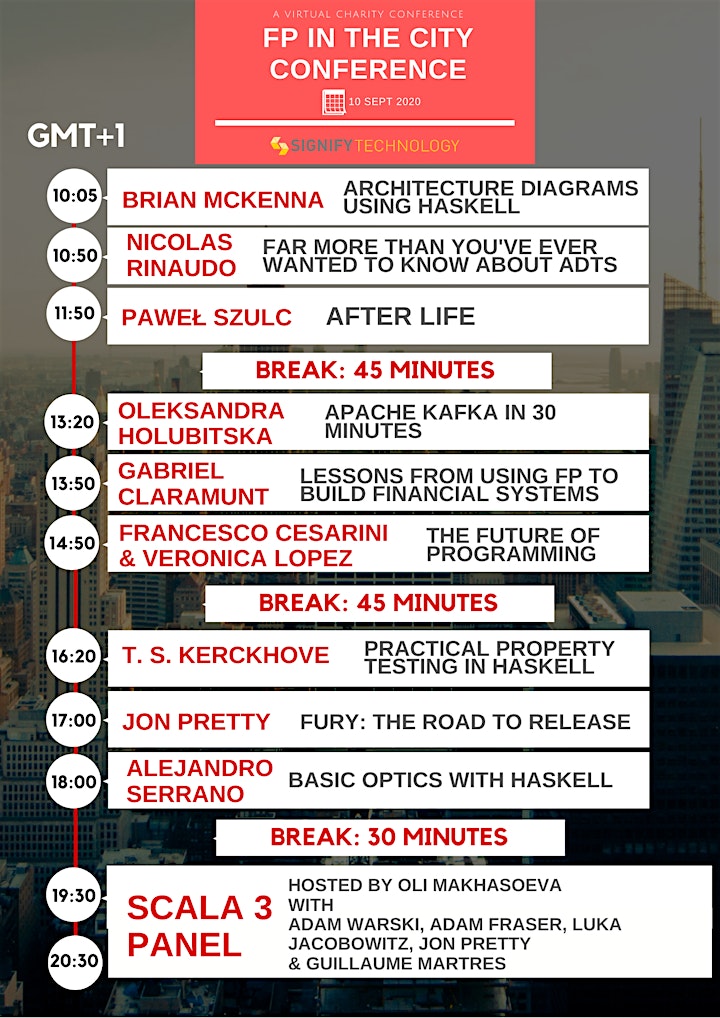 FP in the City Conference is for anyone who is passionate about learning and sharing their Functional programming knowledge 💛
The Signify Technology team are thrilled to bring you another virtual conference where you will learn from a group of very talented Functional Programming contributors.
FP in the City Conference is in aid of NHS and Black Lives Matter. The NHS is continuously and tirelessly fighting to help protect us all from COVID-19 and we are so grateful for their efforts. As a diverse company, we fully believe in equality and equal opportunities, we stand against discrimination and racism.
Speaker List
**NEW EDITION**
Scala 3 Panel Discussion hosted by Oli Makhasoeva.
Guests including Adam Warski, Adam Fraser, Luka Jacobowitz, Jon Pretty and Guillaume Martres!
Francesco Cesarini (@FrancescoC) Founder and Technical Director at Erlang Solutions and Veronica Lopez (@maria_fibonacci)
Title: The Future of Programming
Abstract: Whilst Erlang has been ahead of the curve for decades, other communities and technologies are quickly catching up, but not always in the most efficient way. In this talk, Francesco and Veronica share their experiences on the past, present and future of distributed software development in the Erlang Ecosystem. By looking at how systems which by nature were distributed and learning from past mistakes, they map out the evolution of where we are heading, and what we need to do to get there.
Alejandro Serrano (@trupill) Software Engineer at 47 Degrees, author of "Practical Haskell" and "The Book of Monads"
Title: Basic Optics with Haskell
Abstract: Lenses are becoming an increasingly important part of a Haskeller's toolkit. Yet, when first approaching them, people may feel buried under a myriad of different lens-like thingies. The goal of this talk is to provide a conceptual overview of three of the most important kinds of optics, namely lenses, prisms, and traversals.
Brian McKenna (@puffnfresh) Functional programmer at Atlassian
Title: Architecture diagrams using Haskell
Abstract: Reading code to understand how a large system works can be very time consuming and difficult. This can be especially hard for people new to a codebase. High level diagrams allow quicker communication.
Diagrams also help: Figure out how to improve systems, Focus on potential failure points during incidents, Talk about user experience and design
This talk will cover how I've used functional programming and Haskell to create achitecture and sequence diagrams. I'll also cover some experiments in automatically creating diagrams from functional programs.
Attendees will learn about a new domain where functional programming is being used, how abstraction helps describe a system and a potential way to introduce Haskell to a team.
Tom Sydney J. Kerckhove, Technical Leader and Engineering Manager
Title: Practical Property Testing in Haskell
Abstract: This talk discusses how to implement proper property testing in Haskell. It moves way beyond the classic toy examples and examined real-world scenarios. It takes a deep-dive into how to make property tests interact with web services or database systems. It also explains how to use custom generators and testing combinators. Other topics discussed are as follows:
Testing with Databases
Testing with Services
Writing Custom Generators
Using Testing Combinators
Nicolas Rinaudo (@NicolasRinaudo) CTO of Besedo
Title: Far more than you've ever wanted to know about ADTs
Abstract: Algebraic Data Types are a very simple, yet very powerful tool to use when designing systems. Most developers are familiar with them, or subsets of what we call ADTs, even if they are not aware of them - enumerations, for example, or records.
The purpose of this talk is to clarify what ADTs are, what properties they have and how these properties can be used to express strong invariants at the data level - such as making illegal states or state transitions impossible to represent.
It also explores the generalised form of ADTs - GADTs - and attempts to lift some of the confusion that surrounds them in the Scala community.
We will also (lightly) tackle the theory behind them and try to understand where the "algebraic" part of the name comes from.
By the end of the talk, attendants should have a solid intuition of when and how to use them, and be able to bring them to use in their own projects directly.
Gabriel Claramunt (@gclaramunt) Senior Backend Engineer at Qume
Title: Lessons from using FP to build financial systems
Abstract: More often than not, financial systems require the application of complex logic and calculations to high volumes of data with tight performance.
FP is well suited to tackle all those while keeping us productive.
Let's review the application of FP of some of the available techniques and tools help us to produce correct, performant, and maintainable systems.
Paweł Szulc (@EncodePanda) Haskell Developer at Klarna
Title: After Life
Abstract: I'm a huge fan of Free monads, that's no secrete. For a very long time, I've been advocating writing maintainable software using one of the available "effects" library called Polysemy. At work, however, you can not always work with technologies you prefer. At Klarna we rely heavily on MTL stack. It took us some time and a couple of iterations, but I believe we've finally reached encoding, that - even though not perfect - gives us the majority of benefits typically found in Free-based solutions. Those (among many) are effects tractability, DSL-like encodings, coding to the interface, testability, "compiling" to the lower-level languages.
In this talk, I will present our approach. You will not only learn how to program effects in MTL to get all the above mention benefits. We will also explore all "lower-level" machinery that was used. We will touch upon GeneralizedNewtypeDeriving and DerivingVia, MonadTrans and MonadTransControl, instances resolution in GHC, and many more.
This talk is targeting beginner/intermediate Haskellers who want to gain knowledge on how to best leverage their favorite language in order to write beautiful, maintainable code.
Jon Pretty (@propensive) Scala Coder and Scala World organizer
Title: Fury: The road to release
Abstract: Fury is just a few days away from its first milestone release, a "preview" where for the first time, we can recommend adoption for experimentation. The roadmap to version 1.0 still has a long way to go, but in this talk, I will introduce some of the new features arriving in Milestone 1 ("Alecto"), such as ecosystem-wide updates, Scala.js support and online publishing, plus a preview of some of the exciting new prospects for later milestones, including integration with Docker, a GUI extension for VS Code and distributed builds.
Oleksandra Holubitska (@Oleksandra_A) Full stuck Developer
Title: Apache Kafka in 30 minutes
Abstract: During this talk, you'll learn how Apache Kafka may fit into your solution architecture. The full theory of how Apache Kafka works will help you to start using it in your project. We'll go through problems that Apache Kafka solves to practice examples.
Donation
Signify Technology want to continue to give back to the community and the Functional Programming community, therefore, we are not charging a fee for this event. We are only asking that any donations you are able to make would be greatly appreciated as these will go to support Black Lives Matter and the NHS.
Online Conference
Due to current regulations this conference will be an online event. Once you secure your ticket you will receive an email confirmation from Eventbrite.
The week leading up to the event you will receive an email with the link to the Zoom webinar room where the virtual conference will be held. You will also receive further confirmation emails containing this link on the day before and day of the conference.
Any queries please reach out on shannon.lynch@signifytechnology.com
About Signify Technology
Signify Technology is a hub for everything functional programming related. We provide permanent and contract technology recruitment solutions to a wide range of the world's leading brands on a global basis including blue chip, technology companies and start-ups.
Signify are committed to helping the Scala community grow by organising meetups, providing sponsorship for tech diversity and offering some of the coolest Scala jobs on the market. Having a voice in the Scala community to make a positive impact is essential to Signify.
Are you interested in a new Scala opportunity? We have an abundance of opportunities globally with some of the coolest tech companies. From Junior to Senior level, just reach out and see how we can help you!
Check out just a few of the incredible roles we have available.
Follow Signify on Twitter to stay up to date with all our news @Signify_Tech