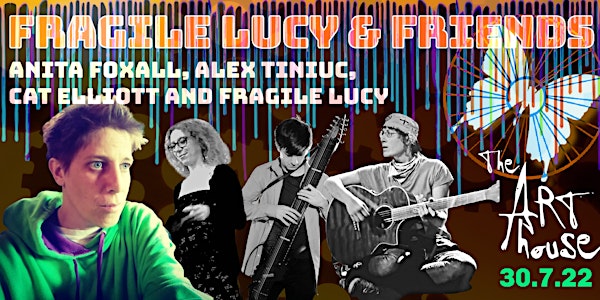 FRAGILE LUCY AND FRIENDS // Art House SO14 // 30.7.22
Location
The Art House Southampton CIC
178 Above Bar Street
Southampton
SO14 7DW
United Kingdom
Featuring: Anita Foxall, Alex Tiniuc, Cat Elliott AND Fragile Lucy
About this event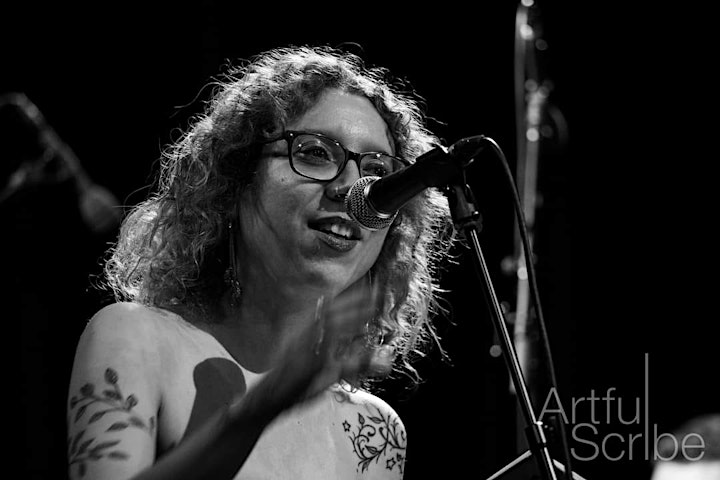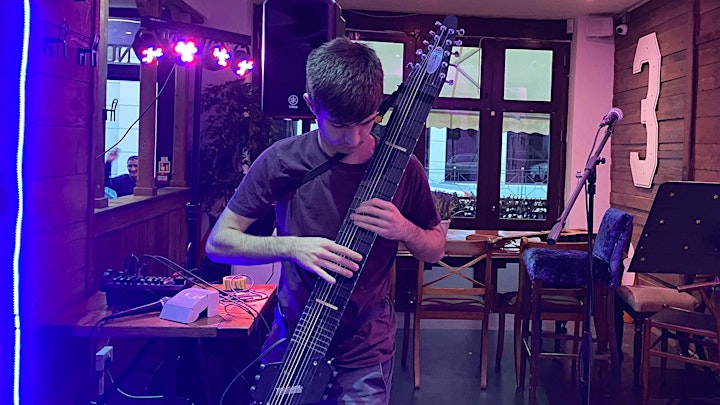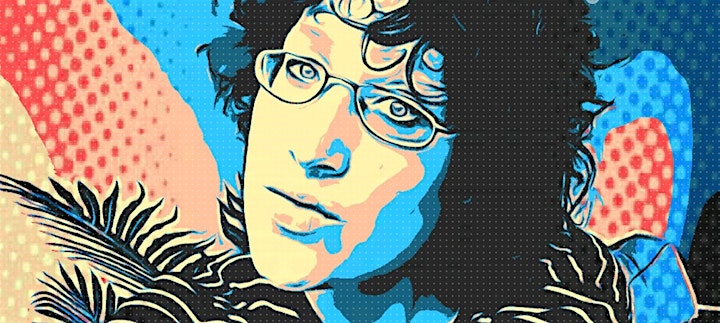 FRAGILE LUCY and Friends // Art House SO14 // 30.7.22
Featuring: Anita Foxall (https://www.facebook.com/profile.php?id=100057036325649), Alex Tiniuc (https://tiniuc.bandcamp.com/), Cat Elliott (https://www.musicatelliott.com/) and Fragile Lucy (https://fragilelucy.co.uk/)
ANITA FOXALL
Anita is a Southampton based poet, but she is not from this world, she is Plutonian. She spends her days with numbers and her evenings with words, poeting about with her poetry collective Ghost River; or as Interesting Wallpaper's poet. Because she loves the company of poetry and poets she also hosts a poetry open mic in Southampton, Write a Note. Being a curious Plutonian, she loves writing about humanity and its essence.
ALEX TINIUC
Alex Tiniuc is a producer and multi-instrumentalist based in Southampton, Hampshire. Within Southampton, he is best known for his instrumental performances on the Chapman Stick. He has played at the Hands of Love event at MAST, has competed in The Hobbit's 2022 Battle of the Bards, and regularly frequents open mics around town. He has worked with well-known local acts such as Fragile Lucy & Issy Somers, but also musicians based in Indonesia, France & the United States.
CAT ELLIOT
According to reliable sources (her mum) Cat began making a lot of noise at a very early age & took to music like a pig to a pool of mud. She has come a long way since those first few unexpected songs burst messily out. The creativity, the songs, were always bubbling underneath the surface, but moving from place to place, living in all manner of unusual abodes and meeting all manner of eccentric folk matured both the Artist and the Art.
She rediscovered the piano (literally in storage gathering dust for years, waiting) adding classical compositions to her catalogue of original material. They needed an outlet and Cat's first semi-autobiographical EP, "Through & Through" was released in 2018. Cat loves the contrast between the raw energy of playing live and the controlled process of making records in a studio. After all, "variety is the spice life."
FRAGILE LUCY
Get ready for something a bit different. With her funky flamenco style, indie, geek-rock tunes, quirky song lyrics and an awesome voice. Fragile Lucy armed with a tiny instrument and a massive personality really is one of most unique musical acts out there. Her most popular songs "Vegetarian Ham" and "Techno Teddy" are a big hit at festivals and gigs. You may of seen her busking around the South Coast or playing online in recent times. Her latest single "Crazy Bout You" has been featured on BBC Upload and other local radio stations. If you haven't heard this ukulele wizard before you're gonna be blown away. Always a fun filled, energetic performance from a truly talented and inspirational artist.
To get a reminder about this event and news of our other events, we invite you to join our mailing list here
We encourage you to take a lateral flow test if possible before attending this event. Please do not come to this event if you have any symptoms of Covid-19 or have a positive lateral flow test result. We will switch your ticket for an online one so that you can watch from home and arrange a partial refund less your online ticket donation amount with you if this happens, just drop us an email in advance of the event.
Online tickets are by donation - click the ticket link & type in your ticket amount to choose what to pay. We do suggest an amount, but appreciate anything you are able to contribute.
This event will be live-streamed on a private YouTube channel. You can buy an online ticket via the link above, pay what you can, if you wish to join us from home. Patreon supporters will receive this link via a Patreons-only post half an hour before the event starts, and as a link in the private Facebook group just before we go live. You will receive this link if you buy an in-person ticket.
To ensure you have a space, please book in advance.
The cafe will be serving soft drinks, alcohol and snacks. Card payment is preferred.
To see what measures we are taking to keep our space Covid safe, click here