Sales Have Ended
Ticket sales have ended
Sales have ended for this event. Please check out our other events and we look forward to seeing you soon. The MINDinMIND team
Event Information
Refund policy
Contact the organizer to request a refund.
Eventbrite's fee is nonrefundable.
Sales Have Ended
Ticket sales have ended
Sales have ended for this event. Please check out our other events and we look forward to seeing you soon. The MINDinMIND team
Leading Expert on ADHD in Children, Black Mental Health, Diversity in Professions & Why Practitioners Should Drive Social Change
About this event
An Audience with Dr Francine Conway
LIVE Legacy interview
Tuesday 1 February 2022, 5-7pm UK,
MINDinMIND, APA Division 39 Section II, The National Service Office for Nurse-Family Partnership & Child First invite you to an audience with Dr. Francine Conway, an outstanding clinician who has won awards for her achievements in the fields of ADHD, Black Mental Health and Diversity.
In her position as Chancellor-Provost of Rutgers University, she is a visionary groundbreaker, imagining a better world for children and committed to driving social change.
Her achievements are all the remarkable given her humble childhood growing up in poverty in Guyana. As a woman of colour and leading child clinician, Francine will be addressing the social and racial issues that affect the therapeutic treatment of Black, Asian and ethnic minority children and their families.
We ask our Legacy Interviewees to choose colleagues to join with them to discuss their work. Francine has chosen individuals who are held in the highest regard for their contribution to the mental health and wellbeing of children:
Dr Kirkland Vaughans is a clinical psychologist and psychoanalyst. His depth of knowledge and understanding from engaging with marginalised young people and their families for decades in New York has deeply influenced Francine's work.
Dr Nancy Boyd-Franklin is a much respected professor of psychology and was named Distinguished Psychologist of the Year by the Association of Black Psychologists. She is a leading expert on the therapeutic treatment of ethnically and culturally diverse families. She is passionate about the psychology field changing how it regards the therapeutic treatment of black families.
Professor Karin Ensinck is a clinical psychologist and director of Mentalization Based Treatment Canada. She will discussing with us Francine's pioneering work using Mentalization for children with ADHD.
Dr Conway will be in conversation with Jane O'Rourke and Salam Soliman:
Jane O'Rourke is a Child, Adolescent and Family Psychotherapist and Founder of MINDinMIND based in the UK.
Salam Soliman is Director of NCTSN's Center for Prevention and Early Trauma Treatment at Child First and Nurse Family Partnership and Board Member of American Psychological Association's Division 39 Section II, based in the USA.
More information about Dr Francine Conway
As president of National Council of Schools and Programs of Professional Psychology (NCSPP), Francine led a campaign to enhance the curriculum in preparing psychologists to lead social change. She recently won the New Jersey Psychologist of the Year Award in recognition of her contribution to the psychology profession. We will be asking Dr Conway about how therapy professionals should be driving social change and making themselves more representative of the people they serve.
Her particular interest in disability and learning difficulties has led Dr Conway to integrate services and research programmes for the support needs and lifespan of people with autism at Rutgers University. In this interview she will discuss how people with autism can be best prepared for a fulfilling life and how the professionals who treat autism need to be trained to serve their needs.
Media contributions include her TEDx presentation, "Cultivating Compassion for the Attention Deficit Hyperactivity Disorder Child: Shifting Our Stance from Moral Indictment to Empathy."
Her latest book is 'Cultivating Compassion: A Psychodynamic Understanding of Attention Deficit Hyperactivity Disorder'.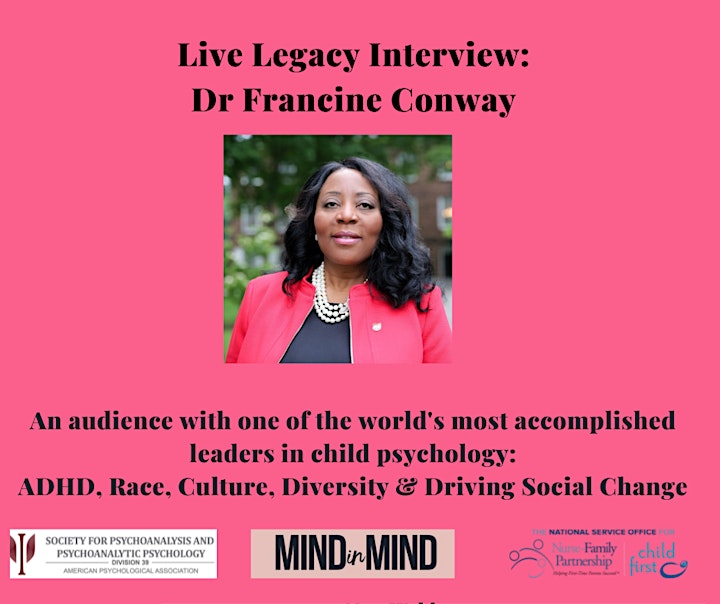 Payment options
MINDinMIND has no income stream, and we depend on donations and ticket sales to keep putting out content like our legacy interviews.
£25 ... ticket price please choose this option if you can
£15 ... ticket price for unemployed and low waged
Please do get in touch if you are experiencing financial hardship and wish to attend as we have a number of sponsored tickets:
janeorourke@mindinmind.org.uk
On MINDinMIND you'll find some of the world's leading clinicians and wisest minds working in child mental health. They are sharing what they know about what best helps children and families.
When children and young people get into emotional difficulty, the adults who care for them need access to the latest information and thinking about child mental health.
So whether you're working therapeutically, a social worker, parent or teacher, here you have free access to interviews, research and in-depth thinking on psychological issues such as anxiety, trauma and depression and how children and their families can cope during these times of extreme challenge.
And we are now adding webinars focussed on the most pressing issues affecting child & family mental health. They are donation-based or low cost so that everyone regardless of their income can access them.
Join our community by signing up for our email updates to let you know when new interviews, research and webinars are coming up.
Date and time
Location
Refund policy
Contact the organizer to request a refund.
Eventbrite's fee is nonrefundable.