When Was The Last Time Scrutinising 50-Page Financial Reports From Cover to Cover Made You Feel Confident About Investing REAL Money In The Stock Markets?
>>>

INVESTING WITHOUT FEAR

<<<



"It Shouldn't Be This Easy To Find Such

Profit-Raking High Growth Stocks

... Yet Mr K Is Giving Them Away Like Every Day Is Christmas!"
Singapore's most unorthodox stock investor - his recommendations helped his amateur students beat professional fund managers' portfolio by 14.57% - wants to reveal his portfolio and share his personal stock picks with beginners who want to succeed fast in the stock market.


Register Your Seat For This

FREE

3 hours

workshop now:
Date: As Shown on Tickets Registration

Time: 7.00pm - 10.00pm

***Here's a sample of the stocks he hand-selects and send to his students every week...
 
***

"Ever Wondered Why Investment Experts Are Always Throwing In New Systems & Strategies To Confuse The Market?"
Dear Investor,
Investing today has gotten crazier. The stock markets are constantly jam-packed and being overloaded with information.
When I open my financial magazines, I see columns after columns of financial advice, tips, theories, you name it. (None of which tells me what to invest in)
When I log in to my brokerage account, I'm flooded with thousands of stocks to invest in from markets all around the world. (Thankfully I have a method that helps me scan through these markets within minutes so I only have to choose from the best stocks)
And don't get me started on the colossal amount of new "must-read" books and websites out there introducing a new strategy every few months.
Yet, as a professional investor who has constantly beaten the markets for over 20 years, my strategies haven't changed much. They raked in profits for me back then, and they're still raking in huge profits today.
Here's the best part…
Instead of cramming yourself with more useless information you'll never use... why not just see what stocks a professional investor chooses... understand why I hand-pick these stocks... and learn how I allocate my budget to ensure I get a winning portfolio.
This is how I've been guiding many of my students to become profitable investors. Even if they're complete beginners and have never even opened a virtual account before.
It all starts with modelling.
Investing Is As Simple As Replicating What You See.
You model profitable trades. You model the strategies behind those trades. And you model the investor who came up with those strategies.
Sounds a little too simple?
Then think about this…
Isn't the world of investing all about modelling what the top investors are doing?
World class investors like Warren Buffett, George Soros, Benjamin Graham and many others are constantly modelled by countless number of investors around the world.
Then after making profits, their strategies are broken down and analysed to understand why they work and how to repeat them. Along the way, other experts appear using these same principles and introducing other formulas they created. And soon, you find yourself with thousands of different revolutionary strategies to choose from… the result? You end up feeling confused.
Yet at the root of all these strategies... are the fundamental principles that have withstood the test of time. All you need to do is learn how to model them.
But before I show you how to model these investing legends, you first need to get this right…
***

After Listening And Applying A Couple Of His Strategies, This 24 Year-Old Graduate With No Financial Background

Grew His Portfolio by 27% Within 5 Short Months

. Without Using Any Fanciful Software Or Mashing Together Hundreds Of Financial Algorithm.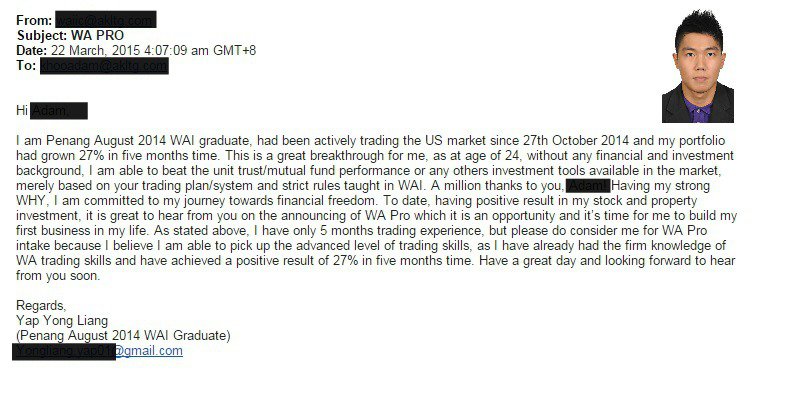 Register Your Seat For This

FREE

3 hours

workshop now:
Date: As Shown on Tickets Registration

Time: 7.00pm - 10.00pm

***

The #1 Must-Do Beginner Investing Success Habit

***
Identify your investing style.
You see, a common mistake many beginners make… is they model strategies that won't ever work for them.
They didn't know different styles of investing requires different strategies... and many ended up copying blindly.
For example, if you're a low risk-taker, following the investing portfolio of a forex investor can be a living nightmare. The sudden rise and drop in prices will send shivers down your spine every time your position is open.
Likewise, if you believe in the "high risk high returns" philosophy, a long-term buy and hold of 12% per annum may be too slow for you. You want more volatility in your trades.
Let me stress…

when you're just starting out

… you should choose the strategy that suits you best first. Then as you get better, you can add more strategies to your portfolio or scale the strategy working for you.
And over the past 20 years, I have identified several major investing strategies for different types of investors.
Which I want to share with you…
So for a limited time this year, I'm going on stage to reveal these investing secrets to serious investors. The same secrets I taught many of my students to become great investors themselves.
Introducing…
***

Wealth Academy Introductory Workshop

***
This is a FREE 3-hours sharing session where I'll dive into some of my best investing strategies for beginners. So you get maximum profits. Fast.
We'll look at many fundamental and basic strategies that are easy to apply. But don't let it's simplicity fool you... these are strategies that have continuously been battle-tested in the open markets. They are not new theories or formulas thought up by a financial professor with no experience investing using real cash.
Best of all?
After learning a couple of these strategies, you'll be much more confident about investing.
This is how I've helped many of my students successfully break into the stock market.
But don't take my word for it… read what some of them have to say about the workshop:
Arthas Ho, Undergraduate


"My Returns Are About 10-20%. With Such Great Achievements, Straits Times Has Also Interviewed Me So That I Could Inspire Other Young Adults To Start Investing As Well."



I would like to thank you for your guidance thus far, be it in the field of education, investing, personal development or book writing. In particular, I would like to thank you for teaching me how to invest. With the skills that you have taught, I have recouped the losses I had prior to attending the Wealth Academy. Also, I have now created another source of income for myself while I'm studying.
Chan Huan Wei, CFA




"40-100% Returns From My Investment After Applying Wealth Academy Techniques."

I have to admit that the session provided a very good insight into methods of stock selections and I personally applied in my real life stocks investments. The simple stock selection techniques were indeed helpful. 

Honestly, it was way better than many of the trained fund managers out here.
One of the reasons why my workshop has been successful in bringing about so many success stories is because

you're not just copying winning trades and strategies

...
You also learn about money, risk and reward, debt and other personal financial management that improves your financial knowledge. It's almost like a mini university education on all financial matters.
You're getting the fish and learning how to fish. At the same time!
Here's a quick overview of what you'll learn:
How to create multiple streams of investing income without having to gamble away your life savings or taking on more debt than you can manage.
The 30 Years Make Money with Your Eyes Closed Strategy that will double or triple your capital even if you're the most conservative investor around – even if you don't remember a single thing after the workshop, remember this strategy as it is one of the safest ways to beat inflation and earn more than the measly interest the banks are offering you
What the Vicious Poverty Cycle is and why the average Singaporean is doomed to lose as much as 75% of their money every decade if they do nothing – yet once you take a few small steps, you can turn this situation completely around.
How to find the investing strategy that matches your investing style… then how to apply the right investing tactics to achieve your financial goals
The "Property Tycoon" Portfolio Strategy – If you want to invest in real estate but can't afford the hefty down payments, don't want to manage the property or look for tenants, and don't want to take on 30 years loan… this strategy will reduce your risk, do the work for you, while you collect quarterly rental yields
The "Put My Daughters Into University" Financial Plan – here's a secret about rich people, they know how to use money to make more money, some of them are really simple. This financial plan will help any parent learn how to beat inflation so they can send their children to the best universities in the world that money can buy.
How a Group of Amateur Investors with Less than 1 Year of Experience Outperformed Professional Investors from S&P500 by 14.57% - With the right strategy and technique you can easily spot winning stocks as well
And many more strategies to make your investing journey easy and profitable.
Here's the thing about investing…

Many people will say that entering the stock markets is risky, you expose yourself to market conditions, and you are leveraging your hard-earned money.

And to a certain extent, I agree with them.

Investing has risks.

But when you choose to do nothing about it… when you choose to leave your money in the bank and collect the tiny interest every year…
***

You are at GREATER RISK By Doing Nothing!
Your money will lose its purchasing power because of inflation.

Instead with the right investing strategy that matches your investing style, you can reduce your risk and model a portfolio that suits you.

So why not come down and learn a few simple strategies you can take away and benefit from during this introductory workshop?

Yes, it is an investment and commitment of 3 hours on your part…

But I know that this will be one of the best financial education you'll have received in a long time.

I look forward to seeing you there and making an impact in your life.

To your financial success,
Mr. K, Professional Investor

Register Your Seat For This

FREE

3 hours

workshop now:
Date: As Shown on Tickets Registration

Time: 7.00pm - 10.00pm

P.S.

We're expecting this event to be fully booked and have turned late walk-ins away on the day of the event before. If you are serious about learning the right investing strategies from my secret vault, you'll want to register right now.
***

Mr K's Profile & Background

***
He is one of Asia's number 1 Wealth and Success Coach, Professional Stocks Investor and Best-Selling Author. Over the last 20 years, he has trained over half a million people to achieve financial excellence and success in their lives.
In 2004, in order to educate the public on sound principles of financial and investment management, he started a comprehensive mentorship program designed to empower individuals with the essential skills and mindsets to achieve their financial goals. Over 8,000 individuals have benefited from this program.

In January 2009, at the heart of the Financial Crisis, during an interview with Channel News Asia, he revealed live on national television a once in a life-time opportunity then to purchase quality stocks at bargain prices. And sure enough, shortly after his revelation, the stock market reversed into an uptrend and increased by more than 200% over the next 5 years.

Many investors (a large number of his students) who heeded his advice and took action then have had made for themselves a handsome profit.
***

More Raving Testimonials From Past Participants

***
Yash Paul Gupta, Director, A* Star Aerospace Programme




"I Have Made 6.8% Returns On Investments Within 3 Months."

I would have saved hundreds of thousands of hard earned money if I had attended Wealth Academy years ago. With the knowledge I have gained, I can now take on any desired stock or market with confidence and reduce the risk of losses to great extent.
Eric Tham, Undergraduate




"I Have Made A Net Profit Of About 35% In Less Than 3 Months Out Of US$14,000."

Your wealth academy program is amazing. I would have not achieve this if I didn't take my first step to attend it. I didn't make money immediately after I attend but I have saved myself from huge draw down by disposing many bad stocks in KLSE before it crashes.
Tan Kian Yoong, Auditor




"Recouped All My Losses In 2011 And Made An Additional 34% On My Portfolio – 10 Times What I Paid For The Course. "

Before attending your course, I invested based on friends' recommendation and my own random analysis. I made a slight loss after holding my investment for more than 2 years. In January 2012, I read the book "Secrets of Millionaire Investors" and attended Wealth Academy in April. I have recouped all my losses in 2011 and made an additional 34% on my portfolio.
Christophe Deridder, Business Owner




"I Managed To Double My Portfolio In 1 year Trading!"

Being a self-employed since graduated in export/import from Asia to Europe and now being the MD of my own real estate development in Thailand, the Wealth Academy program has given many answers in improving and confirming, completing my business actions and approaches in human relations and dealing with the daily challenges. Finally it gave me the opportunity to create another stream of income and made me a much better investor!
***

YOUR COURSE FEE IS WORTH EVERY PENNY!
***
Register Your Seat For This

FREE

3 hours

workshop now:
Date: As Shown on Tickets Registration

Time: 7.00pm - 10.00pm