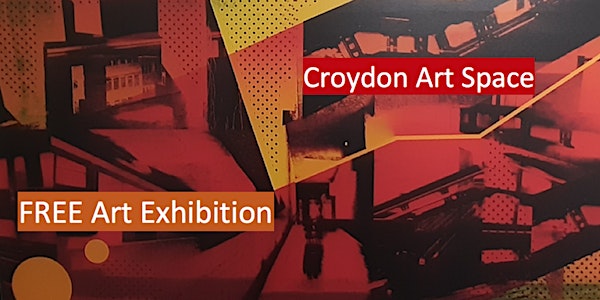 Free Art Exhibition at Croydon Art Space
Freedom Exhibition. Explore new contemporary artworks created by artists during and after the Covid-19 lockdown periods.
About this event
Free Art Exhibition at Croydon Art Space
Freedom Exhibition - 23rd April to 13th August 2022. An exciting celebration of the freedom of contemporary art expression. Artworks include paintings, jewellery, glassworks, graphic design, and ceramics.
The exhibition features artwork by Ema Mano Epps, Jyoti Bharwani, Tracy Nicholls, Monica Mardare, Martin Masterson, Natasha Dovey, Jenny Macdonald, Gillian Fielden and Barbara Gorton.
Room 1: Colour in Splendour
Abstract Oil and Watercolour Paintings by Martin Masterson. For this exhibition, Martin has produced twenty-four new watercolour paintings.
Mixed Media Portraits by Natasha Dovey. The portraits are filled with reflected colours of city nightlife. Colours are vibrant, bold, and enchanting.
Ceramics by Barbara Gorton. Ceramic works are contemporary, utilising various techniques.
Room 2: Black, White, Red & Gold
Glass Artwork by Tracy Nicholls. Tracy was recently nominated for a Biennale Arte Award for her Glass Glow Artwork.
Portraits and Abstract Paintings by Monica Mardare. Her artistic expressions have use various ranges of applications and styles.
Jewellery and Illustrations by Jenny Macdonald. She is endlessly drawn to detail and minutiae to create interesting and sparkling results.
Graphic Designs by Gillian Fielden. Unique graphic design works, which covers meal events during the January to March Covid-19 lockdown period.
Room 3: Silver Linings Exhibited Works by Ema Mano Epps and Jyoti Bharwani.
Silver Linings Paintings incorporate; Iron Oxide, oak gall ink, earth pigment, lapis lazuli, rose gold and yew ash on canvas, cotton, and silk. They are intricate and delicate with plant and human references.
Upon arrival you will be given an exhibition programme. Event organiser/exhibition curator Paul Hall, will be available to answer all questions on the art works exhibited.
Entry Requirements: Croydon Art Space is a small independent gallery. The exhibition is free to visit. To ensure your visit is as safe as possible, please book a ticket so we can monitor visitor numbers and make sure that there are not too many people in the exhibition space at the same time. it is possible to obtain a ticket on the day (up to one hour before closing).
Ticket numbers are limited to allow for social distancing. Therefore, management reserves the right to refuse entry to anyone that has not booked an exhibition ticket.
General Information: For more information on Croydon Art Space, and a downloadable travel map, please see our website: www.croydonartspace.com
Curator and exhibition organiser, Paul Hall reserves the right to cancel exhibitions. In these circumstances ticket holders will be contacted and an alternative exhibition date will be arranged.
Updated Covid-19 Safety Measures: Please do not attend exhibitions if you think you have symptoms of Covid-19 or have been in close contact with someone who has tested positive.
We ask all visitors to maintain social distancing at all times. Face masks are optional and hand sanitiser is available.
Should Covid-19 restrictions prevent exhibitions from taking place or prevents your attendance, please email croydonartspace@gmail.com for more information.