Westbury Village Mobile Climbing Wall (4yrs +)
About this event
A FREE 4-person mobile Climbing Wall is coming to Westbury on Thursday 19th August, enabling children from 4 years up to experience the exhilaration of climbing in a safe, socially distanced way. Walls are fitted with automatic belay devices to ensure safety and up to four people can climb at any one time on routes that can be graded to suit all abilities. Appropriate social distancing will be maintained at all times.
The instructors will wear visors when in close proximity to the children especially when securing the harnesses. Hand sanitising will be available along with a socially distanced queuing system.
Parental Supervision is required.
This activity is weather dependent as the wall cannot be used with threat of thunder and lightening storms.
Places are limited so booking is essential.
This activity has been sponsored by Westbury Parish Hall Charity and Westbury Parish Council on behalf of it's residents and their families.
Further Information
Appropriate clothing must be worn at all times. As with all adventure activities, considerations (ie. age/size/ability) will be made when deciding who can participate. Those with severe heart conditions, severe epilepsy, or in the late stages of pregnancy may be unable to participate. Participants will be unable to climb if the harnesses do not fit in a correct, safe manner.
The maximum weight allowance is 125kgs.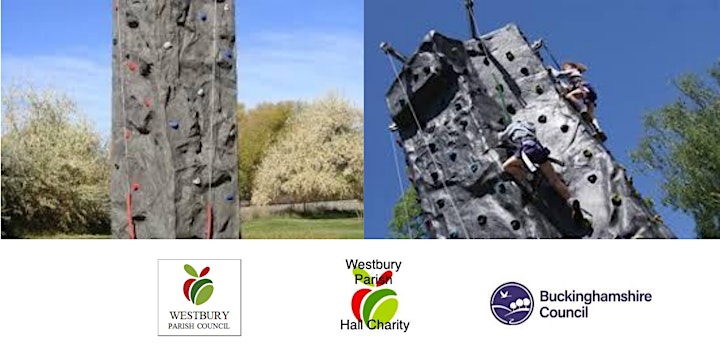 Organiser of FREE Climbing Wall