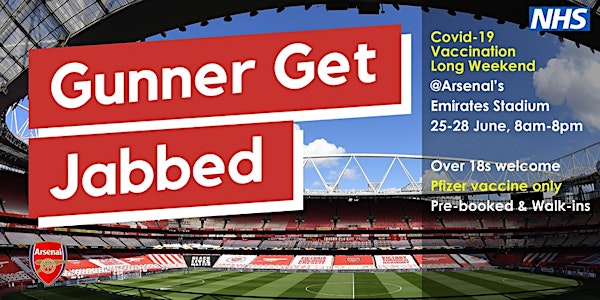 FREE! Covid Vaccination Long Weekend. Emirates Stadium. 25-28 June, 8am-8pm
Location
Emirates Stadium
Hornsey Road
London
N7 7AJ
United Kingdom
18+ and eligible for first dose of Pfizer OR 40+ and due DOSE TWO? Emirates Stadium 25-28 June, 8am to 8pm. Find out more below.
About this event
18 years or over and have NOT had a Covid jab? Get your FIRST DOSE vaccination free today.
Or get your SECOND DOSE of Pfizer if your first dose was 8 weeks ago or more.
Book your free slot at our four day event @ Emirates Stadium, Friday 25 to Monday 28 June inclusive. The vaccine on offer is PFIZER, given by fully-trained vaccinators between 8am and 8pm each day.
How to book
If you are registered with an Islington GP and you are eligible and haven't had your first dose, look out for a text message from Monday 21 June, inviting you to book a vaccination appointment. Please use the link in that text message to book your vaccination at Emirates Stadium, instead of booking on this page.
Everyone else who is eligible for their first dose vaccination should book into a one-hour slot here or come on the day to get a walk-in appointment, subject to availability. We will aim to vaccinate you within that hour, but cannot guarantee it. When you choose a slot you will be asked for your name, date of birth, postcode and email. This data will be used solely for the purpose of creating the booking for your COVID vaccination at this event.
If you have an NHS number, please bring it with you as this will help us to record your vaccination quickly. You can find your NHS number here  but you can still be vaccinated if you don't have one. You will not be asked for your immigration status, and you do not have to be registered with a GP to get the vaccine at this event. If there are members of your family, neighbours or friends who are eligible and have not been vaccinated, please encourage them to book here too!
To ensure social distancing and other Covid-safe measures are in place throughout, only people being vaccinated should attend this event at Emirates Stadium.
IMPORTANT: If you are looking after someone, such as a child, who would need to come with you, please DO NOT ATTEND this event – the NHS can give you an alternative appointment at a different time and location:
Getting there Entry to the stadium is via Hornsey Road entrance, near The Armoury, Block S , which is fully wheelchair accessible via a street level lift. Marshals will direct and support you at the stadium on the day, gathering further information where needed and answering your questions. There'll be a managed queueing system to ensure social distancing. Remember to wear a face mask, unless you're exempt. Close to 10,000 vaccinations are expected to be given over the four days, with all attending receiving a jab appropriate to their age group. It's likely to be very busy!