FREE CYBER SAFETY EVENT - Digital lives: Children's perspectives
Event Information
Location
Northampton
United Kingdom
Description
This event, which will coincide with Safer Internet Day 2018, marks the completion of the first year of our EU funded Cyber Safe Generation (website coming soon) and the first year of the project's work in the UK.
CyGen is an Erasmus+ project with partners in the UK, Denmark, Belgium and Greece which works co-productively with children, teachers and parents to understand the opportunities and challenges that the internet presents for children and to co-design educational resources to support their safe online participation. The project is funded for three years (Sep 2016- Sep 2019).
The day will include:
Keynote presentations by Dr Hayley Davies, Dr Marion Oswald and Detective Inspector Ed McBryde-Wilding, experts in participatory research, Cybersafety and Children's rights.

Presentations and workshops hosted by members of the CyGen team (Professor Helen Lomax, Dr Michelle Pyer, Ruben Jans, Dr Jane Murray, Sebastiaan Jans, Michal Pilgaard and Paul Bramble) with UK children who are members of our Young People's Panel, Design Team and Quality Control Group.

A question and answer session to a panel of the CyGen team, invited speakers, and members of the Young People's Panel.

The opportunity to network with interested people from schools, organisations, universities
We are keen to welcome a range of attendees to the event, including academics, teachers, parents, students and anyone else with an interest in children's online participation.

Please note that during the day we will be livestreaming some of the presentations, and the children that we are working with will be reporting on the event. The output of their work will be shared via our website and other media channels to promote the work of the CyGen team.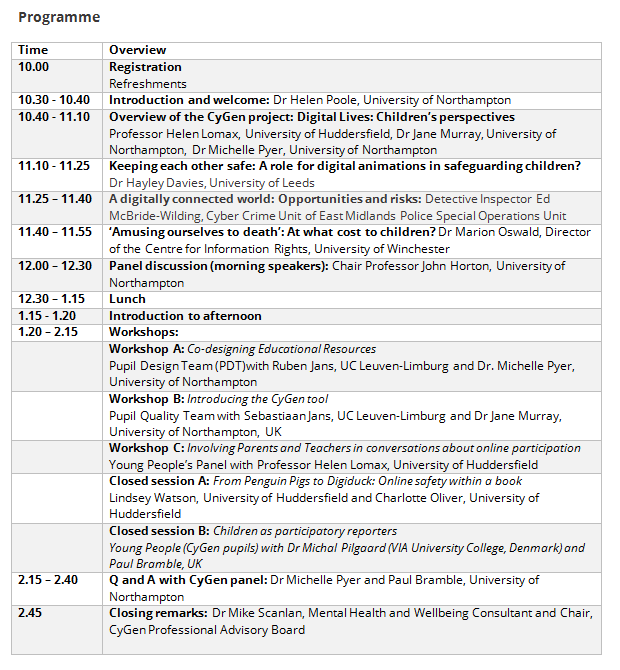 Date and Time
Location
Northampton
United Kingdom