Free Digital Training - Data Visualisation - How to present data
Description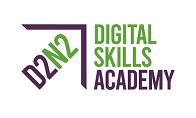 Would new digital skills enhance your career or job prospects?
Take on a new challenge. Learn digital skills. Achieve your potential.
About the scheme
The D2N2 Digital Skills Academy supports both autistic individuals and women that want to get back into work. Helping them to gain the digital skills they need to find a job they'll thrive in.
Participants can choose one of five digital training session themes to take part in, which will help them to become more digitally savvy and boost career prospects.
This training is completely FREE, and comprises a four-day programme at centres within Derbyshire or Nottinghamshire.
Who's it for?
This programme is set up to help autistic individuals and women, particularly those who are returning to work after a period of absence, those out of work, and those looking for another job or who want to progress within their current company.
What support is available?
Delegates can choose to attend one theme comprising four free training sessions, designed to teach the skills required to become work-ready for a job in the growing digital sector. Each course set is delivered by experienced and industry-leading digital experts and there are five different course themes on offer.
Delegates also receive support from a graduate digital buddy, who'll help build their confidence and offer one-to-one guidance in a safe environment.
Work experience opportunities may also be a possibility for delegates once they've completed their course.
What are the training session themes on offer?
There are five different themes to choose from:
Digital Marketing - Web development- Data Visualisation - Cybersecurity - Digital Essentials.
This event is for:
Data Visualisation – How to present data
Data is a useful tool to inform great business decisions. But how do you present figures and statistics in interesting and accessible ways to team members or senior management with less knowledge than you?
This four-day training course will provide a comprehensive overview of how you can record and present data in ways that will help inform great business decisions. The course is about presenting large amounts of information in ways that are universally understandable and how to spot patterns, trends and correlations that then translate into recommendations. The formats covered in the course include charts, graphs, infographics and other pictorial diagrams.
The course also covers use of the tools and software necessary to communicate information in these ways, for clients or your own company. This course is great for anyone who has to analyse, digest and present large amounts of data as part of their role.
The other dates of this training programme are 24 Sep, 30 Sep, and 8 Oct. All four dates must be attended.
Where the training courses are being held and what support is available?
This training course is being held at the Peak Indicators, Chesterfield.
Every delegate will be provided with a comprehensive workbook to use to capture notes throughout each session and can be taken away at the end as a reference guide for the future.
A buffet lunch will be provided during each day with refreshment breaks morning and afternoon too.
A certificate of attainment will be given at the end of the four-day training course.
What is the eligibility criteria?
Each course requires every participant to have a minimum level of digital skills and experience to ensure that the training course is right for them. Desired skills include competency and thorough understanding of computer systems, and applications, be familiar with file management, word processing systems, and have excellent written and verbal skills.
There are different skills required for each course – so please call us to see which course might be best for you to attend.
How do you enrol on the Digital Skills Academy?
Book your place on EventBrite and then we will get in touch to discuss your our eligibility and give you more information about the programme, and the support available to you. Delegates will also be required to complete an initial assessment and an enrolment form.
There are limited places available on each four days training course, so call us now to avoid disappointment.
If you would prefer to get in touch with D2N2 Digital Skills Academy please do so by calling 0333 320 0333 ext. 2153 (during office hours only).or emailing digitalacademy@emc-dnl.co.uk.
You can also find out all you need to know by visiting www.emc-dnl.co.uk/digitalacademy for full information about this scheme.