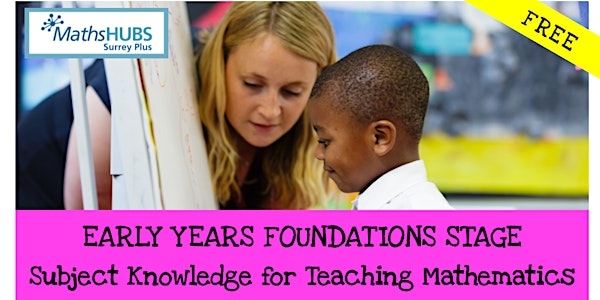 FREE Early Years Foundation Stage Subject Knowledge for Teaching Mathematic...
Description
A fantastic FREE Work Group looking at developing Subject Knowledge for Teaching Mathematics in an Early Years setting.
This Work Group is ideal for teachers who are new or with limited EY Maths experience and training and explores key concepts in early mathematical development and effective pedagogies that support mathematics learning.
Led by Dr Sue Gifford, our expert in Early Years Maths who sits on various advisory panels including DfE, OFSTED, NCETM, Nrich and. EEF.
This Work Group will comprise 5 face to face sessions with activities to trial in the classroom between each session.
2 members of teaching staff from each participating school are invited to register (but must attend all 5 sessions.)
There are two Work Groups to choose from:
St. John the Baptist School, Elmbridge Lane, Woking, Surrey, GU22 9AL:
29 January 2020, 11 March, 22 April, 20 May and 17 June - all sessions 1.30pm-4.30pm
St Mary's primary School, Silkham Road, Oxted, Surrey, RH8 0NP
30 January 2020, 12 March, 23 April, 21 May, and 18 June - all sessions 1.30pm - 4.30pm
All attendees are required to provide an NCETM User Name. If you haven't already, please obtain one by visiting NCETM Join
NB. As with all our Free or Funded Maths Hub Work Groups and programmes, we are funded by the Department for Education and therefore have to prioritise State Funded schools. If spaces are still available we are able to offer these to Independent schools, however we will need to charge fees and these will be advised separately.