In our virtual paint along session, we will be painting "Venice" Suitable for all the family
About this event
Need a creative outlet? Not sure where to start?
Why not join in on one of our online painting sessions! Grab yourself a jar of water along with your paints and brushes and start getting creative.
We talk and demonstrate step by step to help even the most inexperienced artist create a picture to be proud of. This session will include scumbling and so ideally you will require a medium tolarge sized stiff brush to create the best effect. If you are wishing to use oils please having the following acrylics white, yellow and red for use as the base colour to ensure that the base colour dries prior to using oils.
All you need is -
a mixture of acrylic paints colours of painting can be adapted to suit what you have
assorted brushes ideally including a medium to large size stiff brush
jar of water
tissues
pencil
long ruler
eraser
a canvas or acrylic paper or simular heavy weight paper.
a device to view us on facebook live
and some old paper and old clothes or apron to protect your good stuff from stray paint.
Want to help us keep creating exciting new artwork? Why not Buy Us A Coffee
Don't have your own equipment, but still want to try?
We can post sets out to you!
Easely Does It takes no responsibility for damage to household items or clothes during the session and adequate protection should be taken by the parents prior to the session starting.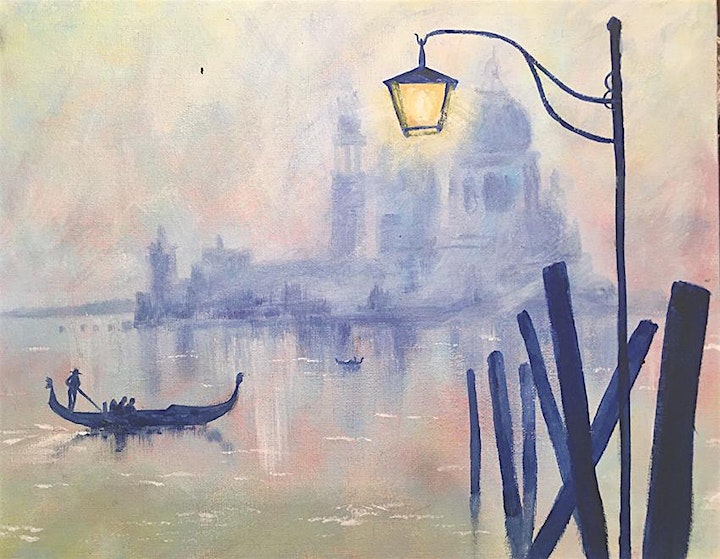 Organiser of **FREE** Easely Does It - Venice - With Toni
Every child is an artist until they are told they are not - John Lennon
Our aim is to make painting enjoyable for everyone. Our workshops are aimed at people who haven't picked up a brush since school, want to get back into painting but don't know where to start, anyone who just fancies having a go or can paint and fancies doing it in a sociable enviroment! 
Toni studied at Chelsea College Of Art and Brunel University and has been a designer for over 20 years, producing vibrant and exciting artworks for her customers. She is experienced in many mediums, from digital to oil painting.