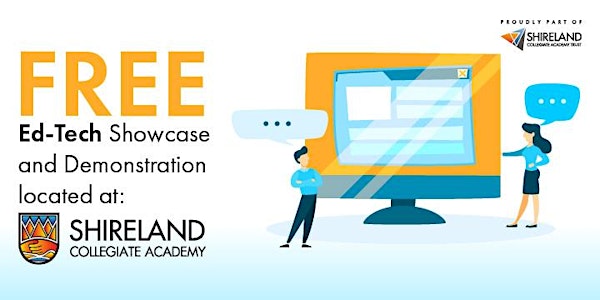 FREE Ed-Tech Showcase and Demonstration @Shireland Collegiate Academy
Location
Shireland Collegiate Academy
Waterloo Road
Smethwick
B66 4ND
United Kingdom
Are you looking to increase your teachers' use of technology? Do you want to see successful embedding of technology in the classroom?
About this event
About this event
At this Microsoft Showcase School event, we will share with you our EdTech journey alongside real life examples of the impact this has had on all stake holders. By the end of the event you will have an understanding of how we operate as an outstanding academy with the embedded use of technology. You will also understand the possibilities of using EdTech in your setting. There will be an opportunity for IT technicians to work with our e-learning team to learn more about our IT infrastructure, and how our systems and operations support our teachers to use EdTech in the classroom.
The agenda is as follows:
How we operate as an outstanding school with embedded use of EdTech
Overview of structures and operations within school to support teachers use of EdTech
Examples of how various applications can be used for hybrid learning
Our transformed facilities like the Immersive Suite and specialist Design and Technology Labs
Learning walk to view EdTech in the classroom
Q and A with students
Introduction to the Microsoft Showcase and Incubator pathway
Come along to our free event to see the amazing benefits of EdTech and how you could use it within your setting.
Showcase Schools create student-centred, immersive, and inclusive experiences that inspire lifelong learning, stimulating development of essential future-ready skills so students are empowered to achieve more.