Description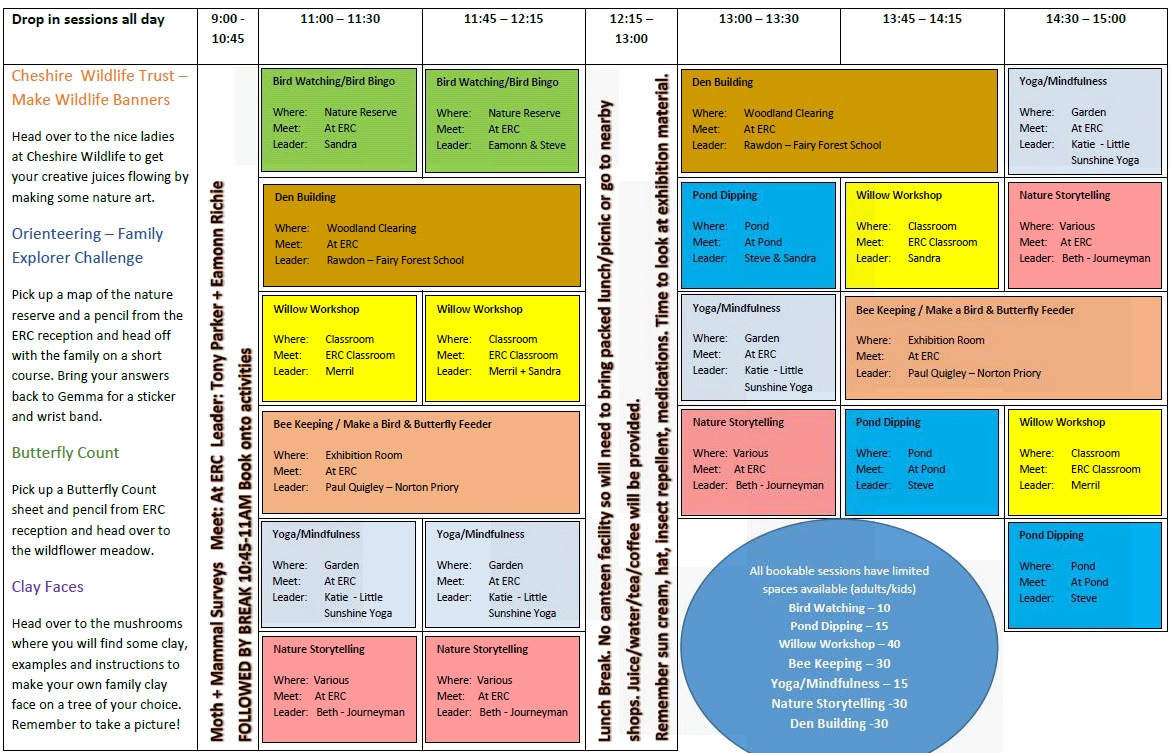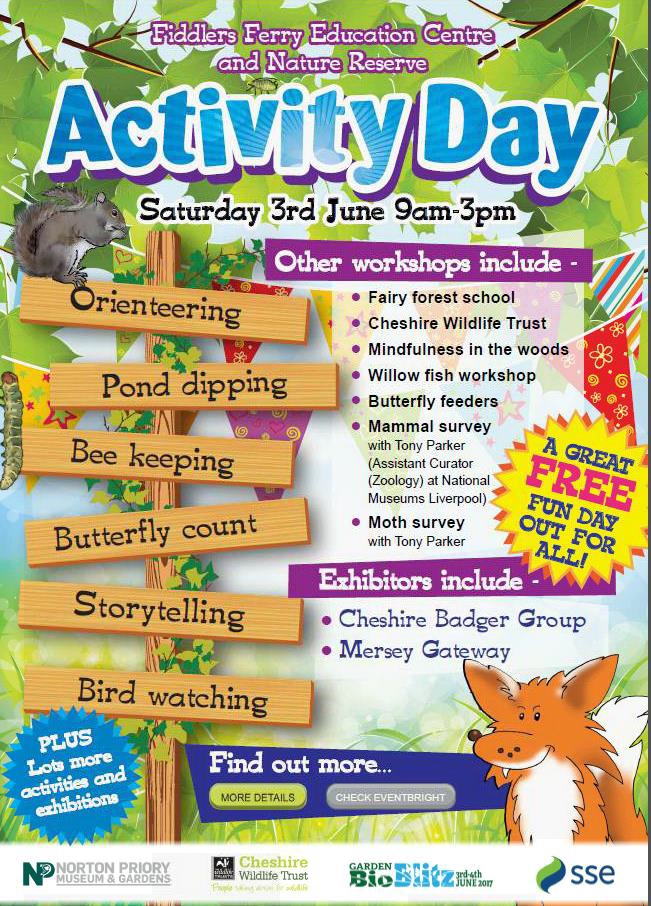 To avoid disappointment please read the following BEFORE booking.
Come and join us for a free day of family friendly wild activities on Fiddler's Ferry power station nature reserve. This event is open to families from the local area, there is no set age limit but the event would best suit children who have an active interest in nature between the ages of 4-12, but all ages are welcome as long as they are accompanied by an adult, max 6 tickets in total per family (A mix of adult & child uptothe value of 6) Please do not book for friends, each family needs to have a separate booking name and each family needs to book themselves onto the event.
The day coincides with the National Bio Blitz so it will be a great opportunity to survey our moths, mammals and butterflies on site but this event is not a 'Bio Blitz' in the true sense of the word, it is about encouraging families to get outdoors and enjoy nature. This event is a great way to start off the Wildlife Trust '30 Days of Wild Challenge' which starts on the 1st of June. My family participated in the challenge last year and I would highly recommend it to any 'outdoorsy' family, you can register here
http://action.wildlifetrusts.org/page/7184/petition/1 and by partaking in our event you will 'tick off' a whole host of 'Random Acts of Wildness'.
This was a really popular event last year and so this year we have made it even bigger with ALOT more free activities and workshops.
The day will kick off at 9am (arrival from 8:50am) with Moth and Mammal surveying led by Mr Tony Parker, Assistant Curator (Zoology) at National Museums Liverpool and then there will be a whole host of activities/workshops to book your family onto. Once you have booked onto the event I will send out workshop details and times so that you can plan your day around your family's interests, some workshops will have limited spaces but they will be repeated later in the day too.
Here are some of the activities on offer-
Orienteering
Pond dipping
Bee keeping
Butterfly feeders
Yoga/mindfulness
Nature storytelling
Forest fairy school
Willow weaving crowns
Butterfly count
Mammal and moth survey
Cheshire Wildlife Trust workshop
Please dress for British summer weather! I.e. waterproofs, layers and sunscreen! Children will be provided with a sunhat. Please bring a packed lunch for your family and any other items you might need such as insect repellent, snacks, medications and refillable water bottles.
Photos will be taken by staff, volunteers and visitors during the day so please speak to me at your earliest opportunity if you do not want your photo taken or there are safeguarding concerns relating to accompanying children. You will be asked to sign a form on arrival agreeing to photos taken on the day being used by SSE.
Some events are kindly offered in conjunction with 'Norton Priory' in Runcorn and some activities are being led by local naturalists and businesses.  
Children remain the responsibility of their accompanying responsible adult for the duration of the event; however, there will be staff on hand throughout the event to assist with activities.
Once booked onto the event you will receive confirmation of your booking and then you will receive an email with further information a couple of weeks before the event. Please make sure you book one ticket per person i.e 1 per child and 1 per adult attending.
If you have any further questions about the event and its suitability for your family please contact me directly at
gemma.davis@sse.com or 01514795795.
Let's keep our fingers crossed for some sun!!
Gem