Free Family Learning visit to 'Little Street' role play centre, Frimley
Description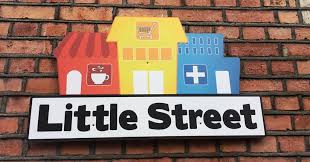 DADS CLUB VISIT TO LITTLE STREET

The Organic Cookery School is delighted to organise a free family learning visit to Little Street in Frimley - a fantastic role play centre designed for preschoolers - watch your little ones' imaginations come to life in the mini supermarket, cafe, construction area, hairdressers or dressing up zone.

This visit is suitable for mums, dads, grandparents and children from walking to 4 years. Please email if you wish to bring a child older or younger than this age range (info@organiccookeryschool.org).
We have exclusive use of Little Street from 11.30 am to 1pm on Friday, 2nd December 2016. There is a small cafe on site and you are welcome to bring snacks for your little ones but food and drinks cannot be taken into the main play area.
We expect demand to be high for this visit so prebooking is essential. You will be emailed a registration form which needs to be completed and returned with full details of all adults and children attending by Tuesday 22nd November latest. On receipt of your forms, we will email and confim places on a first come first served basis.We will also email full details of where to park nearby.
This visit is FREE of charge for each adult and first child. Extra children welcome for a small contribution of £2.50 per child to help cover costs (max 3 children per adult).
The Organic Cookery School is anot for profit organisation which delivers quality family learning activities in Surrey. Hampshire and surrounding counties. Visit our website (www.organiccookeryschool.org) to find out about our hands on cookery classes for parents and carers. Please note we will not be cooking at this event.
A bit about 'Little Street' (from http://www.little-street.co.uk/ ):
Every child loves to play make believe and there is no better place for supporting and awakening their imagination than Little Street. Children can drive around the street in a miniature vehicle, shop at the supermarket or meet their friends in Chicco's café. Each venue is scaled down to be the perfect size for little people, and carefully designed and filled with props to offer a creative and educational play experience. For your little popstars and actors, we have Starlets theatre in which to perfect their performances, maybe after a visit to Belle & Beau beauty salon. They might choose to become a fire fighter or a police officer for a while and there is always work to be done at Little Street's construction site. Budding young doctors and nurses can play out their roles in the medical centre and there is plenty of post to be delivered around town.
As parents ourselves, what we love most about Little Street is the educational benefit. Through role play children expand their understanding of themselves and others, it helps them to develop language skills and discover leadership ability. By encouraging social interaction and problem solving it also enables children to gain confidence. Designed with input from Early Years Practitioners, we have also incorporated other learning opportunities for children throughout the play centre, including shapes, colours, numbers, puzzles and language.
For the grown ups, Little Street has a small cafe bar selling hot and cold drinks, cakes and healthy snacks. We also provide a small play area for our youngest visitors. Please note the café is only open during the play sessions.