Come in to DRKHIMGOHLLP Facebook Page for FREE Life Destiny & Feng Shui Reading
About this event
Submit your question to DRKHIMGOH.COM and she'll answer your question on Facebook LIVE every TUESDAY evening, Singapore Time 8.05pm.
See the short clips below to discover HOW TO JOIN US - FREE!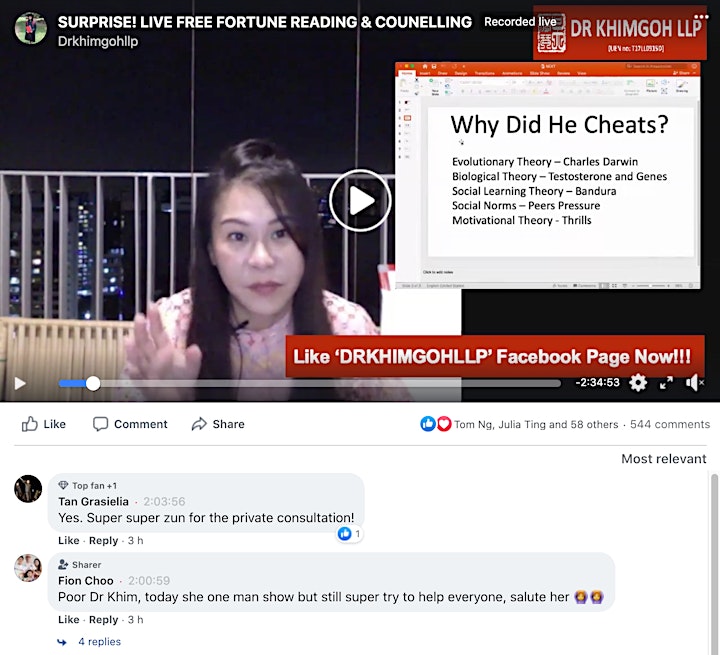 Organiser of FREE Feng Shui & Life Destiny Reading
Dr Khim Goh 
Master of Education, Monash University
Master of Guidance and Counselling, JCU
Bachelor of Science (Psychology), USQ
Bachelor of Arts (Business Administration), Ottawa University
Associate member of Singapore Psychological Society (since 2008)
Associate member of Singapore Association for Counselling (since 2010)
(1) Goh, S. K., Jacobs, N., and 
Furlonger
, B. E (2015).  Exploring factors that Influence Singaporeans' intention in seeking professional counseling.  Referred Conference Paper presented at SAC Counselling Symposium: Evidence Informed Practice – "Towards a Better State of Well-Being," Singapore.