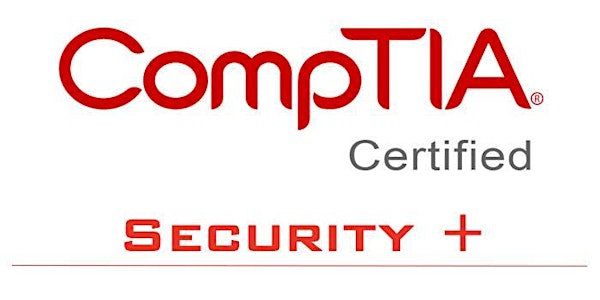 Free (funded by SAAS) CompTIA Security+ eLearning / online Course.
Sales Have Ended
Registrations are closed
Awww!!! You might have missed this course... We offer this course frequently. To see all upcoming course start dates, follow the link below: https://www.itpt.co.uk/course-schedule/ IT Professional Training 0131 552 5558 | 0131 552 5800 info@itpt.co.uk www.itpt.co.uk 62 West Harbour Road, Granton, Edinburgh, EH5 1PW
IT Professional Training are offering you the chance to join this funded by SAAS CompTIA Security + eLearning Course.
About this event
*Please note that you must be a resident in Scotland to join this course and use SAAS part-time funding. More information on this below. You will have a year to access the eLearning kit and we shall send you information in relation to completing the SAAS form*
IT Professional Training are offering you the chance to join this free (fully funded by SAAS) CompTIA A Security + eLearning Course.  You will complete the course work at you own pace from home and you will not need to attend and lessons at our training centre.
Course Overview:
CompTIA Security+ is a global certification that validates the baseline skills which an individual need to perform core security functions and pursue towards an IT security career. It establishes the core knowledge required of any cybersecurity role and provides a starting-off-point to medium level cybersecurity jobs.
• Security+ course unwraps the door towards cybersecurity career.
• This course is ideal as both a study tool and an on-the-job reference specifically in cybersecurity field.
• This is a complete and comprehensive CompTIA Security+ Certification course. It is designed to prepare individuals/learners to be able to take and pass the relevant exam (SY0 - 601) to become a CompTIA Security+ Certified.
• Upon course completion, learners will have the knowledge and confidence to pass the CompTIA Security+ (SY0 -601) exam and the skills required to be a great IT security technician. Your new skills and the CompTIA Security+ Certification will help you land a great IT security tech job. If you are already a security technician, get that raise or advancement you are after.
Course Objective:
The CompTIA Security+ certification exam will authenticate the successful candidate has the knowledge and skills required to assess the security prospective of an enterprise environment, and also recommend and implement appropriate security solutions; monitor and secure hybrid environments, including cloud, mobile, and IOT; operate with an awareness of applicable laws and policies, including principles of governance, risk, and compliance; identify, analyse, and respond to security events and incidents.
• Attacks, Threats and Vulnerabilities
• Operations and Incident Response
• Architecture and Design
• Governance, Risk and Compliance
• Implementation
Prerequisites:
• Basic familiarity with PCs and networks.
• There are no specific prerequisites, since the course covers all the topics in detail.
• It would be good to have an understanding of CompTIA A+ and Network+, or to be certified in these topics.
• Relevant work experience is ideal
For further information on the course, please visit the link below. We can send you further information on the course contents via email.
https://www.itpt.co.uk/course/comptia-security/
Mode of Learning:
ELearning/Online Distance Learning
What we will be providing?
Online integrated course materials
Assisted by Tutor
Moodle Access
Office 365 1TB of space for the course work
SAAS Course Funding:
This course is funded by SAAS part time fee agency which is available to eligible individuals only:
SAAS General funding eligibility requirement:
1. You have to be a resident of Scotland
2. Either employed and earning less than 25k a year or can be unemployed as well
3. Have not used the SAAS funding in this Academic Year.
For more information on this, please visit the following link:
https://www.saas.gov.uk/_forms/funding_guide.pdf
Ticket Description:
This ticket logs your interest to join this course.
To study this course free, ITPT requires all interested students to complete SAAS PTFG application and ITPT course registration form. Please contact us to book your appointment to enrol you in the course.
Note: This course is fully funded by SAAS part-time funding and only eligible students will be able to join this course for free, please see below for the eligibility. If you are not eligible to get the SAAS part-time funding please contact us to discuss other options.
To check your funding eligibility:
Please follow the below link to check your course funding eligibility.
https://www.itpt.co.uk/funding-eligibility/
Course Enrolment:
To make an appointment to enrol in this course, click here to Book Course Registration/Consultancy Appointment.
We can send you the forms and information on how to complete them via email.
Contact:
Phone:
Edinburgh Office Number : 0131 552 5558
Glasgow Office Number : 0141 429 2922
Email: info@itpt.co.uk
website: www.itpt.co.uk