***Course details available @ <A HREF="https://https://www.itpt.co.uk/course/comptia-pentest//TARGET="_blank" TITLE="https://www.itpt.co.uk
About this event
This course funding is for the Scottish residents and eligible candidates only.
IT Professional Training is offering you the chance to join this free (fully funded by SAAS). Pen Test + (Cyber security) course Students will have the option to join classes virtually as well as in the classroom at Edinburgh Centre.
This part-time, tutor-led course is free for people who qualify for SAAS part-time funding grant and you will not need to pay this grant back to SAAS. For SAAS funding eligibility:
1. You have to be a resident of Scotland
2. Either employed and earning less than 25k a year or can be unemployed as well
3. Have not used the SAAS funding in this Academic Year.
Course schedule:
Start Date: 29th September 2021
Classes per week: One day a week
Classes timings: 09:00 – 01:00 pm
Day: Wednesday (only)
Duration of the course: 16 Weeks
Introduction:
This is an ideal course for such individuals who have gained a working knowledge of IT Networking and Security, and seeking a future role within the ever expanding range of Cyber Security. Penetration Testing knowledge and skills can be used for both offensive and defensive Job roles in Cyber Security.
Prerequisite:
This is an Intermediate Level 3/4 course and candidates should have completed the CompTIA Security+ in advance of attending the course, or alternatively have gained equivalent IT Networking & Security knowledge and practical skills through several years of experience gained in information security. For those who do not have CompTIA Network/Security+ or equivalent qualifications, you may be asked to complete an aptitude test prior to being enrolled on this course.
Job Roles and Opportunities:
This is an ideal intermediate level 3 or 4 globally recognized qualification for IT pros seeking a role within Cyber Security.
You will be able to function in a variety of job roles, including:
1. Penetration Tester
2. Vulnerability Tester
3. Security Analyst (II)
4. Vulnerability Assessment Analyst
5. Network Security Operations
6. Application Security Vulnerability
Please note due to current lockdown in Scotland all our part-time and full-time classes are being undertaking virtually until for further notice.
Read more:
https://www.itpt.co.uk/course/comptia-pentest/
How to Apply for the Course and Its Funding:
Step 1 - Funding Eligibility Self-Assessment:
Check your funding eligibility here to make sure you are eligible for the funding to study for totally free
https://www.itpt.co.uk/funding-eligibility
Step 2 - Apply:
How to apply for the course with funding:
Follow the link below to download application forms and submit forms via email
If not sure which form to complete then contact us.
Contact details:
Phone: 0131 552 5558
website: www.itpt.co.uk
https://www.itpt.co.uk/contact-us/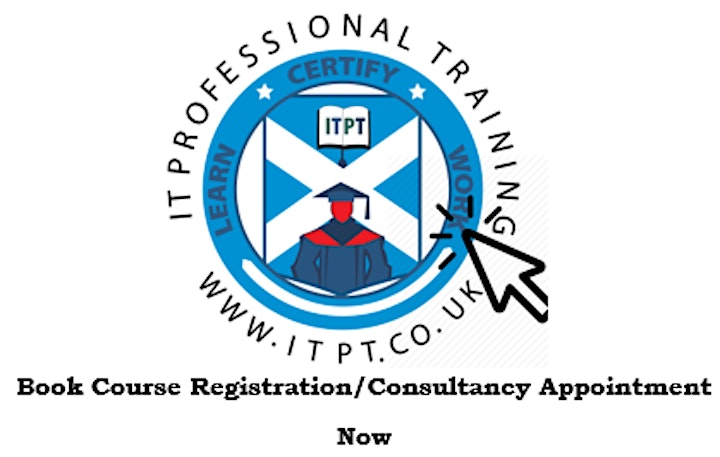 Organiser of Free Funded Pen Test + (Cyber security) at ITPT Edinburgh
Contact:

Email: info@itpt.co,uk
Phone: 0131 552 5558;0131 552 5800
 
For more info visit www.itpt.co.uk