Free Happiness Lectures Webinar

Thursday, 26 March 2015 from 19:30 to 20:30 (GMT)
Event Details
In this year's free Happiness Lectures Webinar on Thursday 26th March at 7.30pm UK time, Chris Johnstone and Miriam Akhtar explore the themes of love and purpose. They'll be looking at practical strategies we can use to deepen our experience of love and purpose, showing how this helps improve our quality of life.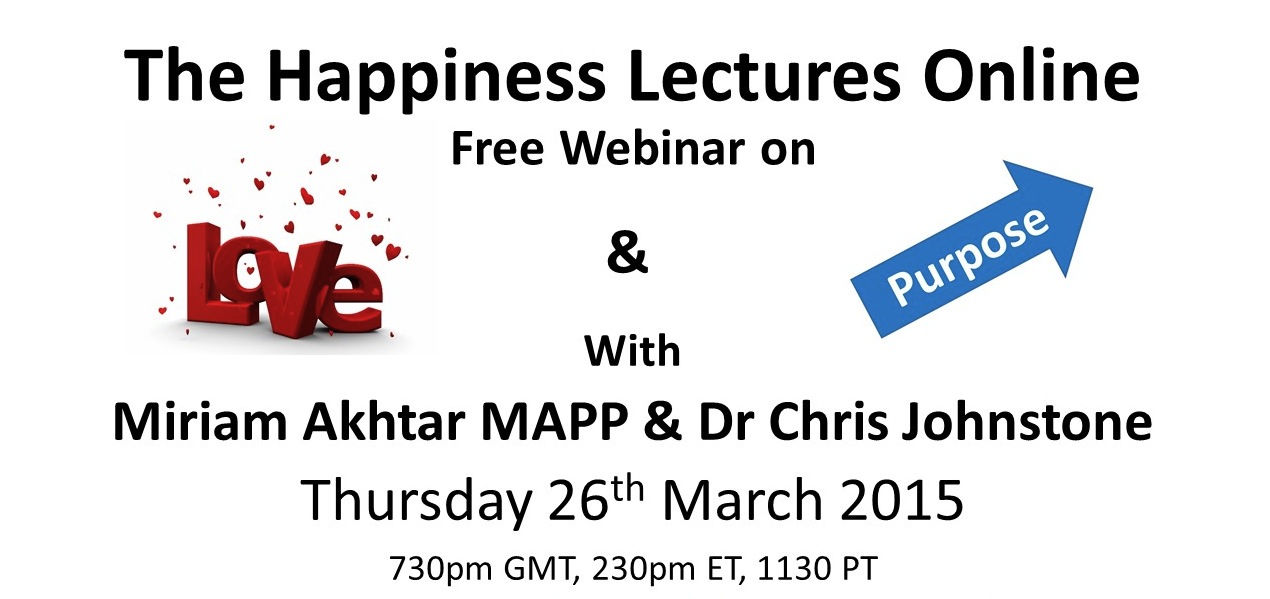 Resilience Specialist Dr Chris Johnstone says "Having our heart in what we do is like having wind in our sails, and we feel this most strongly when we act for those (or for what) we love"
Positive Psychologist Miriam Akhtar says "Love is the peak positive emotion and having a purpose in life gives us a deep sense of meaning and well-being. When the two come together you have the ingredients for a satisfying life which is more than the sum of its parts. It's a happiness with the greatest bandwidth."
The Free Happiness Lectures Webinar continues in the tradition of the Bristol Happiness Lectures set up by Chris in 2006 at Bristol University. Chris and Miriam worked together in this, and have now set up The Online Happiness Training project to offer courses in skills and practices that help promote positive emotional health. 
As part of The Online Happiness Training Project, this webinar also introduces Miriam and Chris's eight-week Happiness Training Programme that starts on April 8th. For more details, please see
http://collegeofwellbeing.com/the-happiness-training-programme/
or 
http://www.positivepsychologytraining.co.uk/training/happiness-training-programme/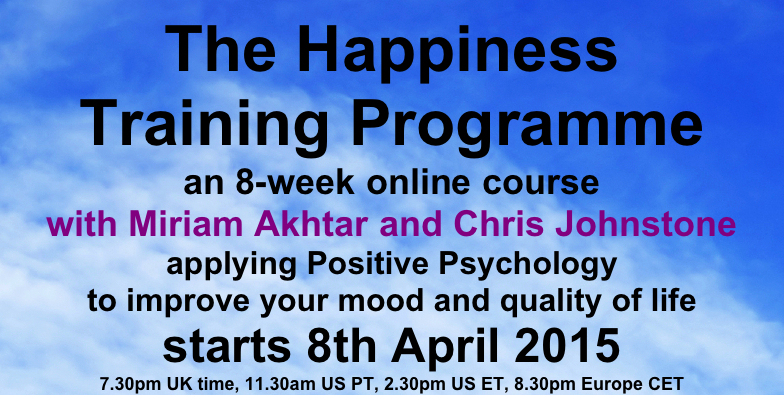 Organiser
CollegeofWellbeing.com is an online college offering courses to strengthen our ability to cultivate wellbeing - in ourselves, in other people and in the world around us. Set up by Dr Chris Johnstone, our three core themes are resilience training, sustainable happiness and change-making skills. Please see our website at 
http://collegeofwellbeing.com for more information.