Event Information
Refund policy
Contact the organiser to request a refund.
Eventbrite's fee is nonrefundable.
Notice writing: the skill that BEATS the legal system
About this event
Important notice:
We have limited free spots for this event. We kindly ask that you only book a spot if you are sure you'll be able to join us.
After you book:
30 minutes before the workshop starts, an Eventbrite email will be sent to your email address with the Zoom link and call details for the event.
The Zoom link and call details will also appear on Eventbrite via the 'access this event' button. Please save our email address (notices@lawfulmasters.co.uk) so that the email does not end up in your spam folder. Please add this event to your calendar.
IF for some reason the call link does not show, please EMAIL US WITH your booking reference number BEFORE the event starts so that we can send it to you.
FREE Introduction to Notice Writing: The essential tool for the community
In a time of mass testing and v@((in@tion, more and more people are wanting to fight for their rights, the rights for their sons and daughters, for medical rights AND would like to challenge the 'authorities' in a powerful way.
How to write lawful/legal documents to schools or the workplace to get the outcome YOU want and get their co-operation.
ANYONE can learn how to write and communicate more powerfully than a legal professional!
The secret to writing a letter is NOT to write a letter! The craft of notice writing is NOW an essential tool to add to our armour.
What you will learn on this session:
The differences between a notice and a letter
The powerful nature of notices
How to reply to letters like a legal professional
Assert your lawful rights
How to deal with legal cases without using the legal system
Real life examples
Deal with situations that would otherwise require legal assistance
Powerfully communicate with other parties/corporations
Recommended follow on AFTER this workshop:
Foundation course: The essential guide to notice writing 2hours +. A thorough teaching session on how to write notices with an in-depth look at examples and our real life cases. Book yourself onto that course OR select an add on on this page. Tickets can also be purchased by clicking this.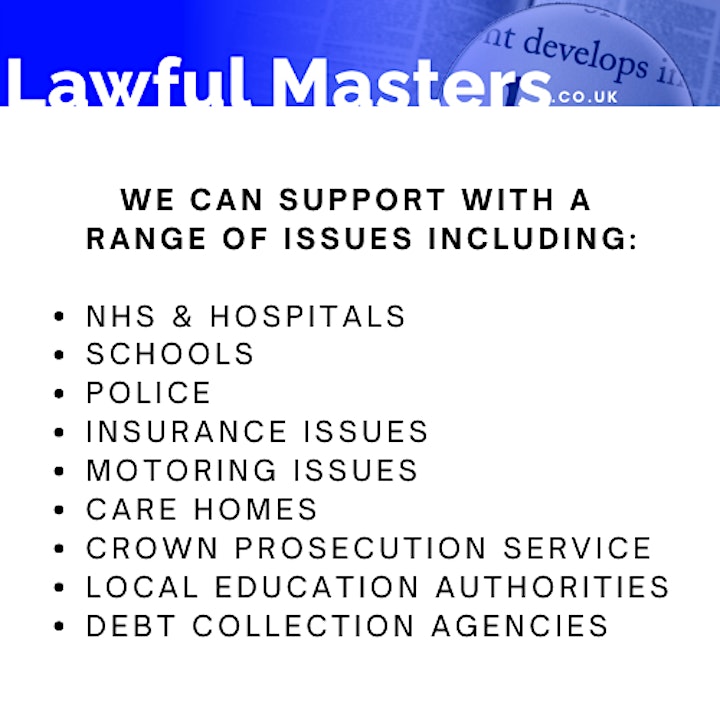 About the the Lawful Masters:
We are a team of lawful observers, coaches and advocates with common law expertise. We specialise in supporting individuals to take lawful action in an honourable manner.
Our team holds 10+ years experience in applying the methodology of lawful solutions to everyday legal problems. We offer a variety of services to assist and guide those, who wish to use a powerful alternative method to the traditional legal route.
More information about the Lawful Masters can be found on our website.
Website: www.lawfulmasters.co.uk
Click to book a Paid 1-2-1 consultation with the Lawful Masters for 30 minutes
Location
Refund policy
Contact the organiser to request a refund.
Eventbrite's fee is nonrefundable.
Organiser of FREE Introduction to Notice Writing: Testing & Va((ines
We specialise in creating tailored notices for issues relating to:
- Parents - Local Education Authority - Social services - Debt Collection Agencies - Insurance issues - Motoring issues - NHS & Hospitals
Care home matters - Doctors - Police - NHS - Crown Prosecution Services - Land and Probate issues - Solicitors